Stories from the Bega Valley Bushfires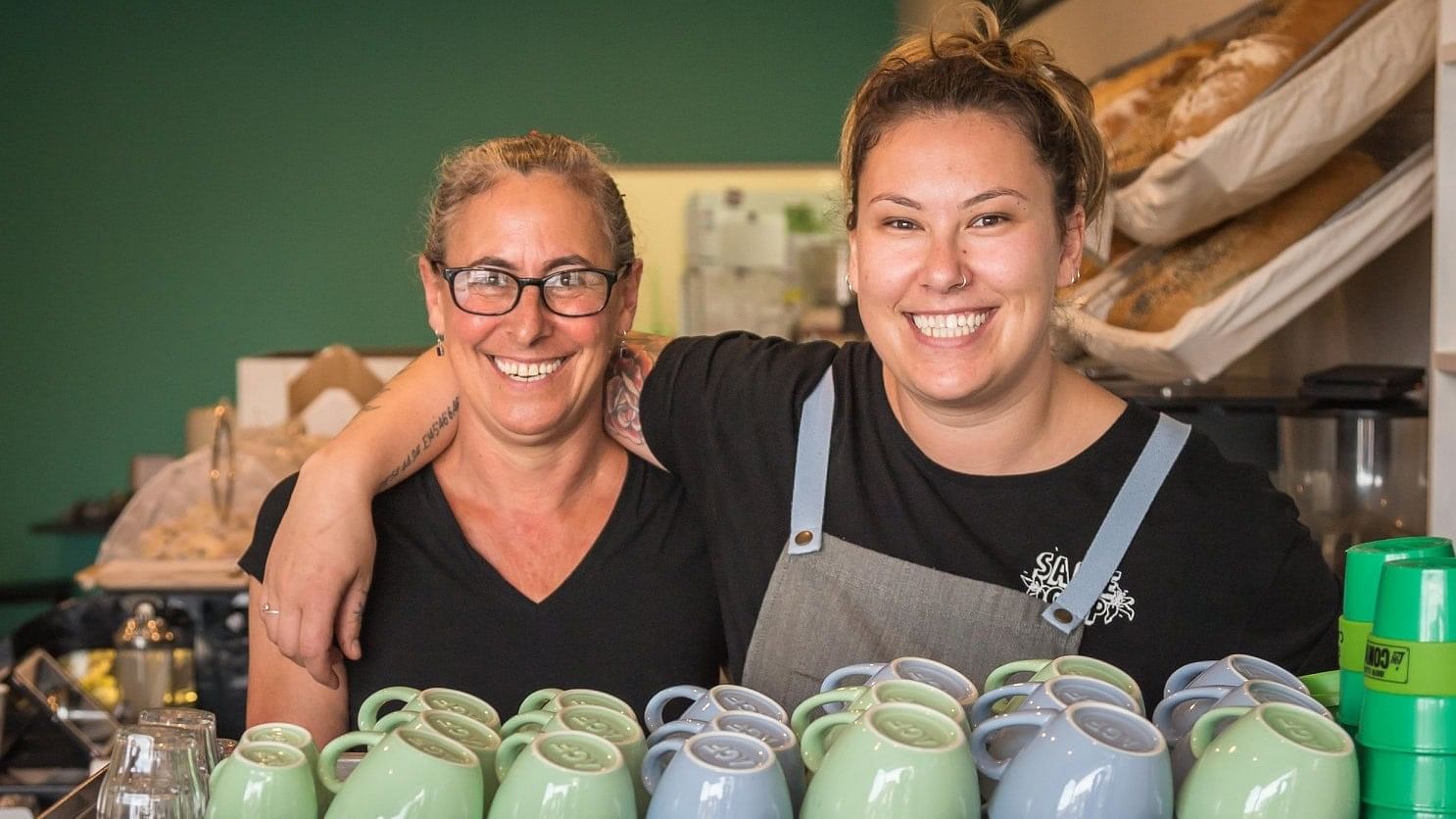 11 March 2020
The bushfire recovery needs of our region are broad and deep. Recognising the impact those flames have had on lives, the environment and the economy, Bega Valley Shire Council is keen to highlight the stories of those living with the aftermath.
Stories have power and we hope these case studies will help deliver assistance and change.
CREAM PATISSERIE – Maddy Barry
When Maddy Barry talks about the Summer Bushfires, her focus is mostly on family, the RFS and her community in Bermagui – not how much money her business lost during what should have been the busiest two weeks of the year.
It's early March and she still tears up when she shares her story on the bushfire crisis; still so real and raw in her mind.
Maddy took over Cream Patisserie in the September 2019 school holidays as she wanted to transition into the business and be well established by summer.
In just six months, Maddy, her husband Aidan and her business partner mum Jo, have transformed the patisserie from a more traditional operation to a unique experience, playing to their strengths – delicious and ethical Tattooed Sailor coffee, high quality food, great customer service and a comfortable atmosphere.
Both Maddy and Aidan work in the hospitality industry. She studied tourism/hospitality management for four years in Melbourne's William Angliss Institute. He is a qualified butcher, in his second year as an apprentice chef at Bermagui's Il Passaggio Italian restaurant, with a personal interest in creative pastry-making. And Jo used to run a fruit and vegetable shop in Bermagui.
They bought the patisserie to secure their career and the future of their family.
The bushfire crisis hit Bermagui and Maddy quite suddenly. One minute it was just a smoke haze and then next, thousands of people were being evacuated.
Cream Patisserie was open on New Year's Eve and gave out free coffee and food to whoever walked through the front door, most of whom were locals. A large wholesale order for Tathra, which was no longer required, helped feed the masses. Maddy put out a bucket for donations. Over $2,000 was raised and given to the Bermagui RFS.
Later that morning they closed the shop, registered with the evacuation centre at the Bermagui Surf Life Saving Club and donated the rest of her food, to be shared with the 5,000 evacuees.
When the NSW government ordered tourists out of the Far South Coast and the power went out, Maddy thought "there goes our summer trade".
"Every business was stocked to the brim and most of my stock was perishable, so it was pretty much down the drain," she said. "The first two weeks in January is what so many businesses rely on to get them through the year; it's kind of a safety net in a small community."
Maddy and Aidan left Bermagui and took their young family to Canberra, which meant they were also out-of-pocket with the expenses of staying there for eight days.
When power was finally returned to Bermagui, some of Maddy's friends, and their friends, helped Jo scrub the shop, top to bottom. Then it took a couple of days to get the business ready for trade.
"We re-opened the shop on Monday 13 January, but it was another two weeks before we had full stock levels and were trading normally," Maddy said.
Another fire at Dignam's Creek on 23 January brought the town and the patisserie to a standstill, but nowhere near as long as early January.
"Many of us are now worried about making it through winter and what next summer will bring," Maddy said.
"Fortunately, our story has travelled around Australia and we're receiving all sorts of amazing requests from regular visitors and strangers who want to help.
"A seven-year-old Canberran who just celebrated a birthday, paid for a birthday cake to be given to someone in Bermagui. It went to a long-term Bermagui RFS volunteer.
"Other people donated coins to the patisserie's Pay It Forward jar, so others could have a free cup of coffee. We'd all been through a very traumatic start to the year and needed to look after each other."
Despite Cream Patisserie's substantial loss in revenue, Maddy is still actively fundraising for emergency services and those in the community directly affected by the bushfires.
Most recently they held a fundraising event with BBQ street food, a latte art smackdown competition and a messy meringue eating competition.
"Life is 50/50 at the moment and our focus is on supporting the locals," she said. "Hopefully it will keep us in people's minds so down the track, people will remember we're here and come and visit.
"The support right now is great for people who have lost so much, and our small business is our livelihood. Our focus is supporting the people who are supporting us; we will still be struggling when the news headlines have moved on."
Bega Valley Shire Council remains committed to supporting local business and our regional economy as a key component of our bushfire recovery.
Mayor, Kristy McBain continues her steady work in this area of concern. She recently travelled to Parliament House in Canberra and Sydney to discuss what support needs to be provided to Bega Valley businesses, both directly and indirectly affected by the bushfire disaster.
We know that if we don't get businesses back on track right now, the whole community will be negatively impacted; a 'second disaster' the Mayor calls it. Keeping people employed and building sustainable lives in our regional community is vital.
State and federal governments need to understand how desperate the situation is in our small Far South Coast towns.
Advocating on behalf of Bega Valley business, the Mayor requests that:
small businesses indirectly affected by the fires, particularly those with a turnover of less than $1 million, receive the $50,000 grant that is currently only available to burnt businesses
the ATO put $1,000 in the bank account of all those in the postcodes of each local government affected by the bushfires, allowing residents to spend this money in local shops and for local services
tax-deductible holidays are encouraged, in that if you spend seven days in a bushfire affected area, you can receive a cash deduction using related receipts.
What Council is doing now and has in place:
an economic development team working with peak business groups, other agencies and all levels of government
investment of $250,000 towards long-term business recovery, tourism marketing and events
small business digital readiness training workshops
a range of workshops and support services to small business through the Bega Valley Innovation Hub
a portal for local contractors to register their interest in becoming involved in civil recovery works.
More information is available on the Bega Valley Shire Council website.
Photograph: Maddy Barry and her mum, Jo, from Bermagui's Cream Patisserie. Photo: Sapphire Coast NSW in Timeline Photos.
---
Rate This Page
---
Share This Page