Bushfire Recovery Bulletin #04
January 16, 2020
Today's snapshot:
Number of homes lost rises
The hard work of building impact assessment teams continues north and south in the Bega Valley with 90% of the existing fire ground now covered.
The stark news today is that 367 homes have been destroyed, 98 damaged and 876 outbuildings destroyed.
Nsw Government to manage clean up
The NSW Government has today confirmed its coordination arrangements for the the clean-up of NSW residences and businesses impacted by the NSW Bushfires.
This includes both insured and uninsured properties.
Public Works Advisory in consultation with property owners, is leading the clean-up effort with insurers, Council and contractors, to ensure that properties are efficiently and safely cleared.
Testing will be carried out on all properties to ensure communities already impacted by fire are not exposed to contamination, and workers are not exposed to any hazardous materials. Work will begin once firegrounds are declared safe by the Rural Fire Service.
The cost of clearing properties will not be deducted from the funds available under insurance policies.
For owners of business/commercial premises, the government is working through the eligibility criteria and will contact you when the specifics are finalised. If you are insured, you should speak with their insurer.
Register at: https://www.service.nsw.gov.au/…/nsw-bushfire-clean-registe…
Approval for Cobargo landfill
Council is very happy to have received approval from the NSW Environment Protection Authority to convert the fire impacted Cobargo Transfer Station into an engineered landfill site.
The site, that has remained closed since the Badja Forest Road Fire passed through the area in late December. It will now be redesigned to enable it to take asbestos and construction and demolition waste from fire affected properties.
Planning for this important transformation is well underway and Council is working hard towards having the landfill constructed and operational in the near future. More to come.
At the Bemboka Waste Transfer Station, which was also impacted by fire, testing today has confirmed the presence of deadly friable asbestos. Planning continues on reopening the the site however it remains closed due the the significant public health risk.
Skip bins have been delivered to Colombo Park as a temporary measure. Skip bins are also available at Kiah, Wonboyn, Quaama and Cobargo.
The skip bins are for regular household waste only and cannot be used to dispose of building waste.
A management plan for the disposal of shire's building waste will follow.
Marketing campaign launched to support economy
Bega Valley Shire Council and the shire' Economic Development group today convened a meeting of the region's business chambers and key industry reps including tourism.
Business owners from Bermagui, Cobargo, Tathra, Bega, Pambula, Merimbula, and Eden all attended.
Mayor Kristy McBain and Economic Development Manager Daniel Murphy announced $60,000 for marketing campaign aimed at stemming the flow of cancelled holiday bookings, and supporting a "buy local' philosophy.
Those gathered spoke with emotion of the real impact bushfires and drought are having on families tied to each business.
All concerned will meet weekly, with a shire wide approach seen as key to facing the challenges ahead as we develop strategies for the recovery of our business community.
More here -
Recovery service
The mobile outreach recovery service made its first visits to Cobargo and Eden today.
Tomorrow (Friday, January 17) it will be the first turns for Bermagui and Wyndham.
Full Timetable:
Quaama Hall - Tuesdays from 10.00am – 2.00pm

Towamba Hall - Tuesdays from 10.00am – 2.00pm

Bemboka Hall - Wednesdays from 10.00am – 2.00pm

Wonboyn RFS Shed - Wednesdays from 10.00am – 2.00pm

Cobargo Hotel (until further notice) - Thursdays and Saturdays from 9.00am – 5.00pm

Eden Log Cabin - Thursdays and Saturdays from 9.00am – 5.00pm

Bermagui Community Centre - Fridays from 10.00am – 2.00pm

Wyndham Hall - Fridays from 10.00am – 2.00pm
The intention of the mobile service is to make it easier for those living in our more remote areas to access the services available.
You can contact the Recovery Centre on 6499 2345 or email recovery@begavalley.nsw.gov.au
Home base is the Bega Civic Centre, which is open Monday to Friday from 9am – 5pm and weekends from 10am – 4pm.
A range of services are available for you to meet with face to face, helping one step at a time.
Thanks to Save the Children Australia there is a dedicated space for children at the Recovery Centre where they can play and be supervised while you speak with Recovery Centre staff. It is a terrific space that has added a great new dimension to the service being offered for those impacted by the fires.
Unapproved clearing
Council continues to receive reports of unapproved clearing on public land, placing Aboriginal cultural sites and the natural environment at risk.
We want to work with landholders and our communities in a more positive way to address any concerns they have. Our staff and the RFS always look to balance the needs of residents with culture and the natural environment.
We have commenced planning for enhanced fire hazard reduction works and this will again be a priority area for us once the current fire situation has further stabilised.
Management of the 35km of Asset Protection Zones Council is responsible for is an ongoing year-round focus in collaboration with the RFS.
Boil water notice
A boil water notice remains in place for Bemboka, Quaama, Cobargo, Bermagui, Beauty Point, Fairhaven, Wallaga Lake, Wallaga Lake Heights, Wallaga Lake Koori Village and Akolele. Water testing continues daily.
Road closures
These roads remain closed this afternoon:
Benny Gowings Road (local access only), Cochrane's Flat Road, Edrom Road, Eurack Road, Hazelnut Road, Head of Cuttagee Road, Mumbulla Creek Road (local access only), Murrah River Forest Road, Nungatta Road, Pericoe Road, Shelley's Road, The Snake Track, Whittles Road.
Photo: Bega Valley Shire Council today convened a meeting of local chambers.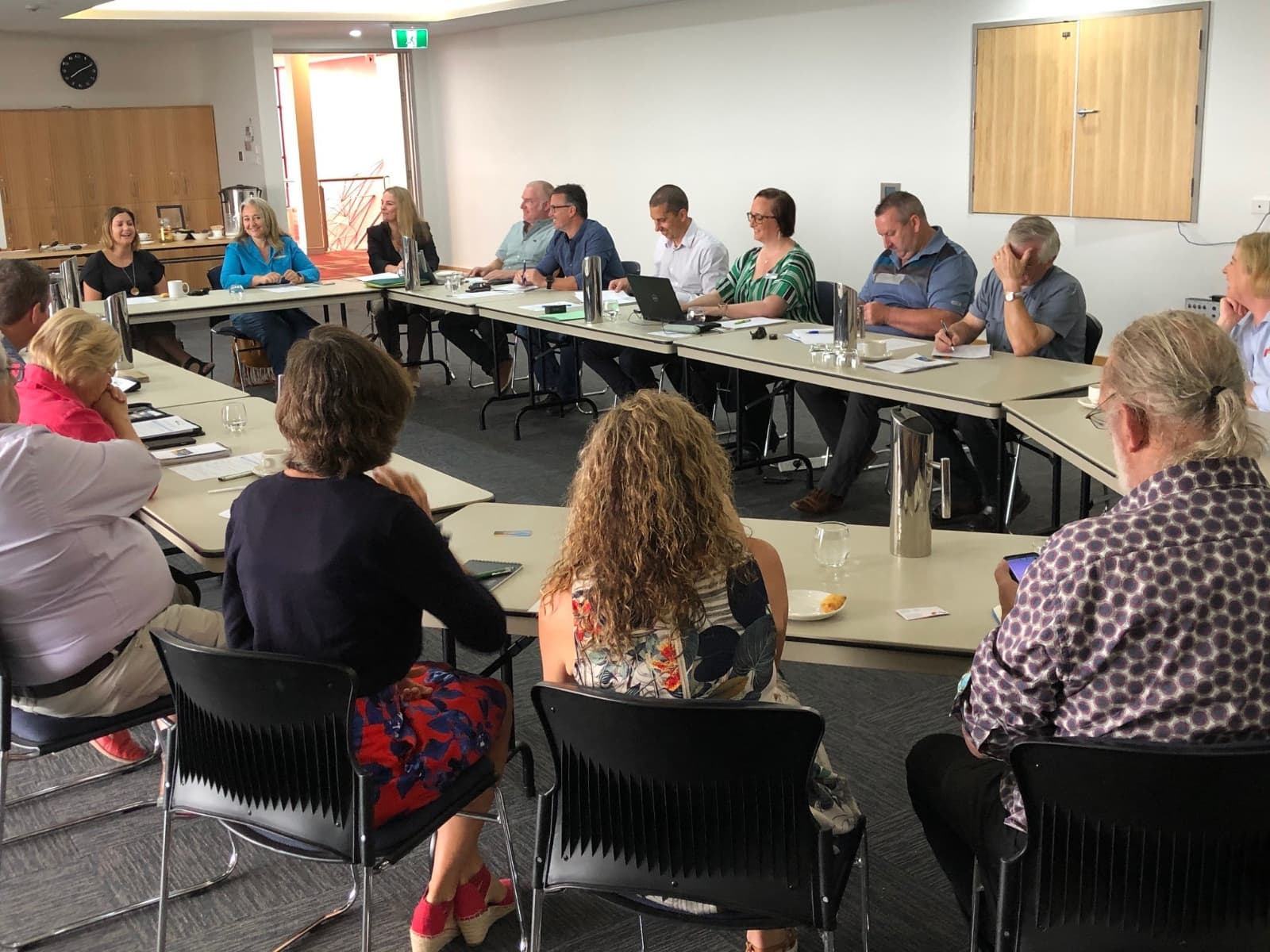 Related Pages
Bushfire Recovery Bulletin #04
---
Rate This Page
---
Share This Page