Relax and observe the signs and lines– navigating Merimbula CBD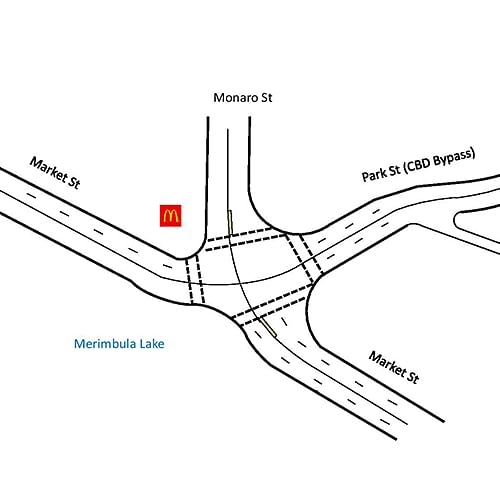 Friday, 29 September 2017
With motorists adapting to a new flow of traffic through the Merimbula CBD, Council is keen to offer some advice and direction.
The new 4 way intersection should be approached in the same way as any other in NSW.
Some points to remember:
Right turns must give way to oncoming traffic and pedestrians, left turns must give way to pedestrians
Left turns are from the left lane only, right turns are from the right lane only, straight through can be from either lane.
There are no green right turn arrows, traffic should move into the centre of the intersection, giving way to oncoming traffic.
"Before too long people will become accustom to the changes and will realise the full benefits of this project," Mayor Kristy McBain said.
The Merimbula CBD Bypass will reduce traffic congestion within the town centre and improve through-traffic movement, especially during peak holiday times.
"If you are travelling to Tura, Bega, Tathra, Eden, Pambula, or beyond there is no longer a need to travel through the very centre of Merimbula," Cr McBain said.
"The primary route for all traffic is now Park Street, if you need to stop in Merimbula then simply turn into the new car park, otherwise you can zip through and avoid the centre of town."
Traffic lights are giving priority to the new bypass route (Park Street), however Council and Roads and Maritime Services will continue to monitor traffic flows over the coming week to refine line-marking and signal phasing.
"I urge people, please relax, observe the signs as you approach and when making a right hand turn you must give way to oncoming traffic," Cr McBain said.
Photograph: The new four way intersection designed to improve traffic flow through Merimbula.
END
Scroll down to Like | Share | Comment on this page
---
Rate This Page
---
Share This Page
---