Bushfire Recovery Bulletin #02
January 14, 2020
This update will be published daily to Council's website and Facebook page at 5pm to provide the community with an update on where the recovery effort is at. You will also find channels to ask questions and get information. As we move forward together information is key, and this will be one way of staying in touch during the weeks ahead.
Today's snap shot:
Residents in the Nethercote and Lochiel areas today reported a smoke column to the south west of their piece of paradise. Far South Coast RFS confirmed its part of the Border Fire burning in the Nullica State Forest around Nullica Rd and Ben Boyd Rd.
They say fire behaviour increased today as the fire takes an uphill run. The RFS says at this stage there is no new risk to properties.
Generally the days ahead present a great opportunity for firefighters to get on top of all Bega Valley bushfires.
On the back of Bega Valley Bushfire Recovery Centre opening in Bega yesterday, the mobile service has been launched and will be making its first visits north and south tomorrow (Jan 15).
The intention of the mobile service is to make it easier for those living in our more remote areas to access the services available.
Initially, the recovery team will be on the road for 12 weeks depending on the needs of each community.
Timetable:
Quaama Hall - Tuesdays from 10.00am – 2.00pm
Towamba Hall - Tuesdays from 10.00am – 2.00pm
Bemboka Hall - Wednesdays from 10.00am – 2.00pm
Wonboyn RFS Shed - Wednesdays from 10.00am – 2.00pm
Cobargo Hall - Thursdays and Saturdays from 9.00am – 5.00pm
Eden Log Cabin - Thursdays and Saturdays from 9.00am – 5.00pm
Bermagui Community Centre - Fridays from 10.00am – 2.00pm
Wyndham Hall - Fridays from 10.00am – 2.00pm
You can contact the Recovery Centre on 6499 2345 or email recovery@begavalley.nsw.gov.au
Home base is the Bega Civic Centre, which is open Monday to Friday 9am – 5pm and weekends 10am – 4pm.
A range of services are available for you to meet with face to face, helping one step at a time.
Army Brigadier Mick Garraway, NSW Emergency Services Minister David Elliot, NSW Police Commissioner Mick Fuller and Regional Recovery Coordinator Dick Adams met with Bega Valley Shire Council and Defence personnel today.
"This is a fantastic opportunity to get in and support the great work that's been done by a range of organisations," says Army Brigadier Mick Garraway.

"We come from towns like this as well. I grew up over the hill in Tumut, I've got a lot of mates over there who are completely burnt out.

"This is personal, this is one of those rare opportunities that we get to help out our own communities."
Brigadier Garraway is overseeing the national response and deployment of Army, Air Force, and Navy troops to fire affected communities.
Around 300 soldiers are currently based in Bega, assisting landholders dispose of dead stock, restore critical fencing, and fodder, food and water drops. The extra mussel and know how is also being used to clear roads, deal with dangerous trees, and repair bridges, chaplaincy services are also adding their weight to the recovery effort.
Council has a liaison officer who is working with Defence on needs and tasks as they arise.
Defence is expecting to have troops on the ground locally for two to three months.
Economic recovery and opportunity is a key focus of all levels of government.
Bega Valley Shire Council's Economic Development team led by Daniel Murphy is currently talking to key local industries and businesses looking at ways to support or redeploy staff wrestling with a loss of work and wages.
There is perhaps capacity for some of those people to work within the council's recovery effort and maintain employment for their families.
We also continue to develop ideas and initiatives that look to make the most of the opportunity that comes with the recovery effort to drive positive change in the local economy, environment and community.
"Building back better," General Manager, Leanne Barnes says.
Council has also moved to finalise the funding made available via the Commonwealth and State governments so that extra resources and spending can start to flow through the local economy and to people impacted by fire. More to come.
Priority is also being given to local trades, services and retailers.
Council has recently had rates notices distributed which had commenced prior to the past fortnights fire events. We understand that receiving a bill right now adds hurt and pressure to many households.
Rates reminder notices have been put on hold and we encourage anyone aware they have overdue rates and that have been impacted by fire to contact Council.
When it comes to water meter readings, Council is now considering how best to manage the impacts of recent fire events on water usage.
Ways to help the community and council handle the increased water use will be addressed at the January 29 meeting of Council. More to come.
With the recent and current bushfires, Council understands the increased interest in vegetation management and Asset Protection Zones (APZ) on public and private land across the Shire.
There is no doubt the recent events are concerning to us all. However, it is important to keep in mind the natural environment is an important asset to the Shire and provides huge value, benefits and enjoyment to locals and visitors.
Council has received reports of unapproved clearing on public land, We'd prefer to work with landholders and communities in a more positive way to address any concerns they have. Our staff and the RFS always look to balance the needs of residents and the natural environment.
We have commenced planning for enhanced fire hazard reduction works and this will again be a priority area for us once the current fire situation has further stabilised.
Management of the 35km of APZ Council is responsible for is an ongoing year round focus in collaboration with the RFS.
A Boil Water Notice remains in place for the Bemboka and Brogo-Bermagui supplies. Water testing is ongoing in collaboration with NSW Health. Thank you for your patients.
Contamination of rainwater tanks is something many households are considering.
The advice from NSW Health is "If you are concerned that your rainwater tastes, looks or smells unusual, or you suspect your rainwater has been contaminated, an alternative safe water supply, such as bottled water, should be used for drinking."
"The presence of ash and debris in rainwater is unlikely to be a health risk, but could affect the appearance and taste.

"If the water is contaminated the tank should be drained, cleaned and refilled. Working inside a tank can be very dangerous. Professional tank cleaners are available in some areas."
Read more here - www.health.nsw.gov.au/environment/water/Pages/rainwater-bushfires.aspx
If additional water is required to enable cleaning of your tank there are to options:
Pay a water carter to deliver water to your property
Use the Water Fill stations that Council has provided to give access to rural customers to mains water.
Council is investigating a process to refund the cost of the water used to fight the fires. This will go to councillors for approval as part of the recovery effort at the January 29 meeting.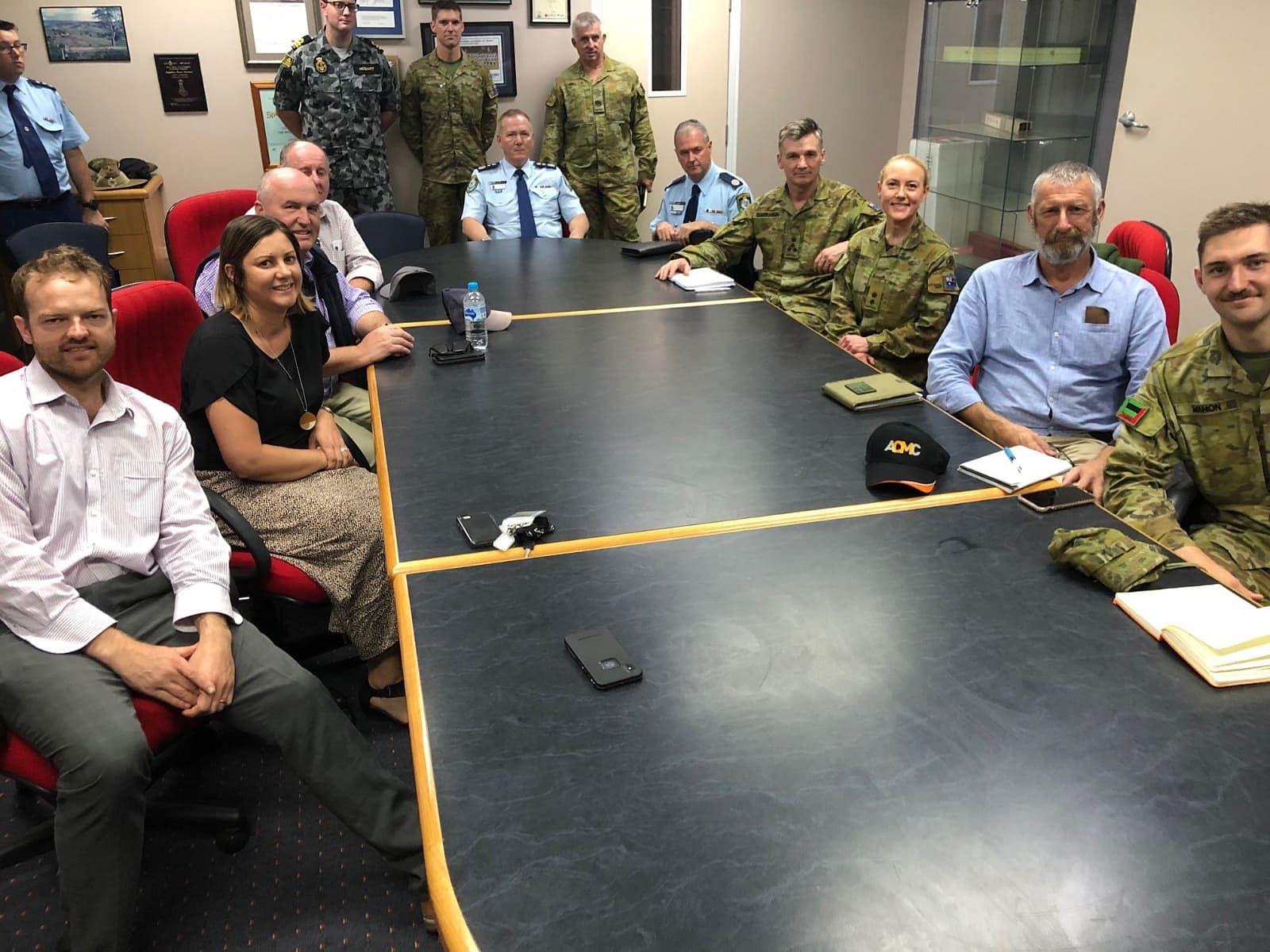 Related Pages
Bushfire Recovery Bulletin #02
---
Rate This Page
---
Share This Page