Nethercote Falls dog rescue
Tuesday 19 May 2015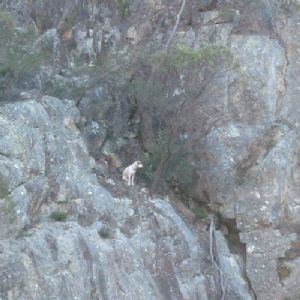 Bega Valley Shire Council rangers were called to Nethercote Falls last week when a concerned visitor noticed that a dog had managed to get itself stuck on the cliff face.
As the rangers drove into the area they were greeted with the rescue crew from Merimbula Fire Brigade with a well-equipped truck that was essential to the rescue. The local SES team also attended to assist.
All of the rescue and roping gear was loaded into the ranger truck and the rescuers made their way down the hill to the lower carpark before trekking into the falls to see the dog in a precarious position about 20 metres up the cliff opposite the main lower pool.
"The poor dog was going nowhere with a sheer drop below and with rocks at the base," BVSC Ranger Julie Higman said.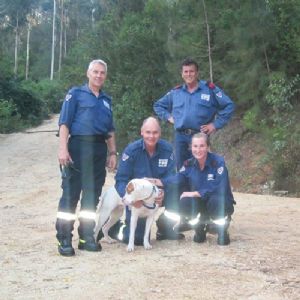 "The rescue squad made their way around the top section of the falls and crossed the slippery river to set up a safety rope.
"The dog was then rescued from the cliff by a harnessed fire rescue officer and the rope team."
Ms Higman said the contact number of the dog's owner was on the collar and the dog, Millie, was also microchipped and registered so the owner was easily contacted once the dog was safe.
"Millie was quite shaken up and very thirsty but over the moon to be on flat ground! She said.
"This was a great example of co-operation among the various rescue organisations and thankfully it had a happy ending.
"The owner was delighted to be reunited with Mollie and extremely grateful for the efforts of all involved."
Ms Higman said the owner's responsible attitude to having Millie registered and microchipped had enabled the prompt reunion.
Photo 1: This is how rangers and rescue teams found Millie when they arrived at Nethercote Falls on Tuesday.
Photo 2: Rescuers Danius Maragis, Gary Dickman, Vanessa Haigh and Mike Duncan from the Merimbula Fire Brigade rescue team with Millie.
END
---
Rate This Page
---
Share This Page