Intergenerational Playroom coming to Bega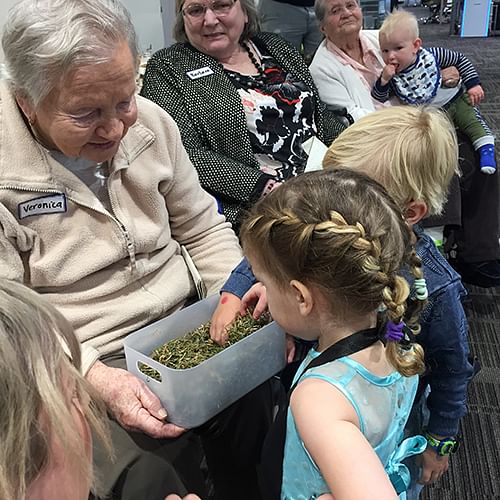 10 October 2017
The very successful Tura-based Intergenerational Playroom is branching out into Bega from November.
The expansion of the program comes thanks to funding assistance from Club Grants and Uniting and with the support of Bega Valley Meals on Wheels as a valued partner. This support also ensures that this popular and rewarding program will continue at Tura Marrang Library for at least another 12 months.
The pilot program started five months ago and has been the catalyst for numerous heart-warming and generous interactions between pre-schoolers and elderly folk who mingle and share themed craft activities, games, sensory activities and morning tea once a month.
Programs and Partnerships Officer, Scott Baker said that he has been amazed to see first-hand how our youngest and oldest residents gain so much genuine enjoyment and benefit from each other's company.
"Research has shown that the elderly benefit from enhanced feelings of wellbeing and increased self-esteem and we've certainly seen that happen locally," Mr Baker said.
"Both age groups benefit from practising fine motor skills and we've also noticed children growing in confidence socially as they relate with older folk.
"This is a significant win-win program for our Shire and we're grateful for the practical contribution from Bega Valley Meals on Wheels to help the Bega Valley Shire Library extend this program to Bega so more people will benefit," Mr Baker said.
Tura resident, Hayley Reynolds, uses her knowledge as a qualified Early Childhood Educator, with experience and qualifications in diversional therapy, to facilitate the activities and craft which are designed for maximum interaction.
The Bega Intergenerational Playroom will start on Thursday 2 November at 10am and will be held at the Bega Valley Meals on Wheels' Toussaint Centre, located at 101-103 Bega Street in Bega. It will continue on the first Thursday of each month.
The Tura Marrang Intergenerational Playroom continues to run on the third Thursday of the month at Tura Marrang Library.
For further information on either Intergenerational Playrooms, please contact Scott Baker on 6499 2172.
Photograph: Seniors and pre-schoolers at play at the Tura Marrang Library Intergenerational Playroom
END
Scroll down to Like | Share | Comment on this page
---
Rate This Page
---
Share This Page
---