Cuppa and Chat sessions offer support and connection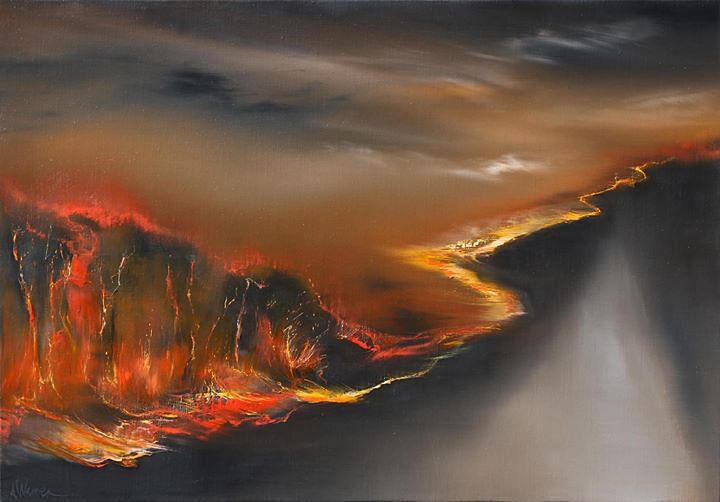 Photo: Painting by Eden artist, Anna Warren titled Fire Front.
29 July 2020
A chance to connect with community and register for support; that's how people in bushfire impacted communities across the shire have described the first round of informal, COVIDSafe bushfire recovery drop-in sessions held throughout July.
The second round of sessions will kick off on Thursday 30 July with a session in Kiah and will then revisit Quaama, Towamba, Bemboka, Wonboyn, Cobargo and Wyndham following the same relaxed and low-key format. Times for the sessions have changed slightly and all will run between 11am and 3pm.
Council's Community Development and Engagement Co-ordinator Scott Baker said the first-round sessions had been popular, with those attending saying how much they enjoyed the chance to catch up with friends and neighbours and tap into the various services and agencies on hand.
"We've designed these sessions to be informal and low key, with an emphasis on relaxed mingling and reconnecting in a COVIDSafe way. And for those after specific support, there's information on hand plus one on one assistance to help make sense of bushfire recovery paperwork," Mr Baker said
"One of the huge benefits is that people with literacy issues or lack of internet access have been helped to access information.
"We've also found that people who hadn't yet registered with the Recovery Support Service were able to do that easily at the sessions; connecting them to ongoing case management and support.
"It is important that we are led by the community in their recovery. These sessions have been a great way for us to hear what is happening in their communities ensuring that we are working together to heal and strengthen our Shire."
Recovery drop in sessions, locations and dates:
Kiah Pavilion (next to RFS Shed,) Thursday 30 July 11am – 3pm
Quaama Hall, Tuesday 4 August 11am -3pm
Towamba Hall, Thursday 6 August 11am -3pm
Bemboka Hall, Tuesday 11 August 11am – 3pm
Wonboyn RFS Shed, Thursday 13 August 11am – 3pm
Cobargo School of Arts Hall, Tuesday 18 August 11am – 3pm
Wyndham Hall, Thursday 20 August 11am – 3pm
More information about Cuppa and Chat sessions can be found on Council's website along with a range of Bega Valley Together bushfire recovery resources.
END
Related Pages
Cuppa and Chat sessions offer support and connection
---
Rate This Page
---
Share This Page