Stormwater and your business
It is illegal to allow anything except rainwater to enter the stormwater system. Under the Protection of the Environment Operations Act (1997) there are substantial penalties that apply. Business owners are responsible for prevention however, individuals can also be fined.
As most stormwater pollution is caused by everyday activities, it's important to train staff in understanding stormwater as well as procedures to prevent pollution. Many businesses document procedures and find this helps to make sure everyone knows the best practice in their workplace.
For more information about preventing or reporting stormwater pollution, contact Bega Valley Shire Council on 6499 2222.
What's on this page
Stormwater, an example from Bega...
Our Lagoons
Bega has three wetlands which are like kidneys for rainwater that runs off the town.
Kiss' Lagoon
Spenco Lagoon; and
Glebe Lagoon
These are beautiful places to enjoy. They add to our quality of life and tourist appeal of the town.
The lagoons help to naturally filter stormwater and remove some of the pollution such as sediment, leaves and some bacteria.
This stormwater then flows to the Bega River and eventually to the ocean at Mogareeka (Tathra Beach).
Download a map of Bega showing the locations of the three wetlands.
Stormwater
In Bega, most stormwater enters the drain off hard surfaces including roofs, roads and driveways.
However, unlike sewerage, stormwater is not treated to remove pollution before it reaches our lagoons.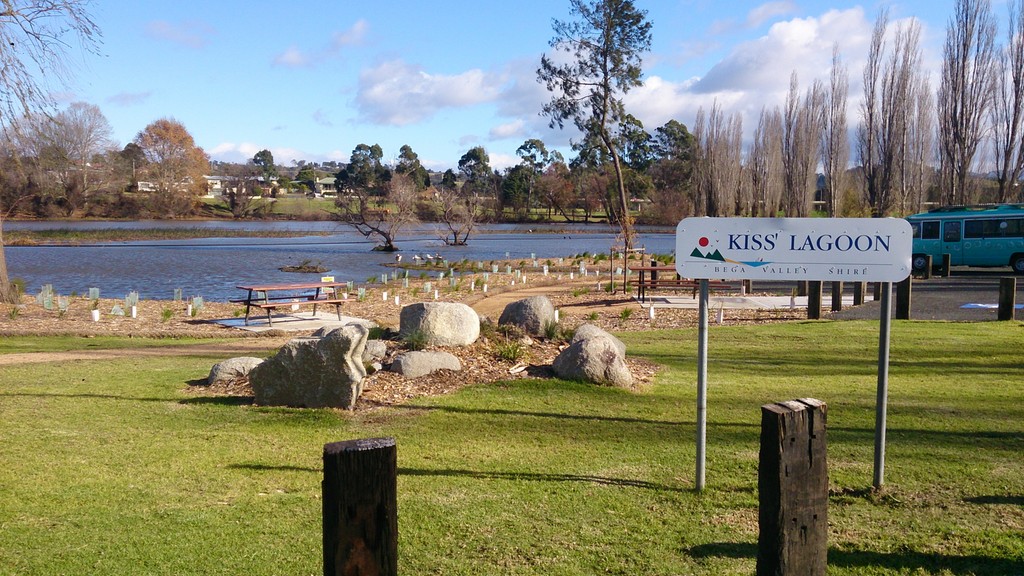 Preventing stormwater pollution

Litter
Litter can block drains and contribute to flooding. Most businesses in Bega already control litter. Good practices include:
Keep a secure lid on bins
If possible, provide bins where staff or customers smoke
Chemicals

Chemicals commonly found in stormwater include paint, detergent, oil, pesticides and fertilisers. To manage chemicals effectively:
Sweep and mop to keep floors clean, especially if rainwater flows across the surface
If hosing is necessary, make sure no chemicals enter stormwater
If your workplace has chemicals, keep a chemical spill kit. Many businesses use sawdust or cat litter to soak up spills and then dispose in general waste
Store chemicals and liquid waste in sealed containers. Larger quantities or 'dangerous goods' may need a bunded area
Dispose of used oil and chemicals through a licensed collection service. Small quantities that are not dangerous may be able to be put in a sealed container in general waste
Wash cars on the grass or at a car wash

Sediment
Sediment includes soil and sand from gardens, building sites and roads. To manage sediment effectively:
Seal or gravel road surfaces where possible
Use trees, grass or landscaping to reduce erosion
For more on controls such as hay bales or fencing see the 'blue book' at www.environment.nsw.gov.au
Natural pollutants
Grass clippings, pet droppings and fallen leaves become pollution when they are concentrated in urban stormwater. To manage natural pollutants:
Sweep leaves from the gutter and drain
Prevent soil and grass clippings from entering the drain
Resources and Further Reading
"What is common sense isn't common practice"
The NSW Office of Environment and Heritage is the best place to search for guidance on preventing stormwater pollution from your business. Resources are regularly updated and it is worth checking for any new information.
Storing and Handling Liquids
This is the most relevant guide to best practice for businesses in the Bega Valley Shire. Topics include:
Storing liquids and liquid waste
Storing and disposing waste
Spill response
Management plans
Training
Download a copy of the Storing and Handling Liquids guide (published May 2007)
Managing Urban Stormwater Soils and Construction
While aimed at construction sites, this document guides best practice in any situation where there may be erosion or sediment entering stormwater. Topics include:
Plan preparation
Erosion control
Sediment and waste control
Download a copy of the Managing Urban Soils and Construction guide (published March 2004)
Bunding
Bunding forms a perimeter to stop spilled liquid reaching stormwater. Requirements for bunding are covered by standards available from Standards Australia though you can contact Council for guidance if your operations require bunding. There is good information from the Environmental Protection Authority (EPA).
Hazardous Chemicals
It is important to know if your business stores or transports hazardous chemicals. To understand more, go to the Workcover website
The Workcover website has more information about the new system of classification and labelling of chemicals. The transition date is 31 December 2016.
Download the Workcover guide to Storage and Handling of Dangerous goods (published September 2005)
Stormwater Harvesting and Reuse
Of course one way to reduce the amount of water entering the stormwater system is to gather the water and reuse it. Download the Managing Urban Stormwater – Harvesting and Reuse guide
---
Rate This Page
---
Share This Page