Club volunteers go all out during bushfire crisis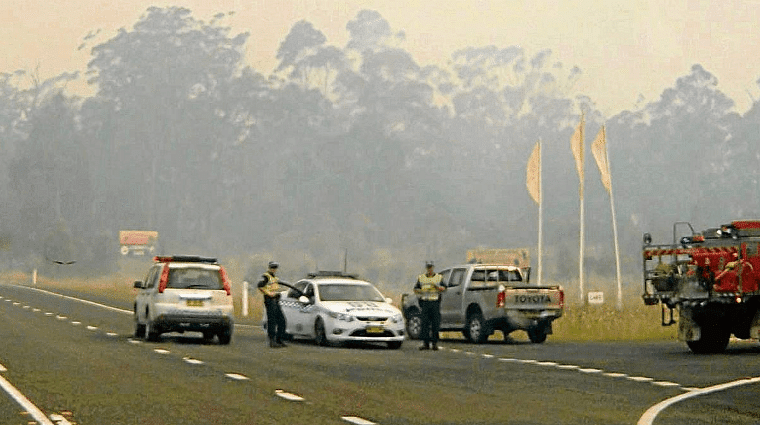 Bushfire smoke haze near Potaroo Palace, which was saved. [Photo: Merimbula News]
18 May 2020
During our severe summer bushfires, registered clubs in the Bega Valley stepped up in support, acting as official and unofficial evacuation centres. They supplied food, shelter and amenities to thousands of displaced tourists, residents and volunteers, and were collection or drop off zones for donated goods.
Merimbula's Club Sapphire was an initial hub for early bushfire evacuations; soon becoming a designated evacuation centre over eight days.
Club Sapphire CEO Damien Foley said during the peak of the bushfire crisis - 4 & 5 January – he and his team provided three meals a day, sleeping facilities and showers for around 1,200 evacuees (residents and displaced tourists) and volunteers each day.
"We provided free wi-fi so everyone could access the internet and stay up-to-date via NSW Rural Fire Service and Council websites and social media," Mr Foley said.
When Club Sapphire reached capacity, Merimbula RSL Club and Tura Beach Country Club opened their doors to evacuees.
"Local doctors came to the rescue when St John's Ambulance services were unable to get through to Merimbula due to all access roads and the airport closing," Mr Foley said.
"Main Street Medical Centre's Dr Nick Theris and Sapphire Clinic's Dr Geoffrey Thomas set up a 24 hour medical service with at least two doctors on duty at all times.
"Courtesy buses, normally used for patrons, were used to shuttle patients to and from the Merimbula RSL Club and Tura Beach Country Club to Club Sapphire for treatment, as necessary.
"And our Tasman Room was turned into a high dependency ward for local nursing home residents, which was staffed full-time by volunteers."
Mr Foley said the financial impact of the bushfire crisis on Club Sapphire has been substantial, but the club's board, senior management and staff are proud of being able to help their community under these dire circumstances.
"There were many, many volunteers, individuals and groups, who made a massive difference to so many lives," Mr Foley said.
"There is no way we could have done this without the tireless and selfless efforts of so many people.
"When the community needed to come together to pull this off, we didn't need to ask for help; it came from everywhere and makes me so proud to be part of this wonderful club and community."
Letters of appreciation from evacuees have poured in since the bushfire crisis and are testament to the strength and character of the club and the people who work there.
During National Volunteer Week we're celebrating the incredible contribution volunteers make at the heart of our community. We can't give them a hug or shake hands their hands right now, but we can give them a massive shout out online.
To do that we've created a virtual Thank You card on our website where you can write as much or as little as you like, to pay tribute to a volunteer or group of volunteers. You can find the card here: begavalley.nsw.gov.au/Volunteer
Be part of the celebration by sharing photos of your favourite volunteering moments on social media with the hashtags #thankyouBVSvolunteers and #NVW2020
Related Pages
Club volunteers go all out during bushfire crisis
---
Rate This Page
---
Share This Page