Merimbula waste collection changes
4 July 2018
Bega Valley Shire Council has made changes to waste collection zones for properties in the Merimbula urban area (east of Reid Street) to achieve consistency with bin collection dates.
The zones are what Council's waste collection contractors, Cleanaway, and Council use to plan bin collection days across the Shire. Merimbula currently has two waste collection zones, Zone A and Zone B.
Council Waste Management Coordinator Joley Vidau said all of the Merimbula urban area will change to Zone A from Thursday, July 12.
"At the moment Merimbula has two zones, Zone A (west of Reid St) and Zone B (east of Reid St), which means a section of the town puts their bins out for collection on one day and the rest on another," Ms Vidau said.
"This zone change will help residents and visitors work out which bins go out each week and streamline bin collection.
"The best way to keep track is to download the free Bega Valley Waste APP onto your smartphone, enter your address, and it will send you reminders of when to put your bins out.
"Council is also sending a letter and a 2018-19 Zone A calendar to current Zone B residents to help them present the correct bins for collection.
"You will also notice one side of the calendar has bin collection dates for when FOGO starts, so when you receive your free kitchen caddy you can turn your calendar over for the FOGO collection dates," Ms Vidau said.
If you are already in Zone A nothing changes, but if you are currently in Zone B the following will apply:
Your Recycling (yellow) bin will be collected on Thursday, July 5 and then fortnightly from Thursday, July 12.
Your Organics (green) bin will be collected on Thursday, August 2 and then every four weeks until FOGO starts later this year.
There is no change to your Landfill (red) bin collection, as it will remain weekly until FOGO starts later in the year.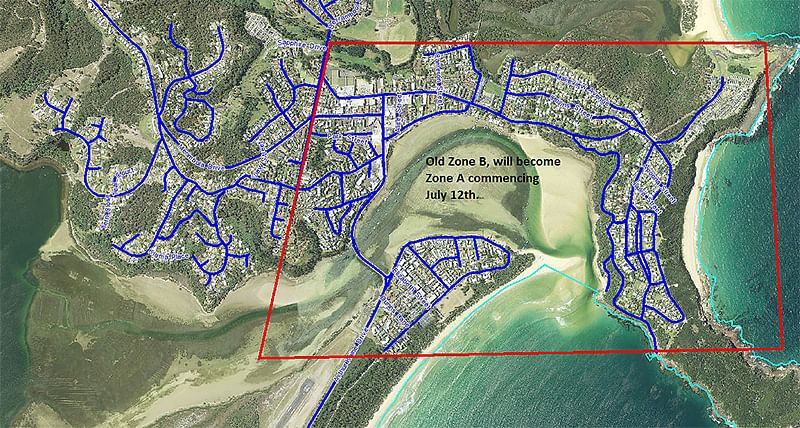 Photograph: Zone A & B split down Reid Street
END
---
Rate This Page
---
Share This Page