Camp management plan for Flying Foxes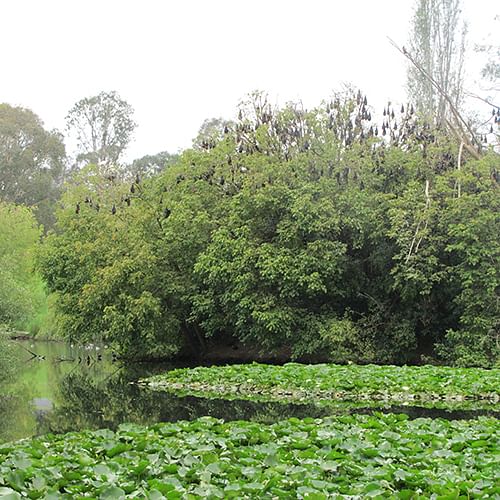 13 September 2017
Bega Valley Shire Council is developing a flying-fox camp management plan for the Glebe Lagoon grey-headed flying-fox camp in Bega.
Environmental consultants Ecological, along with a local community engagement consultant, are developing the plan that will document the potential impacts from flying foxes that roost in Glebe Lagoon. The Plan, funded predominantly by a grant from Local Government NSW, will also capture community sentiment and suggestions on how to manage this issue now and into the future.
Council's Natural Assets Officer, Andrew Morrison said, flying foxes have been using the Glebe lagoon as a daytime roost and breeding site (camp) for around 10 years, arriving in spring and leaving in autumn.
"They are listed as a vulnerable species and are protected by NSW and commonwealth legislation so any management actions need to consider the welfare of the flying foxes", Mr Morrison said.
"Community input will be very important for the development of the plan and a steering committee including representatives from key stakeholder groups has been established to assist.
"Representatives from the Bega Showground trust, Rotary, Friends of Glebe Wetlands, Office of Environment and Heritage, National Parks and Wildlife, BVSC, wildlife carer network and a Vet with extensive Hendra virus communication experience will all contribute to the discussion and way forward, Mr Morrison said.
While the plan is focussed on Glebe Lagoon the information contained in the plan will assist with the management of camps that may sporadically form elsewhere in the Shire, including townships like Candelo.
Community consultation has already commenced with residents within 1km of the Glebe Camp asked to complete an online survey.
"Council is aware that there have been issues with some residents within 1km of the Glebe Camp not receiving notification of the online survey. We are committed to getting community feedback on this issue and any local residents who have not already taken the online survey or spoken directly with council staff can complete the general community survey and identify themselves as a nearby resident", Mr Morrison said.
Interviews are also being conducted with key stakeholders identified by the steering committee including orchardists, horse clubs and environmental groups.
The broader community is also encouraged to have their say. The online survey is available until 29 September and can be found at https://www.surveymonkey.com/r/glebe-flying-fox or through the 'have your say' page on Bega Valley Shire Council's website.
There will be further opportunities for community input as the plan is developed.
Please contact Andrew Morrison on (02) 6499 2222 for information on the consultation process. Further information on flying foxes can be found at:
http://www.health.nsw.gov.au/environment/factsheets/Pages/flying-foxes.aspx
http://www.environment.nsw.gov.au/animals/flying-fox-measures.htm
Photograph: Flying Fox camp at Glebe Lagoon
END
---
Rate This Page
---
Share This Page