Clubs came to our rescue, but what is their future?

[From left] Volunteers at Club Sapphire construct fans during the summer bushfires crisis, Eden Fishermen's Recreation Club hosts bushfire evacuees during the crisis and Bermagui Country Club serves meals to bushfire evacuees.
26 May 2020
During our severe summer bushfires, registered clubs in the Bega Valley stepped up in support, acting as official and unofficial evacuation centres. They supplied food, shelter and amenities to displaced tourists, residents and volunteers, provided safe spaces for pets, and were collection or drop off zones for donated goods.
Three clubs in the thick of the bushfire catastrophe were Club Sapphire in Merimbula, Eden Fishermen's Club and Bermagui Country Club.
As they were preparing to get back to business, COVID-19 hit, which was a huge blow to the clubs and their communities.
The financial impact of the bushfires and COVID-19 has meant the annual community grants – a high point for so many community groups – will be deferred until next year.
But what will things look like next year? What does the future hold for our clubs under these extreme circumstances? Will we be there to support them?
Club Sapphire
Club Sapphire's CEO, Damien Foley said although financially the club suffered significantly after the bushfire crisis, management and the board were proud of the way the club was able to support its local community and displaced visitors.
"During the peak of the bushfire crisis, we provided three meals, sleeping facilities, showers and access to wi-fi to around 1,200 evacuees and volunteers each day.
"There were many volunteers - individuals and groups - who made a massive difference to so many lives. There is no way we could have done this without the tireless and selfless efforts of so many people.
"And just as we were returning to a semblance of normality, COVID-19 hit. We had anticipated a good Easter trade and the immediate future looked promising."
Club Sapphire closed at 12noon on 23 March 2020.
"We considered doing takeaways, but it was just not cost-effective to do that," Mr Foley said.
Of around 100 staff, the club has 75 on JobKeeper. They stay connected via email updates, Zoom staff meetings, phone calls from management, newsletters and a special Messenger group the staff themselves set up. They are all making an effort to stay in touch.
"Our product is social interaction; about people coming together and socialising," Mr Foley said.
"When we are able to reopen, it will be interesting to see what the new post-COVID-19 world looks like.
"Our management team has been looking at different scenarios as to what we can offer when we open; what our customers will want from us and how we can meet those needs.
"People's habits have changed; they are eating and cooking more at home, they are purchasing more takeaway alcohol and access betting online.
"Who's to say people won't continue to do this once COVID-19 is over? And if they do, where does that leave the future of clubs?
"On the positive side, Club Sapphire is still viable and will continue to operate. We'll just be doing things a little differently."
Eden Fishermen's Recreation Club
Eden Fishermen's Recreation Club, which acted as a bushfire evacuation centre, has ceased trading as a registered club.
CEO Andrew Terry said the club was "still reeling from the January/February bushfires that gave us a 40% downturn and then we went straight into the coronavirus.
"We're $1.5 million down on revenue and still trying to make an assessment on whether we can continue to trade at all," Mr Terry said.
As an initial evacuation centre, the Fishermen's Club housed over 400 displaced tourists and residents and once at capacity, people seeking shelter were redirected to the Eden Gardens Country Club.
As the bushfire came closer to the township, everyone was moved to safer locations, in Merimbula, Tura Beach and Bega.
February saw some of the club's operations restored, but of course, no tourists. Club management was still assessing whether it would be able to survive the losses when COVID-19 hit.
"We had invested $48,000 upgrading our golf carts for cruise ship tours," Mr Terry said. "We were expecting to make $2,000 per day on the tours, but only made about $8,000 overall due to cancellations.
"We have 32 staff on JobKeeper and operate the Chinese restaurant for takeaway and home delivery, and takeaway alcohol."
On 23 March, the Eden Fishermen's Recreation Club's doors closed. When and if we are allowed to reopen, the club will only trade from the Eden Gardens Country Club.
It is hoped the Imlay Street venue will be available as a 'civic centre' for functions and entertainment.
In the meantime, work is due to start soon on a joint retirement development of 116 townhouses and 16 house and land packages.
"If anything saves our business, this will be it," Mr Terry said.
Bermagui Country Club
Since the COVID-19 shutdown on 23 March, General Manager of Bermagui Country Club, Robert Beuzeville, several of his staff and local contractors have been giving the club an overdue makeover and spring clean.
"We are preparing the club for re-opening, which we hope will be sooner than later," Mr Beuzeville said.
"We've had tremendous support from Clubs NSW, Golf NSW, the Australian PGA and the Campsie RSL Group, through a cash donation, cleaning up the golf course, getting the Bermagui Legends Pro Am golf event on the calendar and just checking in regularly to see if my staff and I were okay.
"Our community, the club and our staff have been through a number of devastating setbacks over the past few months, but we are all very determined to get back on our feet."
The Bermagui Country Club opened its doors to shelter the community and visitors at 5.30am on 31 December and by 6.30 am there were around 600 people inside. By the end of that day, Mr Beuzeville estimates as many as 3,000 people moved through the premises, with the club providing food, water and shelter.
Club staff helped out for 42 hours straight before shutting down at midnight on 1 January 2020. The next day the Bermagui NSW Rural Fire Service team and their families moved into the club, using it as their Incident Management Centre until 8 January.
The club, together with a range of volunteers, provided meals for up to 130 firefighters and their families each day and made lunch packs for the firefighters on duty.
After the crisis was over, club members visited the areas affected by the bushfires and offered help, such as unloading trucks and giving support where needed, and the club's restaurant vouchers were given to those who needed them.
The Bermagui Country Club has been struggling financially for several years, but a recently finalised land deal looks to have secured its future.
"The club is a big part of this community and will continue to be," Mr Beuzeville said. "The best way for us to contribute to the community right now is to get back into trade and make a positive impact going forward.
"We have 26 of our 38 staff on JobKeeper and I check in with them all regularly to make sure they're all doing as well as they can under the circumstances. I also keep in touch with our suppliers to make sure that when we're ready to go, they are too.
"We're starting to turn the corner and grow the club," Mr Beuzeville said. "We'll be sticking to our core values, which is food and beverages and our sporting options of golf, tennis and bowls. We also have a flourishing Arts and Crafts Group of painters, potters, quilters, needle pointers, leadlight and mosaic artistes.
"We've been looking at some new initiatives including using one of the bowling greens as a kids area with an inflatable obstacle course and a family area out the front where they can enjoy a takeaway meal.
"We are optimistic about the future and look forward to the day we can open and welcome back our members and guests."
What next?
Local clubs are where people can come together to for friendship, support and a sense of belonging. The local club is also often the largest single employer in a regional community.
The industry has been closed for two months now. The impact on our communities, which include club members and guests, suppliers, contractors and staff, is hard to measure right now.
Soon it will be our turn to thank the clubs for their generosity and support during our bushfire crisis, with a meal or a bevvy with our family and friends.
Club Sapphire volunteers construct fans during the bushfire crisis and during COVID-19, Club staff keep in touch via Zoom meetings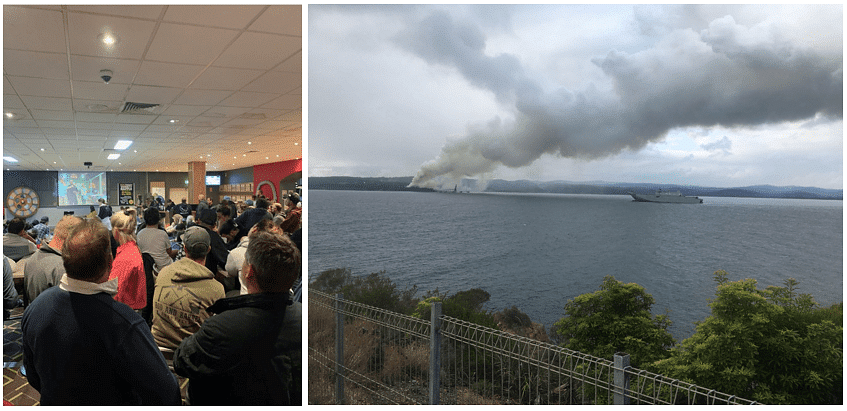 Eden Fishermen's Recreation Centre became an evacuation centre during the bushfire crisis, and the bushfires bearing down on Eden during the crisis.

Bermagui Country Club as an evacuation centre during the summer bushfires, and getting an overdue makeover during the COVID-19 shutdown (photo courtesy MorLec Electrical Services).
Related Pages
Clubs came to our rescue, but what is their future?
---
Rate This Page
---
Share This Page