40% of destroyed properties unregistered for clean up, don't miss out, register NOW!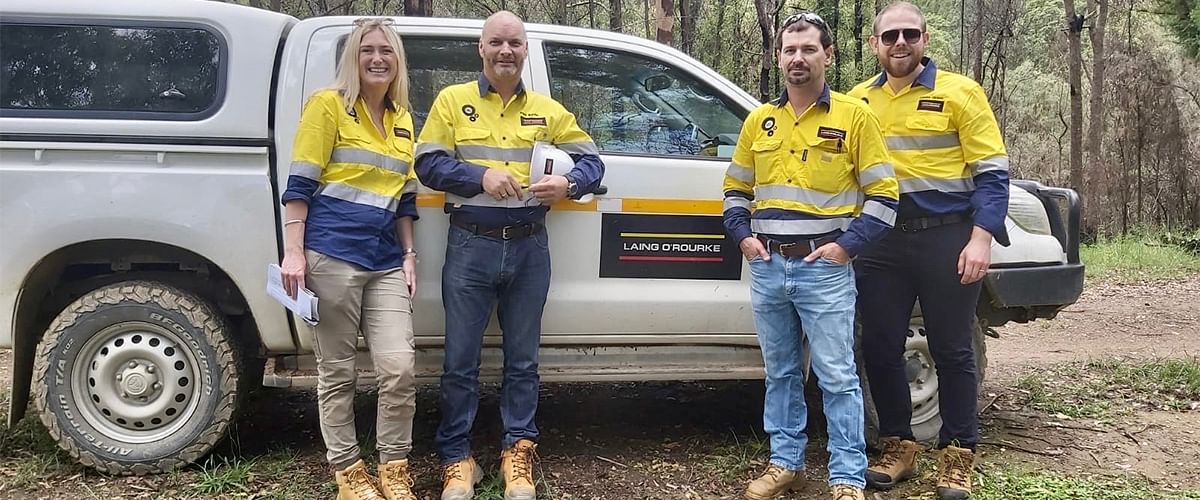 Photo: Staff from Laing O'Rourke are coordinating the clean-up effort across NSW.
Tuesday, 17 March, 2020
Communities north, west and south in the Bega Valley are waiting for the clean-up of bushfire affected properties to start. However, Council is concerned some people will miss out.
Many property owners still don't appear to have registered for the FREE clean-up, we estimate that could be up to 40% of impacted properties.
The FREE Government clean-up is being led by a company called Laing O'Rourke. Representatives are in the Bega Valley now speaking with property owners in Cobargo and Quaama, with other areas to follow.
It's essential that family households, singles, couples, businesses, and farmers with destroyed properties register for the clean-up via Service NSW.
"We're worried that people have been lost and confused by the multiple registrations they have had to undertake," says Mayor Kristy McBain.
"Wanting to make sure no one is left behind; council staff have led a project that brings all the different databases together.
"At least 448 properties have been destroyed, we know a large number have registered for a range of services and support but we fear around 200 properties aren't on the clean-up register with Service NSW.
"The hoops people have had to jump through are not acceptable, a point we will continue to make strongly to state and federal government, this has been a massive learning process for the future.
"But in the here and now we need to get people on that clean-up list."
You can do that through the Service NSW website or by calling 13 77 88.
"Please register now to demonstrate the need in our community and to help plan the works to come," Cr McBain says.
To check if you are registered for the clean-up call or email Laing O'Rourke on 1800 007 539 and nswbushfirecleanup@laingorourke.com.au
Once registered, over time Laing O'Rourke will contact registered property owners to discuss damage and assess eligibility. Owners will approve the scope of works and then confirm completion of the agreed scope of works.
Updated recovery information is also available via Council's website and Facebook page, and you can subscribe to our regular enewsletter.
END
---
Rate This Page
---
Share This Page