A workshop to find a Pathway Home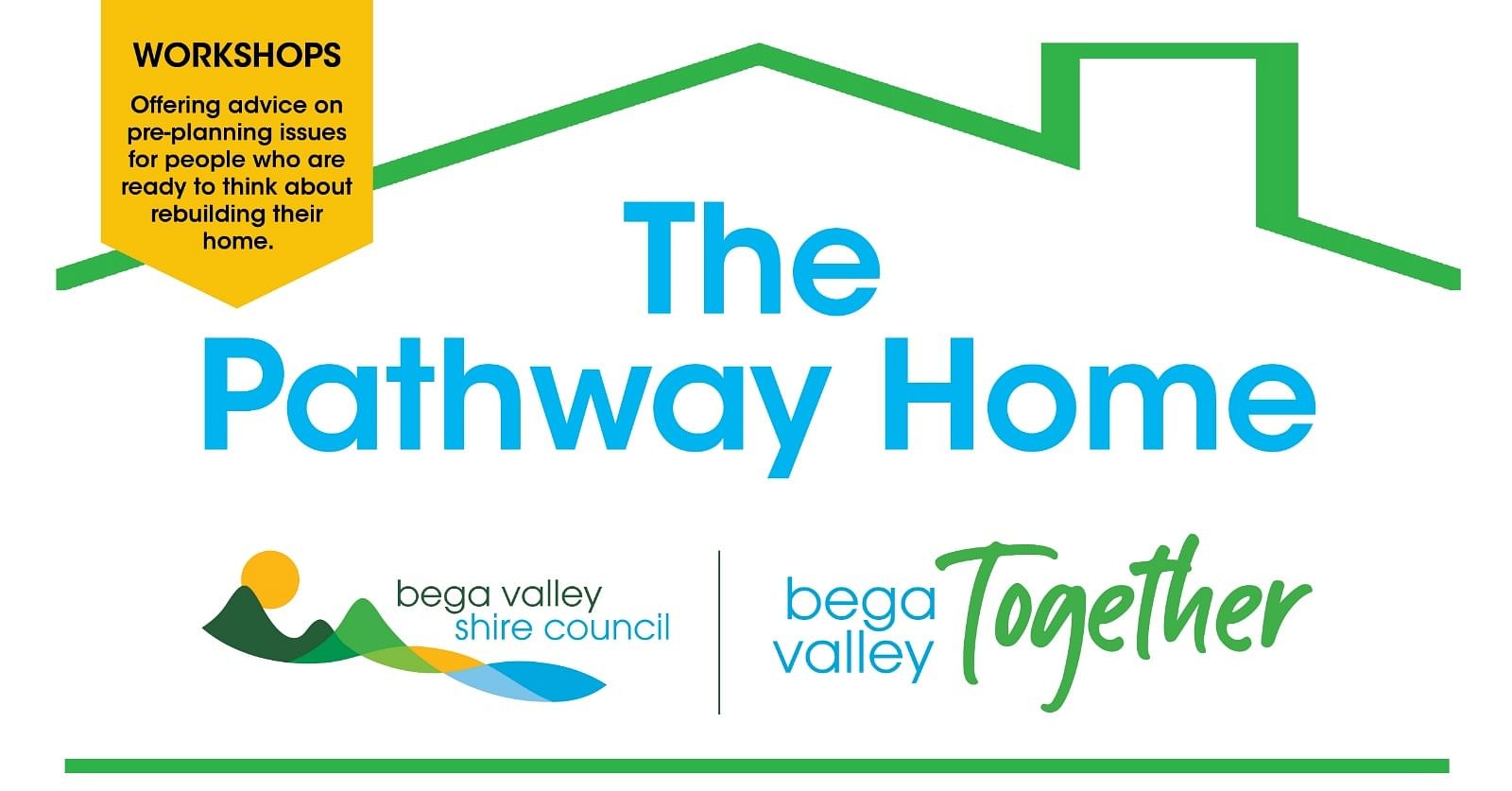 8 September 2020
Bega Valley Shire Council is expanding its bushfire recovery resources with the introduction of a Pathway Home workshop and drop-in session later in September.
Recognising the importance of tailoring recovery and rebuilding support at a pace unique to every affected resident, the new workshop is for people who are ready to plan for a new home.
Drawing on the knowledge of prominent architect, Tim Lee from the Australian Institute of Architects, the Pathway Home workshop will be run in Eden and Cobargo.
Bega Valley Shire Mayor, Sharon Tapscott said the workshop will add to a range of resources that cater for bushfire-affected residents regardless of where they are on their journey to recovery.
"The Pathway Home workshop will offer expert advice on pre-planning issues for people who are ready to think about rebuilding their home," she said.
"We understand that everyone recovers at different speeds, and for this reason the Cuppa and Chat sessions around the Shire will continue in partnership with a number of agencies and services.
"Many people are continuing to adjust to a world changed by bushfires and COVID-19, and for these people thoughts of rebuilding may still be a long way off.
"There is no rush as other resources for the rebuilding process will continue to be available. Please continue reaching out at your local Cuppa and Chat session where a supportive community is there to hear you.
"If, however, you are eager to rebuild something better and more resilient, then please take the opportunity to attend a Pathway Home workshop.
"Tim Lee is a wealth of knowledge and experience, and his advice on siting a house, infrastructure considerations, bushfire planning, and building to BAL ratings will be extremely valuable," Cr Tapscott said.
BAL, or Bushfire Attack Level, ratings are used to assess the risk from flame, embers, and heat on bushfire-prone land where people want to build or rebuild.
Council's Environmental Health and Building Officer, Garry Cooper said Council is giving free BAL rating assessments to residents who lost their home in the summer bushfires.
"Getting a BAL rating assessment on your property is a necessary step when thinking about rebuilding your home," he said.
"The outcome of a BAL rating assessment determines the level of construction required to suit the surrounding environment and to comply with Australian Standards and NSW RFS Planning for Bushfire Protection requirements.
"We recognise the additional costs of rebuilding more resilient homes, which is why Council is continuing to cover the cost of BAL rating assessments to those who lost their home in the summer bushfires."
Councillor Tapscott said that specialist Council staff will be at hand to assist anyone who can't make it to a Tim Lee workshop.
"In addition to the Tim Lee workshop, Council staff from the DA Hub will be at the venues from 1.00pm until 5.30pm to assist with any rebuilding enquiries you might have."
The Tim Lee workshop is free to attend but booking in advance is essential to ensure COVIDSafe requirements are met inside the venues.
The Pathway Home workshop will be held on Thursday 17 September at the Cobargo School of Arts hall, and Friday 18 September at the Eden Log Cabin.
The one-hour workshop times will start at 1:30pm, 3pm, 4:30pm and 6pm. Please book in to just the one session. Each session will have a maximum of 10 participants.
To secure a place, visit the Cobargo workshop booking page or the Eden workshop booking page.
To book a free BAL rating assessment, email Council's Development Application Hub at developmenthub@begavalley.nsw.gov.au or call 6499 2209.
Related Pages
A workshop to find a Pathway Home
---
Rate This Page
---
Share This Page