Iron the cause of discoloured water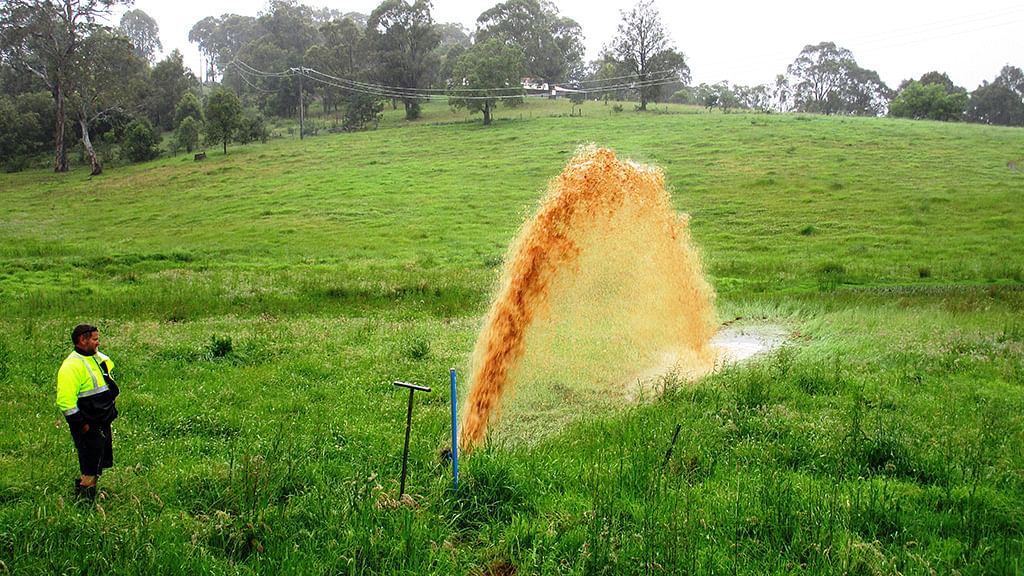 Analysis of discoloured tap water samples taken following reports from Bega and Tathra residents and business owners in recent weeks has shown the predominant cause of the discolouration to be iron.
Naturally occurring iron in the groundwater from the Bega Borefield supply source and corrosion of water supply network infrastructure are the known causes of this issue.
Periodically these iron deposits become disturbed and subsequently flow from taps at home, giving the water an undesirable rust-brown appearance and disappointingly sometimes also staining laundry.
Importantly there is no health based guideline value for iron in drinking water. Iron in drinking water is an aesthetic issue, not a health one.
Council's Water and Sewerage Services Manager, Jim Collins, said that without the existence of a Water Treatment Plant (WTP) to remove the iron from the water, small solids flow through and deposit in the system, particularly in those areas where water flow is low.
"The water is disinfected, safe to drink and of a high quality in terms of most indicators, however we fully understand that when the water is discoloured it can be unpleasant and annoying for people," Mr Collins said.
"Impacts on laundry and poor experiences for visitors to holiday accommodation are particularly regrettable and we are continually looking at solutions.
"In the immediate term, we will continue with our water mains flushing program, however the effectiveness of this method is limited by the water pressures and flow available and other cleaning techniques are also needed and used periodically, such as air scouring and ice-pigging.
"We (Council) are also purchasing an in-pipe camera and tapping gear to allow staff to undertake a more detailed inspection of the various pipes and fittings in the area and more effectively prioritise asset renewals. The water mains in Tathra (including Andy Poole Drive and Bega Street) will be among the first to be examined in this way.
"The construction of four WTP's remains our primary focus however and we have built a reserve balance of $10 million to go towards achieving this goal, but we won't be able to deliver these in a timely manner solely through current income sources without excessive borrowings and/or a major increase in residential water and sewer bills.
"As such we have submitted an Expression of Interest (EOI) application to the NSW Government Safe and Secure Water Program for the scoping phase of a water treatment plant at South Bega. This will include water treatment options planning and site investigations," Mr Collins said.
Council keeps a record of all discoloured water complaints so that any particularly troublesome locations can be investigated. People experiencing issues are encouraged to lodge a report on (02) 6499 2222.
Photograph: Bega Water and Sewer Services team member Scott Reeve flushing the water main between Bega and Tathra
---
Rate This Page
---
Share This Page