Grandparents join the preschool fun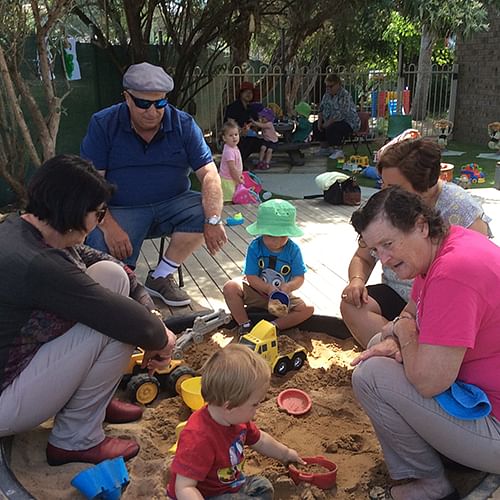 14 November 2017
Bega Valley Shire Council's Children's Services hosted a number of special events to celebrate NSW Grandparents Day recently.
The Bandara Childrens Services and Sapphire Mobile Preschool children had the opportunity to show their older relatives all the learning opportunities they engage in over the course of a day.
A NSW Department of Family and Community Services grant enabled Bandara to hold an interactive games day to mark the important occasion this year, with the children and grandparents sharing some classic games from the past, including Bocce and Skittles.
The guests also had the opportunity to play with their grandchildren in both the indoor and outdoor learning environments. There were nans sharing stories, pops working on constructions, tea parties on the deck and a full sandpit, before everyone shared lunch.
At Candelo Preschool the grandparents engaged in dramatic play, as the children set up a café to serve the family members tea and coffee.
The children were also excited to show their guests the ELLA apps that support the children to learn Mandarin, while in the afternoon one of our working grandparents joined in for story time and read 'How the birds got their colours'.
The Bemboka Preschool children cooked and served pizza as they joined their grandparents for morning tea.
Plenty of fun was also had making playdough and the children shared coloured counters to make dinosaurs.
Council's Children's Services Coordinator, Lynn Bray, said the staff and children felt very fortunate to have so many guests take part in the celebrations.
"We hold these events every year to celebrate the wonderful contribution that grandparents make in their grandchildren's lives and it is just wonderful to see the enjoyment everyone gets out of the cross-generational interactions," Ms Bray said.
New enrolments for all of Council's preschools and long day care centres are now being accepted for 2018.
To enrol, or for more information, contact Bega Valley Shire Council's Children's Services on (02) 6499 2118.
Photograph: The sandpit was very popular on Grandparents Day at Bandara Childrens Services.
END
Scroll down to Like | Share | Comment on this page
---
Rate This Page
---
Share This Page
---