Mumbulla Foundation partnership extended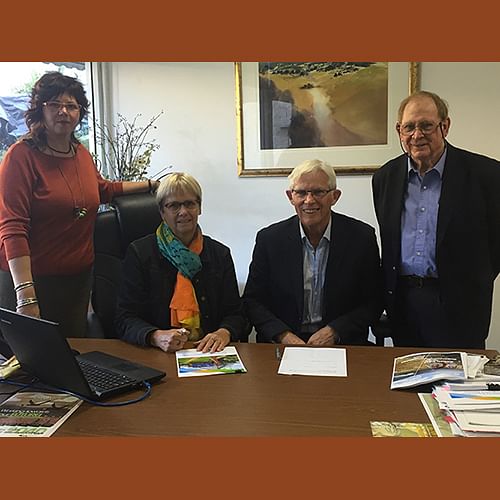 15 August 2017
The partnership between Bega Valley Shire Council and the Mumbulla Foundation will extend until at least June 2021 after the parties put pen to paper on a new Memorandum of Understanding (MOU) last week.
Unbroken since its inception in 2000, the successful partnership has long been regarded as a model for others across the State, with the new MOU clearly defining Council's ongoing support of the Foundation's Community Grants Program.
Bega Valley Shire Council General Manager, Leanne Barnes, said Council was delighted to continue to be able to work with the Foundation.
"We regard this partnership as extremely important as it provides us (Council) with the opportunity to help community groups and organisations working to address many of the important social issues facing our Shire," Ms Barnes said.
With a motto of "Give Where You Live" the Mumbulla Foundation is the community foundation of the Bega Valley Shire and raises money to give grants to local charity and not-for-profit organisations.
Through the Community Grants Program, the Foundation, in partnership with the Bega Valley Shire Council, supports multiple groups each year that are focussed on improving the collective economic, environmental, social and cultural wellbeing of those living in the Bega Valley.
More than 200 organisations have shared in nearly $1 million over the duration of the partnership and with the 2017 funding round now open until September 30; these numbers are set to rise further.
Mumbulla Foundation chairperson, Gary Potts, described the partnership as wonderful and encouraged all community groups to apply for funding.
"The diligent work of the Foundation combined with the generous support of Council means that the over $50,000 in funding will be available for worthy community projects this year," Mr Potts said.
For more information on the Community Grants Program visit the Mumbulla Foundation website http://mumbulla.org.au/grants/grant-guidelines/
Photograph: Bega Valley Shire Council General Manager, Leanne Barnes and Mumbulla Foundation Chairperson, Gary Potts (both seated) were joined by Cr Jo Dodds (Mumbulla Foundation Councillor Representative) and Michael Britten (Mumbulla Foundation) for the signing of the new Memorandum of Understanding.
END
---
Rate This Page
---
Share This Page