Waste vouchers to go paperless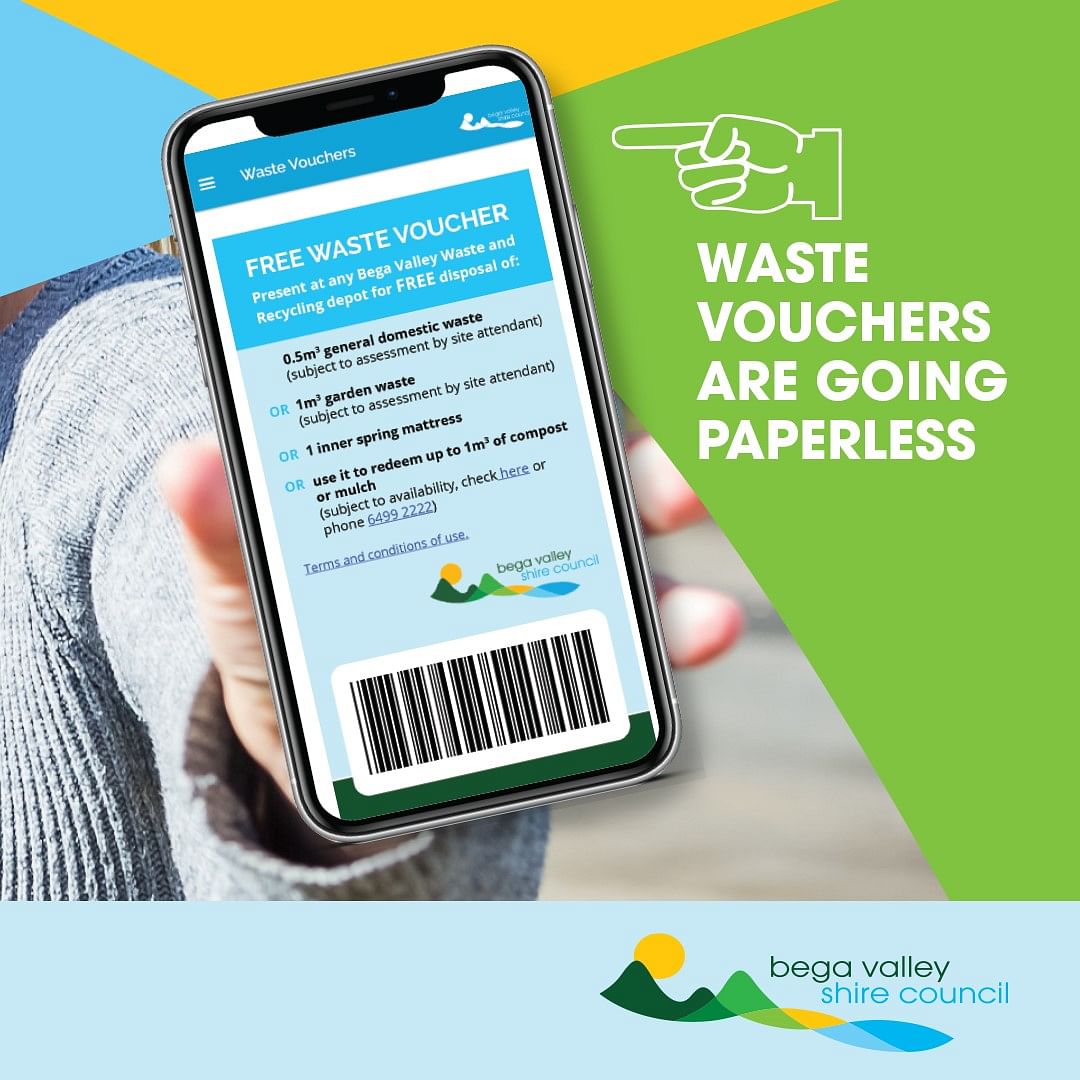 9 July 2021
Bega Valley Shire residents will soon be using their phones to redeem free waste vouchers as the popular service goes paperless.
The move to paperless waste vouchers is part of Council's focus on improving service at its waste transfer stations while minimizing waste and saving on operational costs.
Council's Waste Strategy Coordinator, Joley Vidau said the digital vouchers will deliver an improved customer experience.
"It's a real inconvenience to lose a voucher or to roll up with a trailer load only to discover the voucher is still at home," Ms Vidau said.
"Having a waste voucher always within easy reach via our popular Bega Valley Waste App will make it easier than ever to drop off your waste or pick up your FOGO compost for free.
"Moving to a paperless service means we are walking the talk when it comes to diverting materials away from landfill.
"An electronic voucher is instantly available and it disappears once it's been used—there's no waste.
"We do, however appreciate that not everyone has access to a mobile phone with Apple or Android app services. If this is you, please visit our Waste Vouchers webpage or call us on (02) 6499 2222 and we will send you your vouchers.
"More than 12,500 people are already using the Bega Valley Waste App, which tells you when to put your bins out, what to put in them and how to keep waste from landfill. With the added function of in-app waste vouchers we hope many more people will sign up to this useful free tool.
"The electronic vouchers are easy to use. Download or update the app to your phone, tap 'Waste Vouchers' on the main menu, enter your address and rates assessment number and your e-voucher is good to go.
"Like normal, you will get vouchers twice annually, in July and again in December, to use on general or garden waste disposal, or on our fantastic FOGO compost. The e-vouchers will be available on the app from today (9 July) and can be redeemed until 31 July 2022."
For more information, visit Council's Waste Vouchers webpage, or call (02) 6499 2222.
FREQUENTLY ASKED QUESTIONS
What do the vouchers entitle me to?
Each free waste voucher entitles you to drop off up to half a cubic metre of general domestic waste, or up to one cubic metre of garden waste. Or you can claim one cubic metre of FOGO compost or drop off one inner spring mattress per voucher.
Can I take several smaller loads to the waste transfer station to make up the limit on my vouchers?
No, each voucher can only be used once for free disposal of up to half a cubic metre of general domestic waste or up to 1 cubic metre of garden waste. If you have a lesser amount in your load, your voucher will still be marked as redeemed.
If I have purchased a new mattress that gets delivered by a furniture company and they offer to dispose of my old mattress, can I pass on my voucher for 1 x free inner spring mattress to them?
Yes, you can. Take a screen shot of your voucher and send it to them as an SMS and when they dispose of your old mattress our staff will scan it from the photo and redeem your voucher.
If I have a landscape gardener taking a load of my garden waste to the waste transfer station for disposal, can they use my voucher?
Yes, for loads of up to one cubic metre of garden waste, a landscape gardener can redeem your voucher on your behalf. You just need to SMS them a screen shot of your voucher.
How do I download the Bega Valley Waste App and what does it cost?
Search in your Google Play or App store on your smartphone for Bega Valley Waste App and download it for free.
Can I still get paper vouchers?
Yes, you can request paper vouchers by calling us on (02) 6499 2222, filling out an online form on our app or website, or dropping into our Zingel Place office in Bega.
Related Pages
Waste vouchers to go paperless
---
Rate This Page
---
Share This Page