Scamper down to Storytime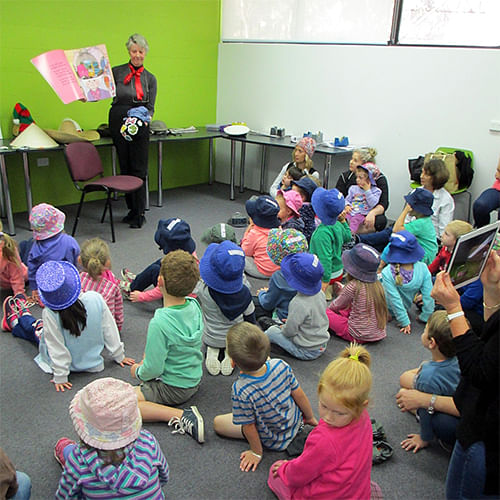 14 May 2018
Bega Valley Shire Library invites children of all ages to scamper on down to their local library for National Simultaneous Storytime on Wednesday 23 May.
At precisely 11am our Shire libraries will join other libraries and organisations across Australia in reading simultaneously the same picture book, Hickory Dickory Dash, written by Tony Wilson and illustrated by Laura Wood.
Library Programs and Partnerships Officer, Scott Baker, said that the story is an exciting tale of cat and mouse, as a mother mouse searches for her two sons, all the while watching out for the prowling house cat.
"We'd love children, parents and carers to get into the theme and dress up on the day as a mouse or cat. Children enjoy dressing up and this is the perfect event to pop on some whiskers and paws and enjoy some fun together," Mr Baker said.
National Simultaneous Storytime will start locally from 10.30am with other stories about mice, cats and clocks. The main story will be read at 11am sharp, followed by a craft activity.
The event will be held in all Shire libraries at Bermagui, Bega, Tura Marrang and Eden.
Libraries Team Leader, Samantha Fenton said that Bermagui library will open especially for the event.
"We aim to promote the value of reading and literacy to our communities and we are keen for Bermagui to participate in this significant national event," she said.
Tony Wilson is an Australian author and broadcaster with a number of children's books to his name, including bestselling story, The Cow Tripped Over the Moon, and other favourites such as Grannysaurus Rex, Harry Highpants, The Princess and the Frozen Packet of Peas, The Emperor's New Clothes Horse and Emo the Emu.
National Simultaneous Storytime is an annual event organised by the Australian Library and Information Association and is in its 18th successful year. It aims to encourage young Australians to read and enjoy books.
More about National Simultaneous Storytime is available at www.alia.org.au/nss#AboutNSS
Photograph: Children enjoy Storytime at Bega library.
END
---
Rate This Page
---
Share This Page