Local government family answers call for help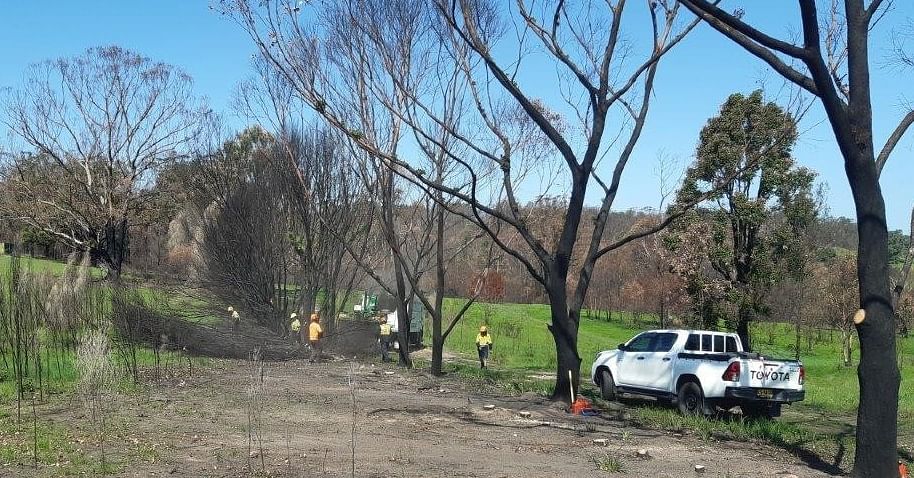 26 March 2020
They may now have returned to their own homes and councils, but the support given by local government family members who came together to back the Bega Valley community this summer will never be forgotten.
Bega Valley Shire Council General Manager, Leanne Barnes said the contribution made by councils from across New South Wales as our communities faced the challenges presented by weeks of ongoing bushfire, was heart-warming.
"The practical, on the ground support given by these Councils and their staff is very much appreciated.
"We've seen an amazing response to the needs of our local communities at this time," Ms Barnes said, "and our colleagues in the local government sector have been a strong part of that."
"The task ahead for our community is enormous and Council is at the centre of that. Our people come from this place and feel the scale of the job ahead very deeply with many also dealing with their own personal loss," Ms Barnes said.
"It has made a huge difference to our people and to the community to have the support and camaraderie of our local government family."
Appreciating the connection local government has to their communities and wanting to help, many other New South Wales councils answered a call and joined the ranks of Bega Valley Shire's workforce across the organisation.
The effort was coordinated by the Office of Local Government and the City of Sydney and included:
Lake Macquarie City Council
Randwick City Council
Kiama Council
Port Stephens Council
Hunters Hill Council
Canterbury Bankstown City Council
Northern Beaches Council
Hornsby City Council
Inner West Council
Woollahra Municipal Council
Eurobodalla Shire Council
"The willingness to help and the expert knowledge staff from other councils have brought to the Bega Valley has been a great support to my team, and importantly allowed us to move much more quickly on important recovery work for our towns and villages," Ms Barnes said.
"On behalf of Bega Valley Shire Council and the community I am a part of, I want to thank and acknowledge staff from these councils who came here to help. They put aside time with their own family and friends to be with us and no doubt had to put aside important work for their own councils."
Photograph: Work to manage dangerous trees at Cobargo Cemetery involved staff from other NSW councils who answered a call to support the Bega Valley during and after the bushfire response.
---
Rate This Page
---
Share This Page