Grandparents Day celebrates generations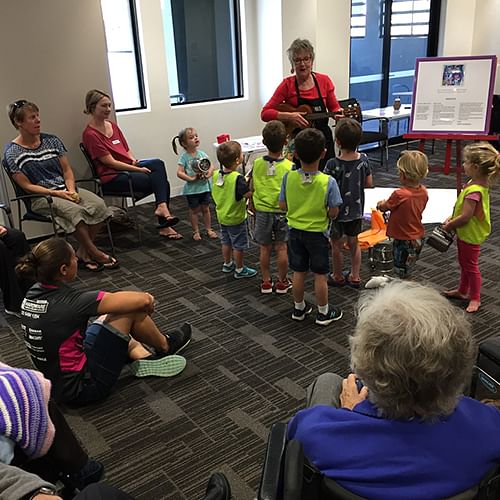 22 October 2018
Grandparents play pivotal roles in our communities and families and Bega Valley Shire Library invites you to celebrate NSW Grandparents Day at Tura Marrang Library and Community Centre with an entertainment-packed day, which will include information about the importance of intergenerational relationships from the program leader of the soon to be established childcare centre at Imlay House, Hayley Reynolds.
Library Programs and Partnerships Officer, Scott Baker, is excited about the event and the possibilities it offers for people to connect across the generations.
"We're aiming for this to be a happy, multi-generational event, where everyone is welcome - children bring your grandparents, grandparents bring your grandkids; if your family isn't local then we'd love to see you come along and make new friends," he said.
"We've organised an entertaining day with a wide variety of activities to suit everyone, including The Wobbles and Noisy Nonna performances, a special one-off documentary movie showing, as well as heaps of other fun things to try," he said.
The Wobbles Ukulele Band will kick off the day at 10.30am, playing songs to appeal to all ages.
Georgina Adamson will perform her popular Noisy Nonna in the Kitchen Show at 11.30am, singing songs and telling the story of Nonna cooking in the kitchen with her grandchildren and the shenanigans they get up to.
At 12.30pm, there will be a screening of The Growing Season, a documentary about Seattle's Providence Mount St. Vincent nursing home, which also houses the Intergenerational Learning Center, a licensed childcare centre running a preschool program.
Over the course of a school year, elderly Mount residents regularly interact with young children over various activities. As relationships develop between those at the end of their lives and others at the beginning of theirs, both are enriched.
The Growing Season mirrors current programs in our own Shire where a childcare centre is being set up within Imlay House. Ms Reynolds, who is also the lead of the library's Intergenerational Playroom, will introduce the film and be around for questions on the importance of intergenerational connections in the community.
While the documentary is playing, the kids will be entertained with Storytime, craft and a special session of our Little Bang Science Club. For the older kids we will have our 3D printer pens set up, Lego play and, of course, there'll be a sausage sizzle on the go for everyone.
Council staff based at Tura Marrang will be seeking the ideas of children and their families on about how to enhance the gardens and courtyard at Library as a great space for children.
Grandparents Day at Tura Marrang Library will be held on Saturday 27 October from 10.00am until 2.00pm.
Please let us know you're coming at www.begavalleyshirelibrary.eventbrite.com.au for catering purposes.
NSW Grandparents Day celebrates the role grandparents and older people play in our society – both the things they have done, and the things they keep doing.
The campaign recognises the diversity of grandparent relationships across age groups, cultural backgrounds, and geographical locations.
More information on NSW Grandparents Day is available at www.grandparentsday.nsw.gov.au.
Photograph: Noisy Nonna performing at the Tura Intergenerational Playroom.
END
Related Pages
Grandparents Day celebrates generations
---
Rate This Page
---
Share This Page