Have a Get Ready Weekend with family, friends and neighbours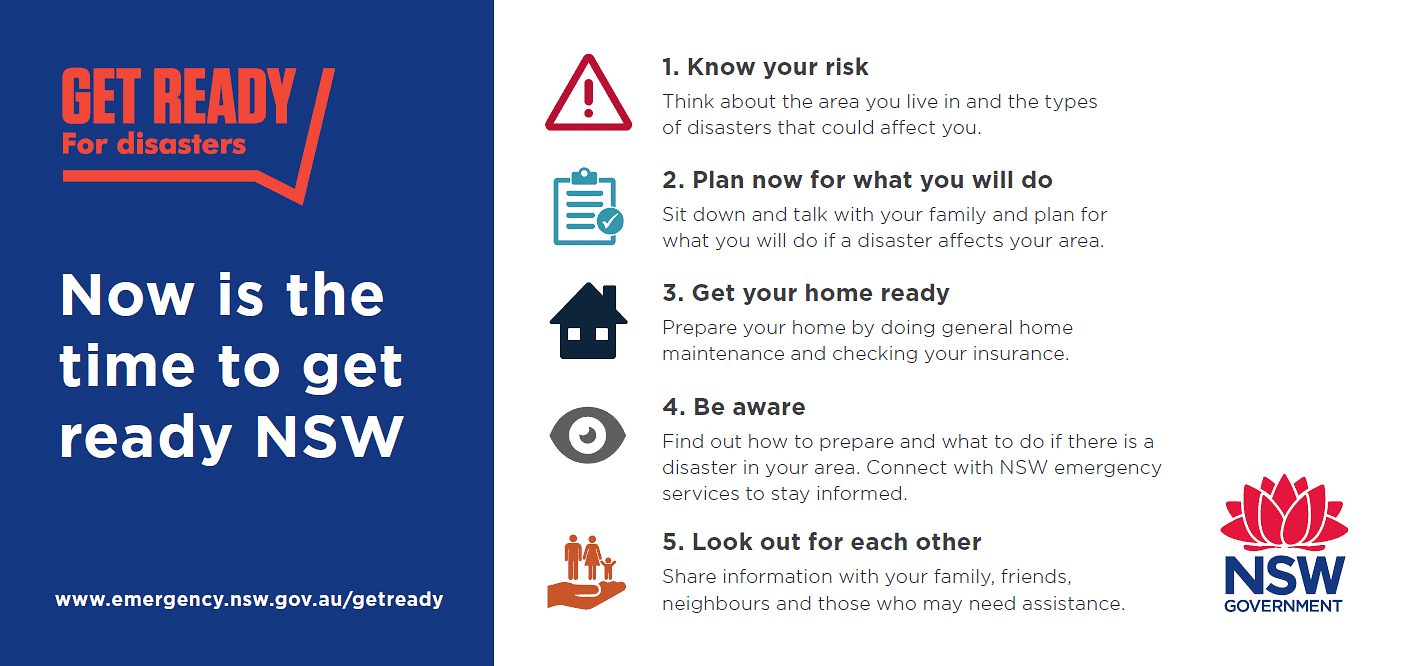 18 September 2020
Bega Valley Shire Council is encouraging families, friends and neighbours to use the NSW Rural Fire Service Get Ready Weekend to prepare for bushfire season and start a broader conversation about being aware of and prepared for all hazards.
"Reflection on the unprecedented summer that was invariably stirs up raw memories and deep emotions, and the widespread devastation impacting our communities, economy and environment continues to be felt acutely," Mayor Russell Fitzpatrick said.
"With the bushfire season upon us, we need to use our experiences and memories to get prepared for potential disasters and have an action plan."
To support early planning and preparation, the NSW RFS is promoting community conversations and action on its five simple Get Ready steps.
Know your risk - think about the area you're in and the types of disasters that could affect you.
Plan now for what you will do - sit down and talk with your family and decide what you will do if a disaster affects your area.
Get your home ready - prepare your home by doing general home maintenance and checking your insurance coverage.
Be aware - find out how to prepare, what to do if there is a disaster in your area and connect with NSW emergency services to stay informed.
Look out for each other - share information with your family, friends, neighbours and anyone else who may need help.
"The Bushfire Danger Period for the Bega Valley Shire was adjusted by the NSW RFS to begin on 1 September, instead of the annual 1 October start," Cr Fitzpatrick said.
"Increased grass growth due to recent rain could prove problematic for us over the coming weeks and months.
"Our emergency service organisations do an incredible job keeping us safe, but they can only do so much. Being aware and prepared is everyone's responsibility."
The NSW Rural Fire Service Get Ready Weekend runs on Saturday 19 and Sunday 20 September.
Related Pages
Have a Get Ready Weekend with family, friends and neighbours
---
Rate This Page
---
Share This Page