Koori Weed Warriors defend the Wilderness Coast
Wednesday 27 May 2015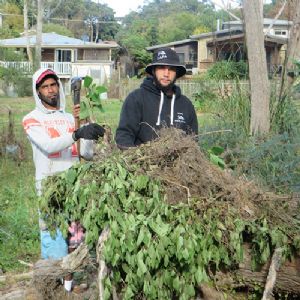 For the past seven years workers from the three Local Aboriginal Land Councils in the Bega Valley Shire have been clearing litter off our beaches and defending the coastline against the onslaught of invasive weeds.
The joint project is supported by the Merrimans, Bega and Eden Local Aboriginal Land Councils, Bega Valley Shire Council, the NSW Environmental Trust, Far South Coast Landcare Association, Local Land Services Southeast and the National Parks and Wildlife Service.
Council's Vegetation Management Coordinator, Lyall Bogie said the hard work of LALC workers, including Ethan Aldridge, Joe Stewart and Rip Harrison have made a real difference in protecting local coastal zones.
"Protecting the Wilderness Coast is a great example of a collaborative project that continues to deliver results," he said.
"Twice a year the crews patrol the entire Bega Valley Shire coastline, looking for litter and highly invasive species such as bitou, crofton weed and lantana which have a huge impact on landscapes and local government budgets.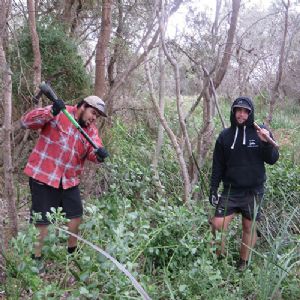 "Farms further up the NSW coast have reportedly been abandoned due to crofton weed infestation and millions of dollars every year are expended elsewhere on bitou and lantana control.
"The Protecting the Wilderness Coast project is very much a 'stitch in time' initiative, discovering and eradicating incursions of these species when they first gain a foothold locally and before they become major and expensive challenges.
"Taking this approach has resulted in the target species still turning up, because many weed seeds have great longevity and mobility, but now they are only appearing in very small numbers.
"We are lucky to have a stretch of beautiful coastline in the Shire, and next time you enjoy a stroll on one of our pristine local beaches please give thanks to the Koori weed warriors who work hard to keep them that way," Mr Bogie said.
For more information on the Protecting the Wilderness Coast project, please call Bega Valley Shire Council on 6499 2222.
Photograph 1: Rip Harrison and Joe Stewart of the Eden Local Aboriginal Land Council work crew dealing with crofton weed at Pambula Beach.
Photograph 2: Ethan Aldridge and Joe Stewart from the Eden Local Aboriginal Land Council work crew despatching bitou in the dunes at Merimbula.
END
---
Rate This Page
---
Share This Page