Eden community says yes to Hotel Australasia
Monday 14 September 2015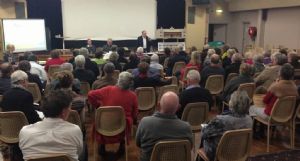 A well-attended meeting held in Eden last week resulted in broad support for a community acquisition of the historic Hotel Australasia.
The meeting hosted by Bega Valley Shire Council as part of its local roving workshop ended up with standing room only at the Eden Fisherman's Club and a resounding "yes" from the community when asked if they wanted a community owned asset.
Mayor, Michael Britten chaired the meeting and said the mood in the room was overwhelmingly positive.
"There were certainly people present with questions of how the possible acquisition could be funded, and the meeting provided a great opportunity to address these concerns and confirm that no burden will be placed on the ratepayer should the project proceed," he said.
"The evening gave us plenty of lively discussion and it painted a clear picture of local pride and a commitment to improving Eden's future.
"Excellent presentations from Eden resident, Peter Whiter and Council's Heritage Advisor, Pip Giovanelli showed the hidden gems behind the current façade and talked about the potential benefits of restoring the building to its former glory."
Local resident and retired business owner, Graeme Wykes, outlined the challenge ahead with a proposal to form a group to work with Council in funding and planning the project.
Mr Wykes said the ratepayer should not need to pay for the project, suggesting that grants, donations and crowdfunding could be used to fund any works.
As part of discussions for and against the project, local resident, Amanda Midlam put forward the idea that if the Hotel Australasia is to be saved and used for community and commercial purposes, then the best outcome will be achieved by Council and community working together.
The Treasurer for nearby Nethercote Hall, which underwent a total rebuild in 2004, further lifted hopes through pointing out that a small rural community was successful in raising $160,000 to complete their project, indicating that support in Eden town was strong enough to save the hotel.
Local IGA supermarket owner, Con Castrissios, said the best bet for maintaining local prosperity was to keep local dollars in local pockets, advocating that a restored local landmark such as the Australasia would bring valuable localised spending to the town.
"If you don't invest in the future, then there is no future," he said.
With the meeting drawing to a close, the Mayor enquired if there was consensus in the room, asking, "Generally, do you want us to move ahead with the Hotel Australasia?"
The response was a resounding, "Yes!"
Following the meeting, interested community members lined up to express their interest in joining The Australasia Working Group.
For more information and to join the working group, email the.australasia@gmail.com
Photograph: Mayor, Michael Britten opens the Hotel Australasia meeting.
END
---
Rate This Page
---
Share This Page