Bushfire clean up gathering momentum; Central Waste Facility playing its part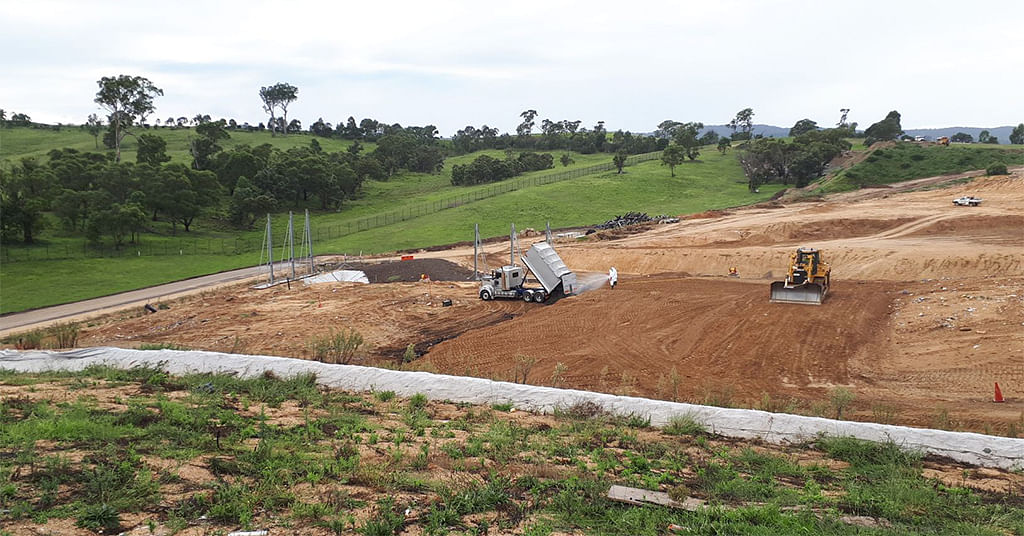 Photograph: Contractors managing asbestos contaminated fire material into existing landfill at the Central Waste Facility.
Thursday 9 April
Bushfire-affected material has started arriving at Bega Valley Shire Council's Central Waste Facility (CWF) in an important step towards helping residents rebuild their lives after summer's devastation.
Limited material is currently being deposited in the existing landfill cell, while Council works with State Government agencies and local residents to develop a new emergency landfill cell to take the bulk of waste.
Final approvals for the new cell at the existing Wanatta Lane CWF, north of Wolumla, are being worked through now.
As a result of the fires, the emergency landfill cell and associated resource recovery sorting pad will deal with:
Asbestos-contaminated material estimated at 47,000 cubic metres (32,000 tonnes)
Non-asbestos contaminated material estimated at 74,000 cubic metres (51,800 tonnes)
This material comes from more than 2000 burnt structures including homes, sheds and outbuildings, not including burnt vegetation.
"This is more than four times what Council would normally place in landfill in a year," said Anthony McMahon, Director Assets and Operations.
"Once it begins, the clean-up is likely to take around a year. There will be an intense period of around eight weeks initially where most of the clean-up will occur.
"The CWF was selected as the most suitable site to take fire-affected material because of its capacity, central location, easy access and having all necessary environmental controls in place."
The CWF is a custom-built facility with current licensing and planning approvals to accept asbestos material.
Council has trained staff and processes to continue safely managing asbestos landfilling at this site. After reviewing all waste management facilities, the NSW State Government, who is coordinating the bushfire cleanup, selected the CWF as the most suitable site to dispose of fire affected material.
"Council is also working closely with the NSW Environment Protection Authority on plans for the new emergency cell," Mr McMahon said.
Residents can view current plans and track the application on Council's Application Tracker and get answers to commonly asked questions on Council's website
"Council has met with neighbouring residents in person and communicated via letter to answer specific questions raised," Mr McMahon said.
"We understand that residents have concerns, we have taken those issues on board and reflected mitigation measures in the draft plan."
The proposal is open for comment until Tuesday April 14.
Meantime, Laing O'Rourke, the company commissioned by the NSW Government to coordinate the clean-up effort, is currently working in Cobargo. Other bushfire impacted communities in the Bega Valley will start to see momentum gather after Easter.
Representatives from Laing O'Rourke will be making contact with registered landholders to make individual arrangements. Laing O'Rourke can be contacted on 1800 007 539.
END
---
Rate This Page
---
Share This Page