Site plan for Tura reserves released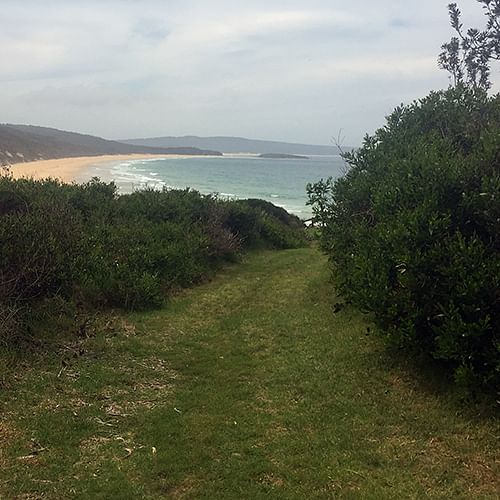 1 March 2018
The ongoing management and maintenance of the Tura Head Coastal Reserve (The Point) and Dolphin Cove Reserve are the subject of a site management plan that has been completed by Bega Valley Shire Council.
The development of this site management plan represents the culmination of ongoing conversations between Bega Valley Shire Council and the broader community regarding appropriate management of both sites and follows a workshop held in June 2017, along with follow up meetings and community contributions since this workshop.
The management of the Tura Beach and Dolphin Cove Coastal Reserves was also the subject of a report to the 11 October 2017 Council meeting, where Council provided direction to officers on how it wanted to proceed.
Council's Director of Community Relations and Leisure, Anthony Basford, said the plan sets out the capital, operational and maintenance requirements to manage the area adjacent to The Point and Dolphin Cove, Tura Beach, in accordance with legislative requirements.
"The nature of the Tura Head and Dolphin Cove Reserves is such that there are potentially conflicting issues that the plan seeks to address, however with the longest coastline of any Council in NSW these are consistent with many other sites across the Shire," Mr Basford said.
"In preparing the document we have considered the recreational use of the site, including the number of access tracks within the area; the existing natural assets located on site, including threatened species management and the management of weeds and feral animals; bushfire management; emergency access to both The Point and Dolphin Cove; and the restriction of unauthorised vehicles to the site.
"We (Council) have already received a significant amount of valuable information from the community and we are committed to moving forward with a plan that strikes the best possible balance.
"Now is the time to get on with it," Mr Basford said.
In releasing this plan, Council is seeking interested parties to be part of a volunteer group to assist with the maintenance of the two reserves. If you are interested in being part of this volunteer group, we encourage you to contact council's Recreation and Natural Assets Coordinator, John Turville, at council@begavalley.nsw.gov.au or by phone on (02) 6499 2222.
To view the Site Management Plan visit Council's website Hard copies of the plan are available to view at the Tura Marrang Library and Community Centre, Tura Beach.
For more information contact John Turville on (02) 6499 2222.
Photograph: A site management plan for the Tura Head Coastal Reserve (The Point) and Dolphin Cove Reserve has been finalised.
END
---
Rate This Page
---
Share This Page