Fee waivers for those impacted by fire
25 October 2018
Bega Valley Shire Council has moved to alleviate further financial burden on those impacted by the recent Yankees Gap bushfire event, with a number of fees and charges to be waived.
The resolution of Council means that the General Manager is now able to authorise the same exemptions that applied following the Tathra and District Fire earlier this year.
These include water and sewer charges; waste fees; Development Application, Complying Development and associated fees; and interest on general rates instalments for properties directly affected.
General Manager, Leanne Barnes, said that it had been a very challenging year and Council would be doing everything it can to help the community recover.
"Unfortunately, we have seen further property losses as a result of this latest fire and the intention of these waivers is to ensure that residents and property owners are as well placed as possible to rebuild or replace lost infrastructure," Ms Barnes said.
"It was again encouraging to see how readily the Councillors embraced the recommended relief measures and staff will now liaise directly with all impacted owners to ensure they are firstly aware of the measures and that necessary adjustments are made.
"Obviously these measures were unbudgeted, however all costs, foregone income and other items will be captured in the recovery process and form part of the ongoing reporting on this incident.
"In addition to the fees and charges waivers, it is important to stress that all those impacted by the Yankees Gap fire are strongly encouraged to contact and access the Recovery Support Service," Ms Barnes said.
A community recovery meeting and barbecue is being held at the Bemboka Town Hall on Monday, 5 November (barbecue from 5.30pm with the meeting to follow at 6.00pm).
The guest speaker will be Steve Pascoe, who has 30 years of emergency management experience with the Country Fire Authority and Victorian SES.
Mayor Cr Kristy McBain, Recovery Support Service staff and Rural Fire Service and Red Cross representatives will also speak on the night.
For more information contact the Recovery Support Service on 6499 2475 or email recovery@begavalley.nsw.gov.au.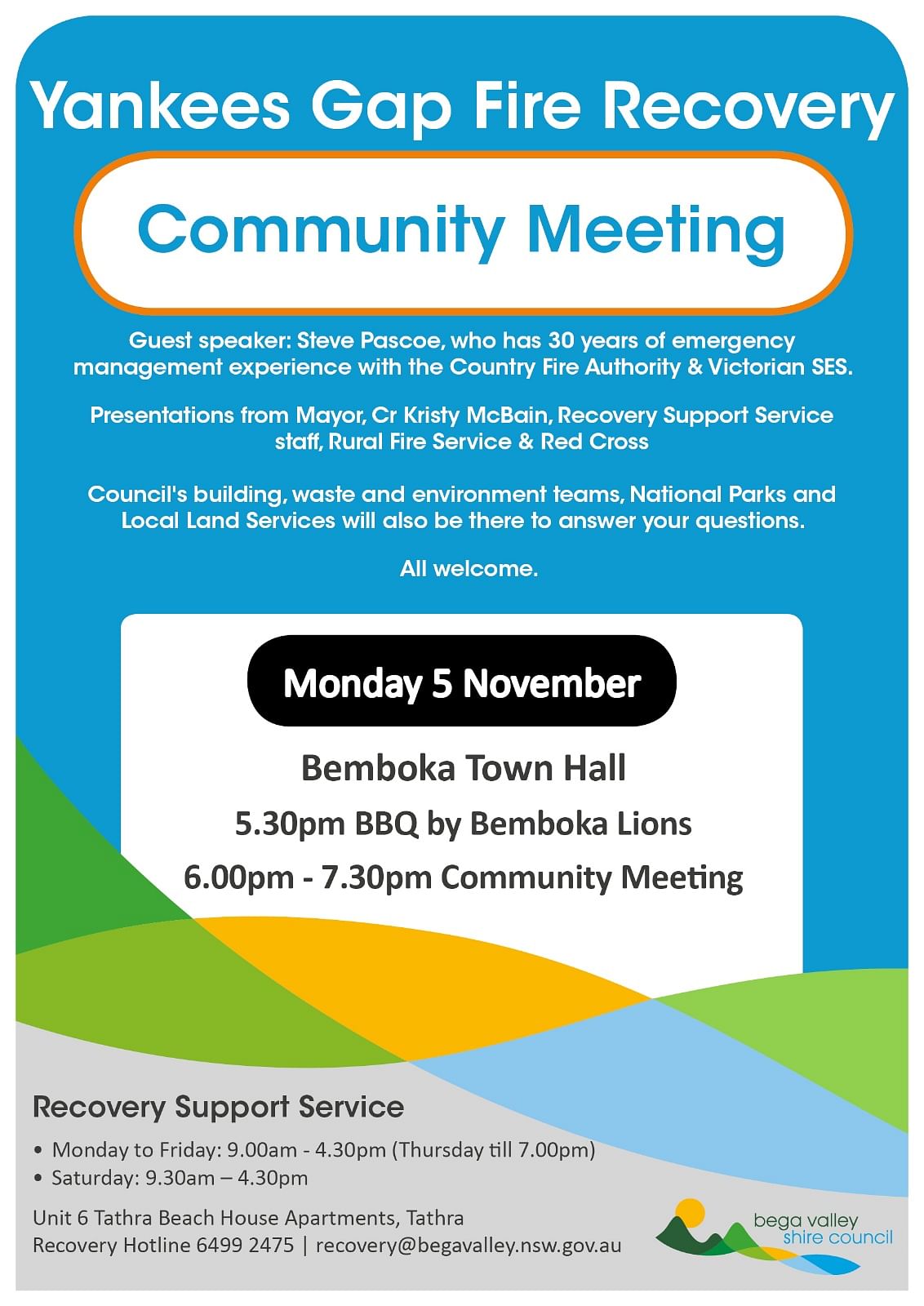 END
---
Rate This Page
---
Share This Page