Blockbuster exhibition coming to BVRG
Wednesday 10 February 2016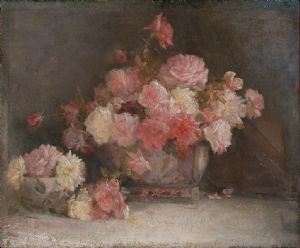 Member for Bega and Minister for Transport and Infrastructure, Andrew Constance, will officially open the Flora Australis exhibition at the Bega Valley Regional Gallery on Friday, 11 March at 6pm.
The exhibition features stunning historical pieces from the Art Gallery of NSW collection, along with works especially created for the exhibition by contemporary artists.
Gallery curator Iain Dawson said "Flora Australis, Australian artists and the floral still life", will be the BVRG blockbuster show of 2016.
Artists include Tom Roberts, Margaret Preston, Katie Petyarre, Arthur Streeton, Margaret Olley, Laura Jones, Nicholas Harding, Rupert Bunny, Roy
de Maistre, Lucy Culliton, Elioth Gruner, Alesandro Ljubicic, Hans Heyson, Zuza Zochowski, Ken Done, A E Aldis and Julian Meagher.
"We have been planning this exhibition since 2014 and it is our first foray into 'destination' exhibition programming," Mr Dawson said.
"Timed to coincide with this year's Four Winds Festival at Bermagui, we have worked closely with Sapphire Coast Tourism and the Art Gallery of NSW to stage a 'blockbuster' exhibition featuring many well-loved Australian artists with 15 works from the AGNSW collection as well as from
contemporary young emerging artists who have created work especially for the exhibition.
"Among the blue chip artists represented are stunning works by Margaret Preston, Tom Roberts and Arthur Streeton.
'The Grafton Regional Gallery has lent work from their Ken Done Collection, three of their 135 prints will be on display as well as recently local Lucy Culliton (who moved to Bibbenluke in 2015) whose solo retrospective at Mosman regional gallery in 2015 was a hit with the public.
"The exhibition is worth over $1.5 million and works of such quality and historic importance have never before been exhibited in the Bega Valley Shire."
Mr Dawson said depictions of flora have been present throughout human artistic practice and continue as a fascinating subject for contemporary artists practising today.
"I'm hoping the arts community locally and our visitors to the area from afar will be able to enjoy and get excited about such a unique exhibition coming to regional NSW," he said.
"Our artistic program will continue to reflect a strong desire to engage current visitors to the Sapphire Coast and build on this to bring further visitors to the area as we strengthen our commitment to promoting cultural tourism on the Sapphire Coast."
The Bega Valley Regional Gallery is located in Zingel Place (opposite Littleton Gardens), Bega. NSW. Phone 02 6499 2187 check our website, gallery.begavalley.nsw.gov.au
Opening hours are Tuesday to Friday from 10am to 4pm and Saturday from 9am to noon and entry is always free.
Images
IMAGE 1 – Tom Roberts, Roses 1911, oil on canvas on hardboard, 51 x 61cm Collection AGNSW
IMAGE 2 – Tim Maguire, Untitled 1994, diptych oil on canvas, 200 x 400cm Collection AGNSW
IMAGE 3 – Margaret Preston, National Emblems 1954, oil on canvas, 50 x 60cm Collection AGNSW
END
---
Rate This Page
---
Share This Page