Paws Pet Therapy
Paws 'n' Tales
The Paws 'n' Tales program specifically trains volunteer/dog teams to work with children, with the aim of improving their literacy confidence and to increase their love of books. This is achieved by teaming them with a fun and calming reading buddy in the form of a friendly dog. Together with their empathetic owner, dogs have proven to be excellent reading mentors. They are patient and non-judgmental, offer affection easily and provide unbiased companionship to children regardless of their age, gender or reading ability.
Do you have a dog with polite manners and sound basic obedience? We are looking for loving, gentle dogs, which are comfortable in a variety of situations and with a wide selection of people. If you are interested, please download the Volunteer Information Sheet.

Would you like to register your child with the program? We are looking for children aged 5 to 8 years, generally in years K to 3, identified as having low achievement in reading or confidence in reading issues. If you are interested, please download the Participant Initital Contact Form.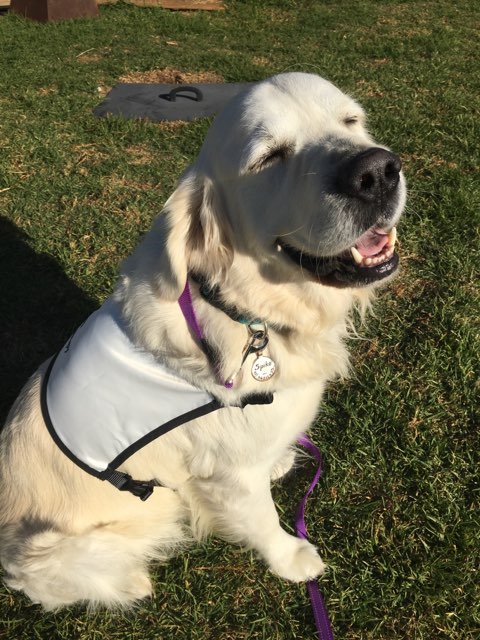 Paws 'n' Tales is not designed to replace traditional reading programs, rather to complement them by increasing interest, encouraging practice and developing children's intrinsic motivation to read. Not because they must but because they want to. Dogs are the door to reading enjoyment. Once lead through, a child will enter a world of endless possibilities, one where reading is for fun as well is learning, where the two can go hand-in-hand.
Program Features
The Paws 'n' Tales program runs within school term with regular sessions conducted by trained teams working 1:1 with each child.
Each child attends a 15-20 minute session weekly, at a specified time and with the same team to retain consistency of contact, allowing the volunteer, their dog and the child to develop a rapport.
The program is suitable for children 5 to 8 years of age, generally in years K to 3, identified as having low achievement in reading or confidence in reading issues.
The PAWS trained volunteer/dog teams wear their PAWS uniform.
Dogs are vet checked and remain on leash for the entire visit.
Volunteers have Police and Working With Children checks.
Participants can join the program by filling in an Initial Contact Form available from the library.
The Paws 'n' Tales coordinator contacts each participant to discuss their requirements and books them into a weekly roster if space is available.
No formal testing is conducted. Emphasis is placed on children's confidence, their rapport with the volunteer and their dog and the development of a love of reading.
Each Participant will receive a certificate and book gift at the end of each term
Program Aims
To increase reading and literacy skills in young children, through the provision of a flexible pet therapy program, provided by trained teams.
To assist young children to build vocabulary, increase understanding and gain fluency as a reader.
To increase children's love of reading and desire to read in a unique and fun environment, free of performance pressure.
To increase children's self-esteem as they become more confident in their reading and comprehension.
To increase children's focus on task by providing incentive in the form of a friendly dog.
To alleviate the fear and anxiety children sometimes feel in a remedial program environment by making sessions fun and interactive.
To provide physiological benefits for children, including lowered blood pressure and increased relaxation, which will aid in their ability to learn.
To provide the opportunity for children to read books that are interesting, age and skill appropriate and fun.
To provide opportunities for children to become teachers or helpers (for the dog).
This can be validating, empowering and satisfying for children.
Related Pages
Related Categories
---
Rate This Page
---
Share This Page