Warming the soul of our community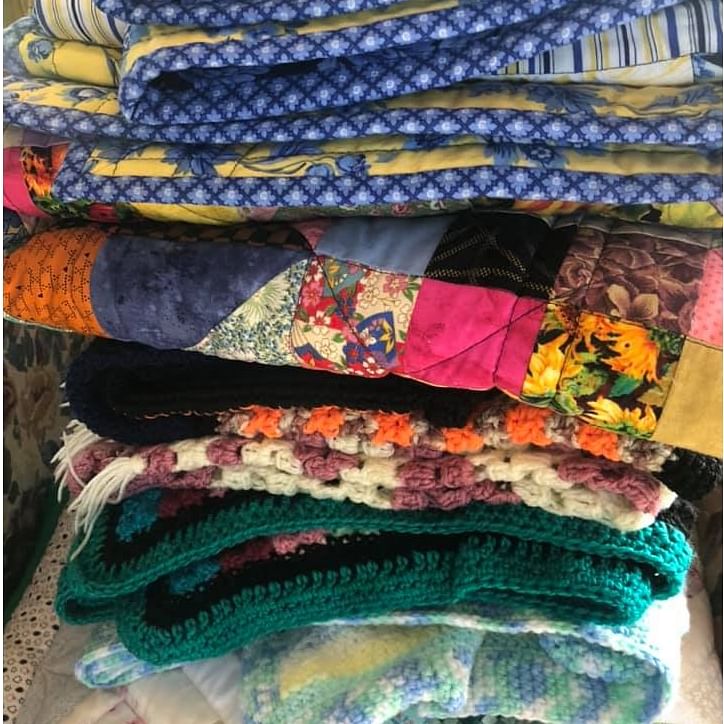 22 May 2020
In acknowledgment of National Volunteer Week, we're shining a light on another moving story that began in the aftermath of the Tathra and surrounds fire event in 2018. At a challenging time when our community needed kindness, support and a quiet type of comfort. One of the many acts of kindness that came our way was through the Bega Valley Charity Quilt group.
During this time, a multitude of goods were being kindly donated both locally and from afar and were graciously received and appreciated by the community. A Canberra quilter, Jenny Wallace, started to think inside the square. She contacted Tathra Pre-School's, Jane Courtney with what became the heart-warming volunteering endeavour of Bega Valley Charity Quilts.
Quilters from Braidwood, Canberra, the Southern Highlands and Queensland set to work to make some 120 soul-warming quilts for fire-affected locals, including 60 children's quilts, all personally stamped with a message of comfort and strength on the underside.
Jane and the dedicated staff at Tathra Pre-school, took on the task of organising and distributing these gifts to numerous locations across the community. 'We spoke with many individuals as well as going to the AFL and sports fields after matches to see the kids, letting them choose something special to them. The joy it gave me to see the smile on people's faces; it was amazing and something that will stay with me always," Jane said.
With the devastating start to 2020, the Bega Valley Charity Quilters continue to warm the soul of our community one stitch at a time. There are now volunteers all over Australia pouring their love, strength and support into these gifts. From our community to yours, thank you.
If you would like to find out more about this wonderful group, or know someone who needs the comfort of one of these soul warming quilts, you can visit their Facebook page.
If you would like to join us in thanking a volunteer, visit Council's dedicated web page and add your message to the volunteers thank you card.
Photo: Some of the many colourful and comforting quilts made by quilters from around Australia following the Tathra and surrounds bushfires.
Related Pages
Warming the soul of our community
---
Rate This Page
---
Share This Page