Merimbula Airport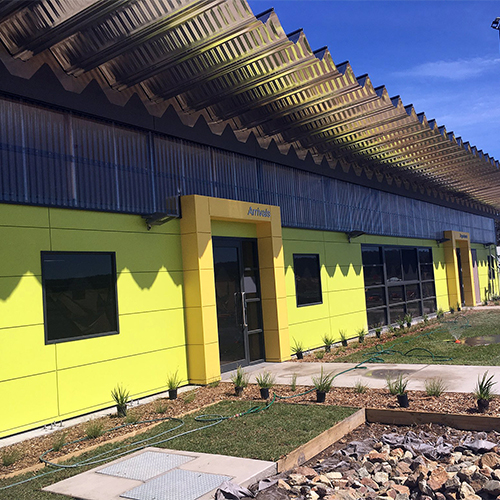 Location
Located on Arthur Kaine Drive, 2 kilometres south of the Merimbula township
The airport resides at an elevation of 2 metres above mean sea level
It has one runway designated with an asphalt surface measuring 1,602 metres x 30 metres
Airlines and Destinations
Melbourne: Arrivals 1 flight daily; Departures 1 flight daily
Sydney: Arrivals 3 flights daily; Departures 3 flights daily
Moruya: Arrivals 3 flights daily; Departures 3 flights daily
Merimbula Air Services - Charter Only
Current Projects
Passenger Terminal Upgrade
The upgrade and extension of the Merimbula Airport passenger terminal was jointly funded by Bega Valley Shire Council and a Grant received under the Australian Government, Department of Infrastructure and Regional Development, Community Development Grants Programme . Work was completed in early December 2019. The official opening held on 18 December 2019 was officiated by Deputy Prime Minister and Minister for Infrastructure, Transport and Regional Development The Honarable Michael McCormack MP, Senator for New South Wales Jim Molan AO DSC and Mayor of Bega Valley Shire Council Councillor Kristy McBain.
Further information can be found on the Major Projects page for Merimbula Airport Terminal Upgrade
Runway Extension
Grant Funding under the State Government's Restart NSW funding has been received to upgrade Merimbula Airport runway. Work will include:
Extension of runway north 200 metres
Seal of runway end safety area
It is currently in design phase and is the subject of an Environmental Impact Statement.
History
The major runway renewal was conducted in July and August 2013
The runway was showing signs of stress and surface damage being at the end of its design life
The main objective of the renewal was to undertake an overlay on the existing runway with shape correction, widening of the taxiway, and apron and improve the runway lighting system and drainage
The renewal works cater for existing SAAB aircraft and RPT schedules for over 20 years, or larger turboprop aircraft noting the aircraft technology and carrier fleets are likely to alter in that period
Fire Service Upgrade
Jointly funded by Bega Valley Shire Council and NSW State Government under the Restart programme, the project was completed in 2018
$1,000,000 project
Merimbula Airport Masterplan
Merimbula Airport Masterplan 2033 (currently under review)
Related Pages
---
Rate This Page
---
Share This Page