Brass intruments at Musical Storytime
Wednesday 23 September 2015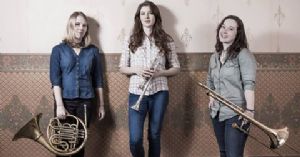 Bega Valley Shire Library together with Four Winds will offer children an inspiring and creative musical storytime at Bermagui, Bega and Eden libraries in October.
The Marvellous Musical Storytime will introduce children aged from two to five years to the big sounds of brass instruments.
"Brass instruments and the sounds they make will fascinate children especially if they haven't seen or heard them before," says Programs and Partnerships officer, Scott Baker.
"We hope this will be an inspirational event for young children who will have a rare opportunity to get up close to some very talented musicians and their instruments."
Shire libraries will be filled with musical notes from the French horn, trumpet and trombone played by three students from the Australian National Academy of Music.
Amanda Tillet started playing the trombone at the age of nine and has worked with the Queensland, Adelaide and Tasmanian Symphony Orchestras as well as Opera Australia.
Rebecca Luton has completed her Bachelor of Music on Horn at the Queensland Conservatorium of Music and has completed a six month internship with the Queensland Symphony Orchestra.
Now living in Melbourne, Sarah Henderson has played trumpet with a number of orchestras throughout New Zealand and was selected to play the Last Post at the 2014 ANZAC Commemorations in Gallipoli, Turkey.
Music through singing, dancing or story telling is not only fun but an exciting way to increase children's awareness of sounds, movement and language. Music enhances children's memories, assists speech development and extends their vocabulary.
The Marvellous Musical Storytime will be held from 10.30am – 11.30am at Bermagui library on Tuesday 6 October, Eden library on Tuesday 13 October and Bega library on Wednesday 14 October. Storytime is free.
For more information please contact Scott Baker at Bega library on 6499 2127.
Photograph: Australian National Academy of Music students, Rebecca Luton, Sarah Henderson and Amanda Tillet.
END
---
Rate This Page
---
Share This Page