National Science Week: demystifying energy bills and solar energy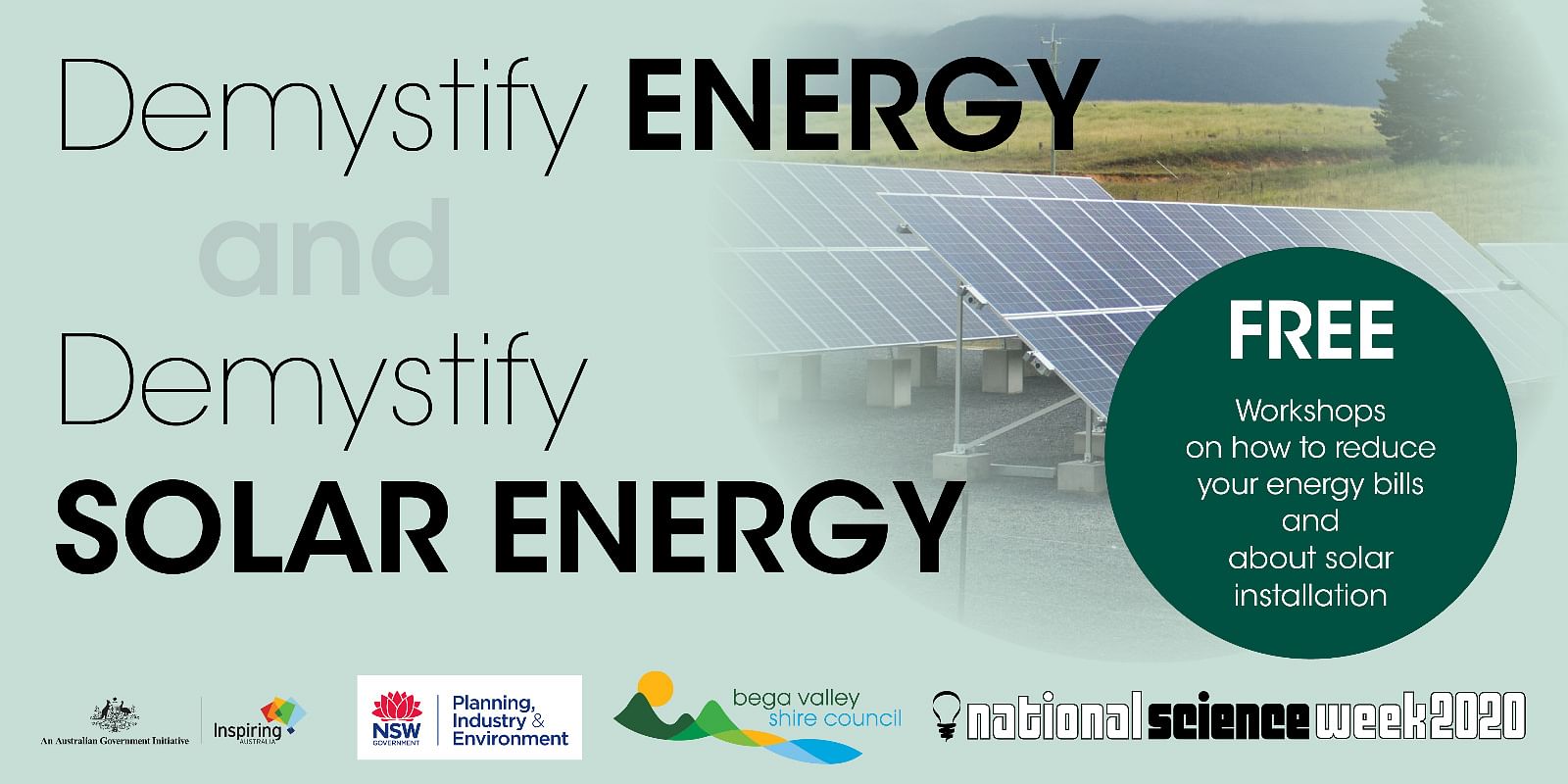 11 August 2020
National Science Week is Australia's annual celebration of science and technology and this year, Council is holding a series of workshops to demystify energy and solar energy.
Shire residents, business owners, renters and landlords are invited to attend free workshops, hosted by the NSW Department of Planning, Industry and Environment and Bega Valley Shire Council.
These information sessions will be managed in accordance with COVIDSafe hygiene and physical distancing measures.
They are part of many National Science Week events being held by the Sapphire Coast Regional Science Hub and Sustainability Education Network, of which Council is a member.
In the Demystifying Energy workshops, to be held in Bega, Cobargo, Bermagui and Eden, you will learn how to reduce the cost of your energy bills, lower your energy use and improve energy efficiency, without sacrificing warmth or comfort.
Bring along your latest electricity bill and personal ID for an independent assessment and walk away with information to help reduce your energy bills.
The Demystifying Solar Energy workshops, also in Bega, Cobargo, Bermagui and Eden, will help you better understand solar energy, and give tips on how to seek and compare quotes from the market.
We'll explain the different options available to use solar and save money on electricity bills. You'll learn about the different types of solar technology available and the trends in solar power use in Australia and around the world.
To book your place visit the urls below:
Demystifying Energy
Demystifying Solar Energy
For further information, contact Natalie Ryan at Council on 02 6499 2186.
To see other events occurring during National Science Week, view the calendar online at https://bourndaeec.nsw.edu.au/scsf2020/
The week will be full of great events coordinated by Sapphire Coast Regional Science Hub Sustainability Education Network with generous support from the Commonwealth Department of Industry, Science, Energy and Resources and Inspiring Australia. There is something for everyone!

Related Pages
National Science Week: demystifying energy bills and solar energy
---
Rate This Page
---
Share This Page