Kiah Wilderness Tours determined to keep afloat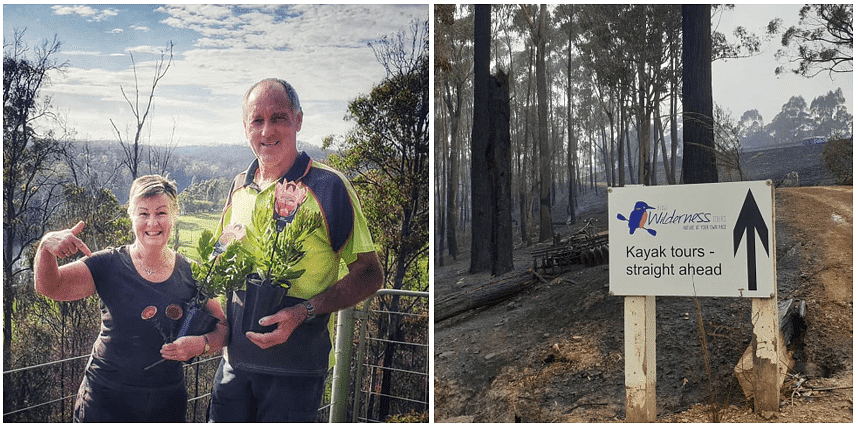 Jenny and Arthur Robb of the Kiah Wilderness Tours with

burnt proteas and new ones a lovely former tour guest gave them when she heard they'd been burnt out

and [right] their kayak tour sign with a bushfire backdrop
25 May 2020
With the advent of the summer bushfires, then floods and finally COVID-19, Jenny and Arthur Robb have had to mobilise every ounce of strength and determination to work through the disaster that has been 2020.
Owners and operators of Kiah Wilderness Tours, an eco-kayaking attraction located 11 kilometres south of Eden, Jenny and Arthur are looking at new ways of rebuilding their business after suffering devastating losses over the past few months.
"Initially it was very hard for us at our stage of life," Jenny said. "We were more traumatised than we thought.
"It seemed too much to have to rebuild at our age, but we were determined to stay afloat. As we have progressed with the rebuild and look at collaborating locally on new projects, we are starting to enjoy life again."
Kiah Wilderness Tours offers a variety of kayaking tours, a campground on the 65-acre property and the popular Light to Light Camps, where they take visitors on one to three-day wilderness hiking and camping experiences through Ben Boyd National Park.
When the summer bushfires were heading towards their Kiah home and business, the Robbs made the quick decision to move their kayaks somewhere protected to safeguard their livelihood. Without the kayaks, there was no business.
Moving four kayaks at a time to the old Fishermen's Co-op building on the Eden wharf took time. Once they had rescued the kayaks and other essential equipment, they filled the car with their personal treasures.
As retired Rural Fire Service volunteers of 15 years, Jenny and Arthur had already prepared their house for the expected bushfire season; no trees or grass near the house, outdoor furniture and other belongings moved inside, and wet towels placed at the windows and doors.
On Saturday 4 January they evacuated to Eden. They knew the fire was going to hit Kiah and so they waited. Late Sunday afternoon they heard their house was still standing. However, the fire had swept through their property, burning the campgrounds, their garden, garage and the shed where the kayaks were normally stored. The fire had come within a metre of the house, close enough to crack a window, but leaving the house otherwise undamaged.
Ben Boyd National Park was burnt extensively in the bushfires, as was the Light to Light walking track, with some of the track now non-existent in many locations. National Parks have advised the Light to Light Walk will not re-open until 2022.
"We were reeling with the realisation we had completely lost that business because we couldn't run tours for another two years," Jenny said. They refunded a substantial amount of money for bookings from February through to October 2020.
On COVID-19 lockdown, they cancelled all kayak tour bookings and campsite reservations and thought they'd have to live off their savings. Thankfully, as a sole trader, Jenny was able to apply for JobKeeper. They were insured, but not enough to rebuild sheds to the scale they had before the fire.
COVID-19 has impacted the cruise market for the next 12 to 18 months; it had been gaining momentum in Eden and for the Robbs was the 'cream on the top'. It has been estimated that each cruise ship visiting Eden generates between $150,000 to $250,000 for the town through direct and indirect spending.
"Shutdown and isolation gave us the time to review what we had at home and how we could build on that," Jenny said.
"We have top quality camping gear so we are looking at offering a 'glamping' experience on the property, we will operate walking tours closer to home and we still have our kayaking tours.
"We are also talking to other local small business owners with the idea of collaborating on other experiences we can offer clients, such as mussel cooking classes, and Pilates and yoga classes.
"We are keen to see this region offered as a year-round destination as there are some exciting developments in train, such as a mountain bike trail initiative, the restoration of the Hotel Australasia and of course all the opportunities at the wharf into the future.
"We are well placed to attract people who are looking for nature, space and no crowds!"
Kiah Wilderness Tours featured on Channel 9's Getaway program in February this year. Check out the segment here: https://www.youtube.com/watch?v=7i1zbq9LVrE
Related Pages
Kiah Wilderness Tours determined to keep afloat
---
Rate This Page
---
Share This Page