The future looks bright for Ben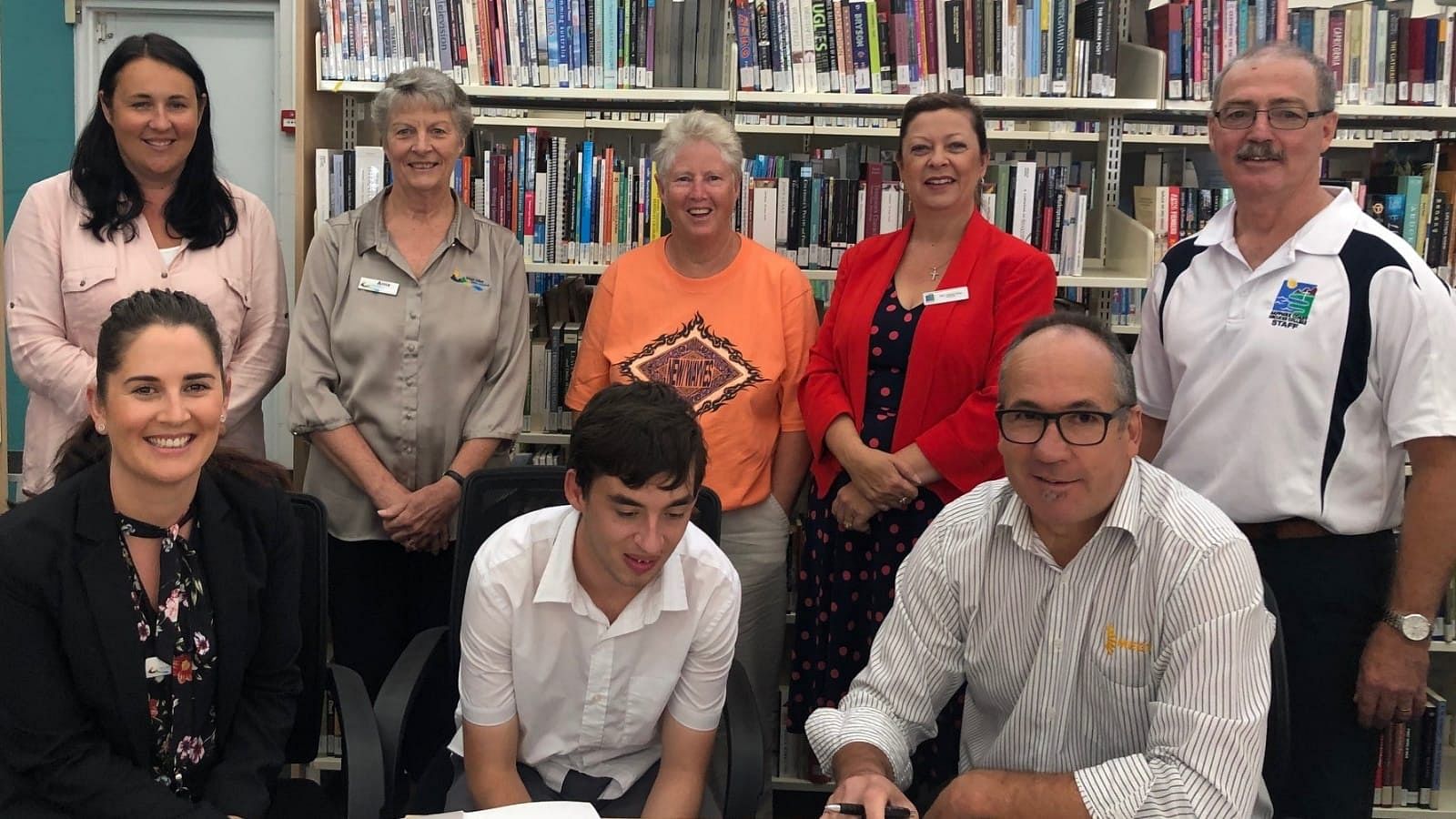 12 March 2020
Council welcomed its newest staff member this week, with student Ben Cook of Sapphire Coast Anglican College joining Council's Library team on its first school-based traineeship.
Ben will complete a Certification 3 in Library and Information Studies while completing his HSC, requiring him to complete 700 hours of paid work.
Ben himself couldn't be happier. When asked what he loves most about the Library, 'books' wasn't the only answer.
"I love the routine of what I do in the Library; I know exactly what to do when I am working," says Ben.
Ben said he has had a passion for books from a very young age; science fiction being his current genre of choice.
The stars aligned for Ben when Council offered him the traineeship after he had proven himself during a six-month work experience stint.
Sapphire Coast Anglican College Principal, Tracey Gray said Ben's experience, both work experience placement and the school-based traineeship, are a result of a whole-of-community approach to preparing students for life after school, with education, on the job training and qualifications.
"It takes a village to raise a child, and Ben is that child," Ms Gray said.
"Seeing his confidence today, it's evident that whole-of-community partnerships are so valuable.
"Opportunities like this traineeship demonstrates that there are so many pathways for young people these days and that's exciting.
"We are really proud of Ben, the journey he's been on and the growth we've seen".
Bega Valley Shire Council General Manager, Leanne Barnes said the Library team are looking forward to helping Ben thrive and support his professional development under the program.
"Traineeships, cadetships, apprenticeships and work experience are all great opportunities for Council to invest in local people and help pave the way for successful careers in the local government sector," Ms Barnes said.
"Ben certainly proved himself while doing work experience and we're keen to watch him grow and develop professional," she added.
Once he has completed his studies and gained certification, Ben plans to try and get a permanent role at the Library.
Council offers traineeships or apprenticeships opportunities throughout the year on a need's basis, matching the organisation's operational requirements across its broad range of services.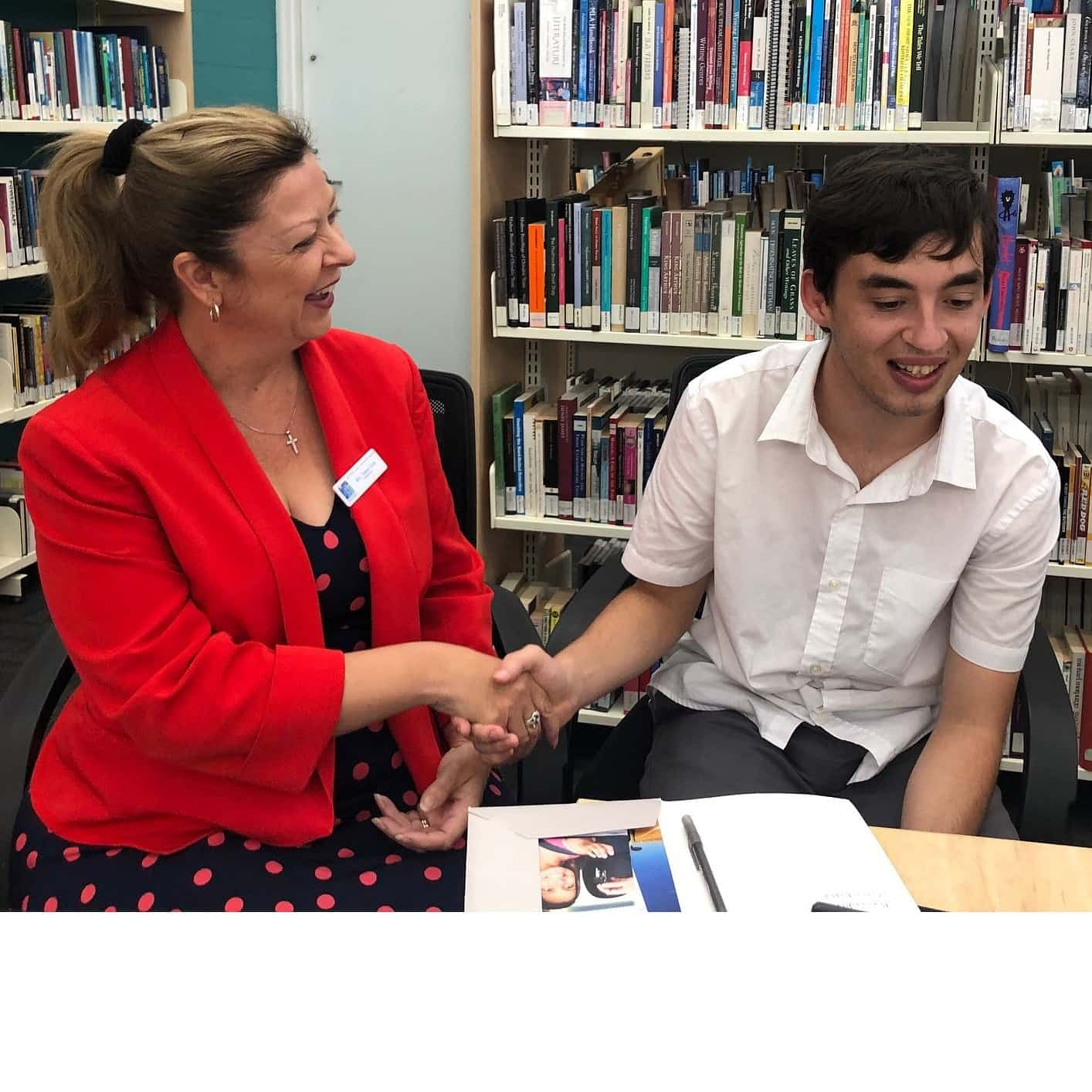 Photographs:
[ABOVE] Sapphire Coast Anglican College student, Ben Cook completes the necessary administration and formalities at Bega Library with the many people who have helped the traineeship come to life. Top, from left: Leanne Slipper (Workability), Anne Moore (Bega Valley Shire Council Library), Kerrie Dalton (Ben's mother), Principal Tracey Gray (Sapphire Coast Anglican College), Richard Arbon (Sapphire Coast Anglican College). Seated, from left: Gemma Shinnick (Bega Valley Shire Council), Ben Cook; Glenn Vardanega (Apprenticeship Network Provider MEGT).
[RIGHT] Sapphire Coast Anglican College Principal, Tracey Gray congratulates student Ben Cook for his achievements at Bega Library.
---
Rate This Page
---
Share This Page