Turning fish waste into compost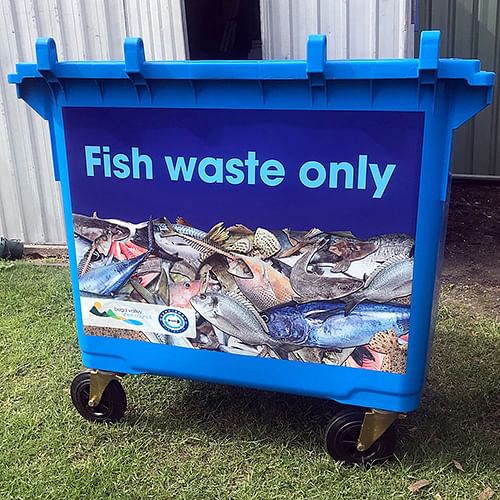 12 April 2019
A new business that turns fish waste into compost will help solve an ongoing problem facing Bega Valley boat ramp areas.
Bega Valley Shire Council Mayor, Cr Kristy McBain, will launch Ocean2earth, an Eden-based company founded by brothers Kyran and Tim Crane, at Bermagui Harbour Boat Ramp on Monday (April 15).
The launch will mark the start of a new fish waste collection service by Ocean2earth at six of the Shire's main boat ramps. Ocean2earth will then transform the waste into organic garden compost.
Their long-term goal is to process marine waste from boat ramps, seafood processing plants and aquaculture facilities right along the NSW coast.
Kyran says as keen fishermen the brothers often encountered overflowing fish bins at boat ramps or people throwing it back into the ocean, causing public health and amenity issues.
"The burden is often left to local councils, who in many cases do not have the resources or facilities to manage it appropriately. We collect this waste and turn it into a valuable resource, which also reduces the amount of waste going into landfill. It's a win-win situation," Kyran said.
Mayor McBain said people made regular reports to Council of fish waste being dumped in shared community spaces, which led to a call for public Expressions of Interest for solutions for managing this waste.
"Council is responsible for a public reserve network that stretches along 225 kilometres of coastline and the towns and villages along the way are central to community life and the region's tourism appeal," she said. "The management of fish waste at some of our boat launching facilities has been a long-standing problem."
Mayor McBain said Council was pleased to support new innovations in the waste industry.
"It's great to see people come up with innovative and practical solutions to waste problems, which are not just Council problems, they are whole-of-community problem.
"During the past year in particular we've seen great innovation in our Shire and a willingness by our community and visitors to embrace change through the introduction of the FOGO bin collection service in our towns.
"Improving the facilities at these six boat ramps and supporting the Ocean2earth initiative is another step towards the long-term goal set out in Council's 10-year waste management strategy."
Ocean2earth will collect fish waste from specially-marked blue bins at boat ramps at Bermagui Harbour, Bermagui River, Quarantine Bay Eden, Pambula Lake Broadwater, Kianinny Tathra and Mogareeka. Council has also installed new red and yellow bins at the ramps to help make it easier for people to choose the right bin.
Photograph: Specially marked blue bins are being installed for fish waste at six of the Shire's boat ramps. Local company Ocean2earth will collect the waste and turn it into compost.
END
Related Pages
Turning fish waste into compost
---
Rate This Page
---
Share This Page