Free digital marketing workshops for small businesses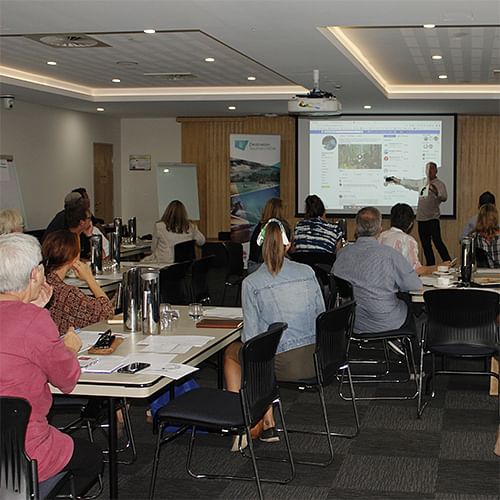 19 February 2020
There was a great turnout yesterday for the first of a number of free digital marketing workshops for local businesses.
This half day workshop, sponsored by Destination Southern NSW and delivered in partnership with Bega Valley Shire Council and Sapphire Coast Destination Marketing, was crafted for businesses in the tourism and hospitality industries (eg accommodation, tours, attractions, retailers, restaurants and cafe's) that had a website and a social media presence.
Local business owners were encouraged to use this time - post bushfires - to refocus on who their customers are, why they should come to the Sapphire Coast instead of elsewhere in Australia or overseas, and how they should work more closely together to build a solid and profitable visitor economy.
A key message was to stop thinking they were in competition with each other and instead, work in 'co-opetition' – as a group committed to promote the Sapphire Coast and everything it has to offer visitors.
The workshop covered the importance of social media in the traveller's lifecycle, marketing plans, digital marketing tactics, websites, Google analytics, social media (Facebook and Instagram), email marketing, video marketing and evaluation.
It also focused on how to tap into post bushfire promotional campaigns; online promotional programs for small business to help boost their presence, connections and sales.
More free digital marketing workshops will be held during March and April. To keep up-to-date with what is happening, keep an eye on the following Facebook accounts:
The Digital Readiness Workshop on Tuesday 3 March is a key event, to determine which of the other sessions in the digital module – Instagram; website; eCommerce and Facebook - you should attend.
Photograph: Local small business owners in the tourism and hospitality industries learn how to enhance their digital marketing skills and better promote themselves.
END
Related Pages
Free digital marketing workshops for small businesses
---
Rate This Page
---
Share This Page