Merimbula sewage project tour kicks off at Bar Beach this weekend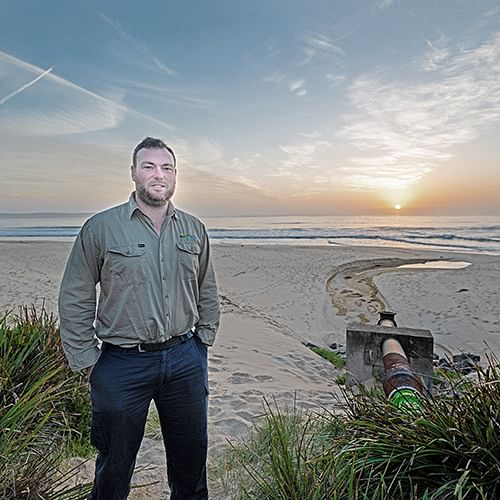 5 March 2019
Bega Valley Shire Council is taking to the streets this weekend to talk to the community about the Merimbula Sewage Treatment Plant and Ocean Outfall Project.
Water and Sewer Services staff will tour beaches and local markets to talk to people about planned upgrades to the Merimbula plant, the ocean outfall and using recycled water.
The tour will start at Bar Beach this Saturday March 9 and move to Pambula Markets on Sunday. The following weekend the tour will return to Bar Beach on Saturday and move to Merimbula Seaside Markets on Sunday.
Water and Sewer Manager, Jim Collins, said the tour provided a great opportunity for people to talk one-on-one with Council staff and representatives from environmental consultant AECOM who have worked extensively on the project.
"We're targeting local markets as locations where large groups of people gather so we can give as many people as possible the opportunity to have a chat with us.
"We felt it was also important to speak with beach-goers who may have questions about this major project," said Mr Collins.
"During the tour we will outline the results of the marine ecology and hydrographic studies we've completed as well as the Merimbula Bay dye dispersion tests, flora and fauna studies and the Aboriginal significance study.
"We have to ensure public health standards are met but we are also committed to protecting our unspoilt aquatic and land environments," added Mr Collins.
The Merimbula STP is one of 10 that Council owns and operates to provide safe and sustainable sewerage services to the community. The NSW Environment Protection Authority (EPA) has instructed Council to upgrade the STP and construct an ocean outfall to dispose of excess recycled water during high rainfall periods. Upgrades to the plant will also improve the quality of its recycled water.
The tour times and locations are:
Bar Beach, Merimbula between 8.00am and 11.00am on Saturday 9 March;
Pambula Markets between 8.00am and 12.30pm on Sunday 10 March;
Bar Beach, Merimbula between 8.00am and 11.00am on Saturday 16 March; and
Merimbula Seaside Markets between 8.00am and 12.30pm on Sunday 17 March.
If you are unable to get to one of the drop-in sessions, then you can find out more about the project through the dedicated website at www.begavalley.nsw.gov.au/MerimbulaSTPupgrade. Alternatively, call the toll free number 1800 317 028 or email us at merimbulaSTPupgrade@begavalley.nsw.gov.au with your questions.
Pictured: Bega Valley Shire Council's Treatment Plant Coordinator, Jason Darcy, at the Merimbula beach-face outfall. Photo: Brent Occleshaw
END
Related Pages
Merimbula sewage project tour kicks off at Bar Beach this weekend
---
Rate This Page
---
Share This Page