Bega Valley gin distillery navigating a future beyond bushfires and COVID-19
North of Eden gin distillery owners, Gavin Hughes and Karen Touchie with Flora, their highland cow and customer relations manager. Photo: David Rogers Photography.
10 June 2020
Like many businesses in the Bega Valley, North of Eden gin has had to navigate the mountainous highs and cavernous lows of the 2020 Bega Valley bushfires and COVID-19.
Owners, Gavin Hughes and Karen Touchie hope to reopen their Cellar Door in July for tastings and bottle sales. Under the current restrictions, this will mean only four people inside at any one time and 12 outside on the deck for those who don't mind the cold and bringing their own blankets. Their much anticipated Gin School remains in an induced coma.
And therein lies the most frustrating part of their complicated journey.
"We've had so many inquiries from family groups or groups of friends who want to visit the region and do Gin School together, but under the current rules we can't even take single group bookings," said Gavin.
"It's the same with the Cellar Door; we can have a family of five arrive in the same car but will have to ask one person to wait outside.
"The current rules around physical distancing will disproportionately impact small regional business that typically have smaller venues.
"We need the rules to make some allowance for the reality that groups who are already travelling and socialising together don't want or need 4-square metres per person.
"The alternative is to extend our Cellar Door and bar area so we can fit more people into our venue, but there are no grants for that. And we can't afford a COVID-19 loan as we already have a sizeable mortgage.
"There are many micro businesses like ours in the Bega Valley that will continue to suffer under the pandemic restrictions unless we get the support we need; for where we are at right now."
Going back a few years, Gavin and Karen decided running a B&B was not for them. They spent 12 months converting an old farm shed on their Stony Creek property into a micro distillery. In October 2018 they installed three alembic copper stills and launched North of Eden gin.
Before this, Karen had been working in corporate management in Melbourne and Gavin had been running a big fuel distillery in Queensland.
It was a major unplanned change for them both, brought about by a series of random occurrences that started with a short break in the country with friends. It was time to do something different; experience a relaxed and richer quality of life, and they haven't looked back, despite the circumstances of the past six months.
"The bushfires came too close for comfort, getting within one kilometre of our property boundary," Karen said. "However, we decided to stay and defend our home and business.
"Our property looks out onto Mumbulla Mountain, which was burning for weeks. Even toward the end of February when the rains came through, we had one of the biggest flare-ups, which had to be water bombed.
"We very quickly built a sprinkler system for the distillery because of the obvious volatility of our product, which also meant we couldn't operate our business at all. We had to cancel our Gin School classes, which had been booked out for months in advance, and refund deposits.
"By March we were able to get the distillery operational and were open for two weeks. We ran two Gin School classes and the feedback on those was amazing. Business was going well. Then COVID-19 hit and we had to shut shop again."
Once again, they had to refund deposits and gift certificates; COVID-19 restrictions on distancing meant no Gin School, no tasting and no bar. Their Cellar Door is too small to fit the number of people in that they need to make it economically viable.
"The frustration is that we can be viable with eight people at Gin School, but the rules around physical distancing won't even let us do that, even although that same group of eight can dine at a single table at a larger venue or share a holiday house," explained Karen.
"This was supposed to be our big launch year. We recently won two medals at this year's San Francisco World Spirits Competition; The Classic taking out silver and The Connoisseur a bronze," Gavin said.
"This adds to four previous medals won by these two gins; silver and bronze from London's 2019 International Wine and Spirit Competition, and silver and bronze from the 2019 Australian Gin Awards.
"We were fortunate we still had our online business, which meant we have had some cash flow. Quietly, we were hoping people might want to stock up, like they did with the toilet paper, but they didn't."
During the pandemic, Gavin and Karen were approached by Dr Duncan McKinnon of Bega Valley Medical Practice who suggested they manufacture a hand sanitising product for local use in public spaces, shopping centres and supermarkets.
The couple produced and distributed their hand sanitiser at cost because they wanted to contribute to their community and play their part in this extraordinary crisis. There are now around 40 bright yellow hand sanitising stations from Mallacoota to Batemans Bay containing their product.
While their priority continues to be the supply of local public use hand washing stations, they also have five litre containers available for local retail sale.
"We're having to rethink our business again to see what that means going forward, Karen said. "We hope to open the Cellar Door in July but can't see how we could run the Gin School as yet."
Despite the setbacks, Gavin and Karen have released a new gin, The Admiral. At a delightfully sinful 114% proof, The Admiral will be North of Eden's Navy Strength gin and, according to Gavin, the couple's best gin yet.
"Our premium gins are made in small batches of only 200 bottles at a time on Jill, our much loved 100 litre copper still," Gavin said.
"A 100 litre still might sound big, but in the world of commercial gin production it's actually really small and it's one of the things that sets us apart from other distilleries.
"It's also why these latest medals are so fantastic because they demonstrate we can produce consistently great gin using small batch artisan methods.
"We're hoping for Gold for this one!"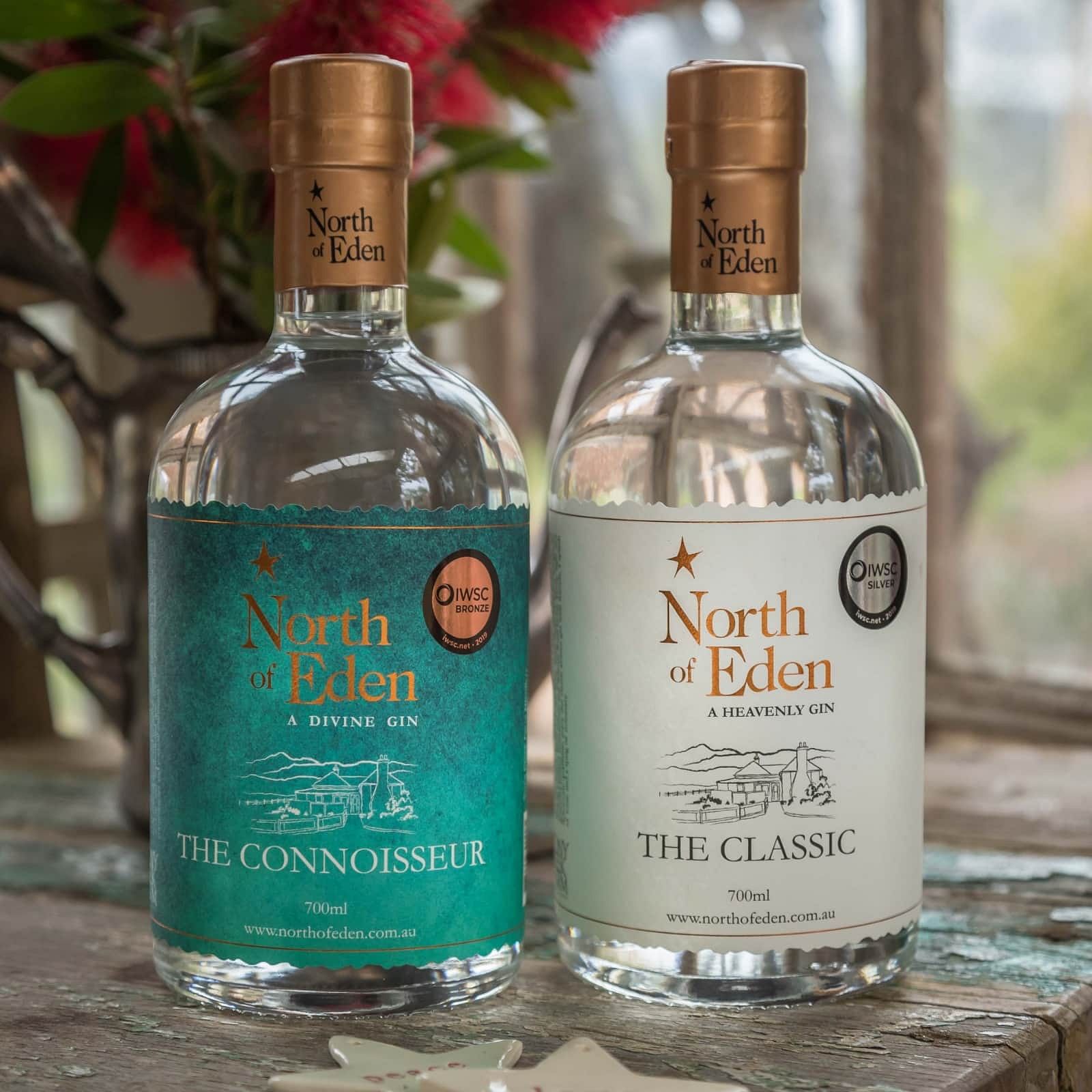 Award-winning North of Eden gins. Photo: David Rogers Photography.
Related Pages
Bega Valley gin distillery navigating a future beyond bushfires and COVID-19
---
Rate This Page
---
Share This Page