Clean Air Procedure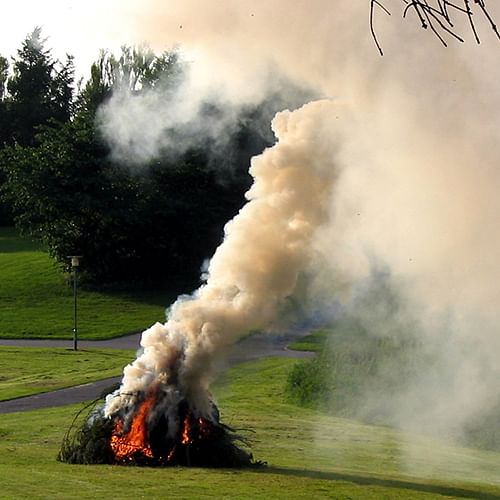 Council is responsible for the management of local air quality issues and has the power to take action under the Protection of the Environment Operations (POEO) Act 1997 in accordance with the Protection of the Environment (Clean Air) Regulation 2010. In response to community concerns over local air quality issues Council has introduced a Clean Air Procedure to help reduce the impact of wood smoke on human health and the environment whilst still recognizing the need for a sensible approach to bushfire management . The procedure applies to all parts of the Shire and operates all year round and requires everyone to have approval from Council to burn vegetation. Various other approvals may be required before you can light that fire. An approval will list conditions that seek to minimise adverse impacts and there are significant penalties for failing to obtain these approvals or comply with their conditions.
Note: If you plan to mechanically clear native vegetation and burn it in a pile, then you may also need to obtain an environmental approval for the clearing. Please check with Council's Planning Services by calling 02 6499 2222.
Do I need approval from Council to burn vegetation on my land?
Under Council's Clean Air Procedure, all residents within the Bega Valley Shire need Council's approval to burn vegetation on their land. If you are proposing to burn vegetation more than 75 metres from a neighbouring habitable building such as a residence, Council has issued you with a general approval and provided you burn vegetation in accordance with the conditions attached to Appendix 1 of the Clean Air Procedure you don't need Council's written approval. For all other residents the written environmental approval is required and you must make written application to Council for approval.
How do I apply for written approval?
If people wish to burn vegetation in a residential area they will need to apply to Council for approval through Council's written application form. An application must be made 21 days prior to the proposed date of burning.
Council officers will assess the application in accordance with the POEO (Clean Air) Regulation 2010, taking the following matters into consideration:
the impact on regional air quality and amenity
the impact on local air quality and amenity
the feasibility of re-use, recycling or other alternative means of disposal
any opinions of the sector of the public likely to be affected by the proposal approved.
Once all this is considered Council will advise the applicant in writing if they are permitted to burn.
It should be noted that generally in residential areas other methods of disposing of vegetation are available therefore burning will only be permitted as a last resort.
An approval from Council to burn does not negate the requirement to apply for an open air burning permit from your local Fire Service during the Bush Fire Danger period. Contact your local NSW RFS Fire Control Centre if you live in a rural fire district, or Fire & Rescue NSW Station if you live in a fire district to obtain a fire permit
How I Can Burn Safely
A person who burns vegetation in the open must do so by such practicable means as are necessary to prevent or minimise air pollution. Methods in preventing or minimising air pollution may include the following:
(a) taking into account the potential for smoke impacting on any person having regard to:
(i) wind direction,
(ii) weather conditions,
(iii) the length of time that the material being burnt is likely to burn,
(b) taking reasonable measures to ensure that the material being burnt is not wet,
(c) burning only material that is suitable for disposal by burning, having regard to possible effects on human health and the environment.
It is a legislative requirement to provide a minimum of 24 hours' notice (unless specified otherwise in your Fire Permit) to your local fire authority (Rural Fire Service or Fire & Rescue NSW), and all adjoining landowners or occupiers before undertaking any burning of vegetation.
Check List
Before you light that fire, make sure you have:
Gained environmental Approval from Council (if required)
Complied with Council's Clean Air procedure
Been issued a Fire Permit (if required)
Notified all adjoining landowners/occupiers and your local fire authority
Checked for Total Fire Ban or No Burn Days
Are there penalties for non-compliance?
Under the POEO Clean Air Regulation there is a maximum penalty fine exceeding $ 5,500 for an individual and exceeding $11,000 for a corporation for breaches of the regulation.
Downloads
Application to burn vegetation
---
Rate This Page
---
Share This Page