Council moving ahead on Wallaga Lake Boardwalk
Friday 24 June 2016
One of the causalities of the East Coast Low earlier this month was the Wallaga Lake Boardwalk, north of Bermagui.
Bega Valley Shire Council is now working at restoring the timber structure using the natural disaster recovery funds available through the NSW Government.
Richard Cunningham, Council's Recreation Assets Coordinator said the total cost is likely to be significant .
"The board walk came away in large sections, and I think much of it can be salvaged and used again, reducing the replacement cost." Mr Cunningham said.
On a normal day, water in the mouth of Wallaga Lake would have gently lapped around sections of the boardwalks timber pylons, but the king tides and storm surge of June 4 and 5 saw large pieces lifted free and washed inland.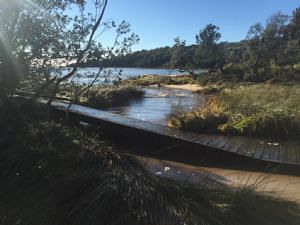 In a funny twist of fate, the boardwalk's destruction has made it more widely known in the Shire.
Starting in the car park off Wallaga Street at Wallaga Lake Heights, the 180 metre track skirts the south-eastern shores of the Lake, taking walkers through to Murunna Point.
The area holds great significance to the local Aboriginal community who have been involved in the development of the boardwalk over the years.
"It's a place that Council and the community are keen to protect and respect," Mr Cunningham said.
"Neighbours of the boardwalk have also been very helpful with offers of assistance."
Council has also invested a lot of time and resources into weed control in that area, and is keen to see it back at its best as soon as possible.
"As part of the rebuild, Council staff will be reviewing what worked with the old design and what could be improved," Mr Cunningham said.
More updates to come, as staff from Bega Valley Shire Council continue to respond to the extraordinary weather events of June.
Photographs: Wallaga Lake Boardwalk, before and after the storm
END
---
Rate This Page
---
Share This Page