Visual treat opens at Bermagui library
Wednesday 7 December 2016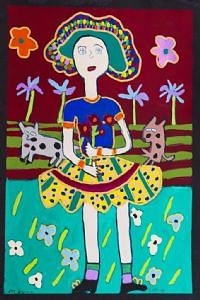 The lively paintings of a local and fast rising star in Australian art are delighting visitors to the Bermagui library.
This week the doors opened to a summer exhibition of Miriam Kydd's vibrant artworks, with an official opening and morning tea planned for 10:30am on Friday 9 December.
Programs and Partnerships Officer, Scott Baker said summer visitors to Bermagui library will be fascinated by Ms Kydd's work.
"The exhibition consists of ten portrait paintings which reflect the artist's exotic imaginary world of amazing and colourful characters," he said.
"Even though Miriam Kydd only first picked up a paint brush six years ago, she has gone on to be a well-known talent through guidance and support offered by the Tulgeen Disability Services' Art in the Garage project.
"This is the second year Bermagui library has exhibited artworks from the project, which was started in 2001 as part of Tulgeen's Training and Education program, using a converted garage as an art studio.
"The project has expanded significantly over time and currently employs four artist educators supporting more than twenty artists with disabilities," Mr Baker said.
Art in the Garage provides an environment in which emerging artists are supported one-on-one to develop individual forms of self-expression and visual language.
The studio environment fosters experimentation and exploration of media through the unique and uninhibited perspective of people with disabilities.
The Miriam Kydd exhibition runs from Tuesday 6 December until Friday 13 January 2017.
Photograph: Spring by Miriam Kydd
END
---
Rate This Page
---
Share This Page