Flood risk management up for discussion
Wednesday 23 March 2016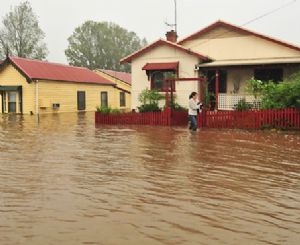 Bega Valley Shire Council is about to embark on a new discussion with two local communities on how to manage the risk of flooding in the area.
The idea is to work with the people from the Bega and Brogo River catchment areas to develop a Floodplain Risk Management Plan following a previous study of the area from 2014.
Project Manager, Gary Louie said the Bega and Brogo River communities had made a significant contribution to the 2014 Study, and is hoping to continue the discussion in drafting a Floodplain Risk Management Plan.
"Our aim is to inform the community about the study, identify concerns, gather information and opinions on possible risk management options and maintain community confidence in the study results," he said.
"As part of the Bega and Brogo Rivers Flood Study a substantial community consultation process was undertaken to collect information on the local community's flood experience and concerns.
"In preparing for the Floodplain Risk Management Plan we are now seeking to engage with the community again to understand which locations are of greatest concern, and to gather ideas on how the community would like to see flooding managed," Mr Louie said.
An online survey will be available on Council's website from Monday 28 March 2016 where project updates will also be available. Surveys will also be mailed out to a number of households in flood-prone areas.
Two community drop-in sessions are planned for Wednesday 6 April from 12.30 – 2.30pm at Council's ground floor Committee Rooms, and 5 – 7pm in the Balawarn Room at the Bega Valley Commemorative Civic Centre. Each session will involve a 20 minute project presentation with opportunity for questions and private discussion afterwards.
The initial consultation period will run from Monday 28 March until Sunday 17 April and a draft management plan will be placed on Council's Have Your Say page for comment early next year.
To visit the project page go to www.begavalley.nsw.gov.au and click on Have Your Say at the top of the page from Monday 28 March. For more information call Bega Valley Shire Council on 6499 2222.
Photograph: Properties affected by flood waters in Bega.
END
---
Rate This Page
---
Share This Page