Coastal kids go for clean and healthy waterways
Thursday 31 March 2016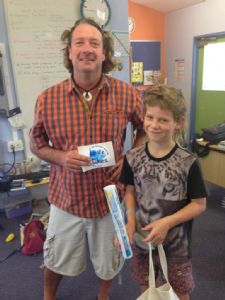 Bega Valley school kids have used crayon, pencil and paint to show their love of the local environment.
Now in its 4th year the colourful Love Our Lakes calendar has become a fixture on bedroom walls and kitchen cupboards across the valley.
The calendar is a showcase of art from schools between Eden and Bermagui and helps raise awareness of water quality issues and a healthy local environment.
Brett Weingarth is the Love Our Lakes Project Officer and was blown away with more than 150 entries around the theme of "your favourite watery place".
"With room for only 15 artworks on the calendar the judges had a really hard time choosing," he says.
The calendar has since been distributed to schools throughout the Bega Valley, with prizes awarded to those artists fortunate enough to have their artwork selected.
Love Our Lakes is supported by Bega Valley Shire Council and The Office of Environment and Heritage.
The Love Our Lakes Project Officer can be contacted on 0429 453 545.
Photograph: Otis Waratah of Tanja public school receives his artwork prize from Love Our Lakes project officer, Brett Weingarth.
END
---
Rate This Page
---
Share This Page