Registration of Dogs & Cats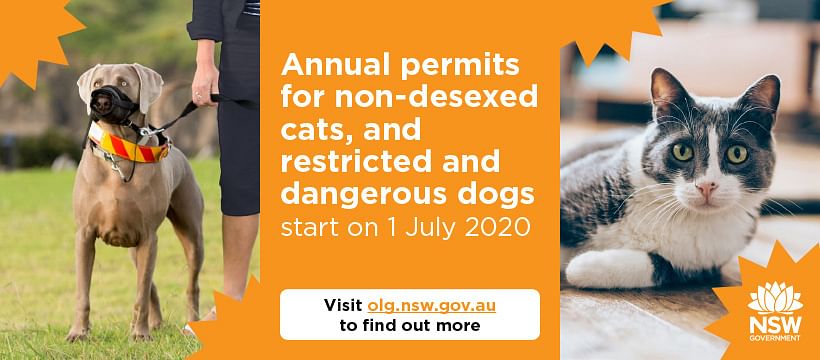 All Councils in New South Wales are agents for the NSW Companion Animals Register. This is a State Government register which records identification and registration information for dogs and cats in NSW.
All dogs and cats born after the 30 June 1999 must be microchipped prior to a change of ownership or before the animal is 12 weeks old, whichever comes first. They must also be lifetime registered once they are six months of age. Register now - NSW Pet Register Annual Permit Form
When you register you will need a completed registration form available from www.olg.nsw.gov.au/public/dogs-cats/nsw-pet-registry/microchipping-and-registration/
You will also need to ensure your pet is permanently identified in the NSW Companion Animals Register. If you are unsure if your pet has permanent identification in the Register, please contact Council's Customer Service Team on 02 6499 2222 – you will need to provide the 15-digit microchip number associated with your pet.
Registration Type
Registration Fee
Registration fee for an animal desexed by the relevant desexing age
$60.00
Combined registration fee and additional fee for animal not desexed by the relevant desexing age
$216.00
Animal with written notificatin from a vet that it should not be desexed
$60.00
Recognised Breader Non-desexed animal
$60.00
*Desexed animal - owned by eligible pensioner
$26.00
*Desexed animal sold by pound/shelter
$30.00
Working dog
$0
Dog in the service of the State, for example a police dog
$0
Assistance Animal
$0

*Proof of desexing must be presented at time of payment.
You can pay Lifetime Registration online providing your pet has already been Permanently Identified at: www.petregistry.nsw.gov.au/#/
However, you must have previously had your pet Permanently Identified through the usual process of:
Having your pet microchipped at the vet's or through a recognised microchip implanter
Your vet or implanter will ensure the information is entered into the Register with you as the owner of the pet.
Alternative payment method:
If you submit the completed Lifetime Registration form with Council via email council@begavalley.nsw.gov.au a member of Council's Customer Service Team will contact you (please provide phone contact details) and you can pay your Lifetime Registration by providing credit card details over the phone.
IMPORTANT INFORMATION
The Companion Animals Act requires that you notify Council if:
You change your address and or telephone number - within 14 days
You rehome your dog or cat (you must provide the new owners details) - within 14 days
The animal dies – within 28 days after the animal dies
A declaration by a court that a dog is dangerous (made or revoked) - within 7 days
The animal has been missing for more than 72 hours - within 96 hours after the animal goes missing
The animal has been found after having been reported missing – within 72 hours of the animal being found
This notification should be in writing. Failure to notify the above changes can result in penalties.
---
Rate This Page
---
Share This Page