Extra hands pitch in at Pambula River mouth
Thursday June 16 2016
A helping hand has come forward for Bega Valley Shire Council and the clean-up effort following this month's East Coast Low.
Lead by Gunther Meesmann, the Green Army has stepped in to assist Council with the removal of debris washed up at the Pambula River mouth in the storms of June 4 and 5.
John Turville, Council's Recreation Assets Officer said the Green Army recruits pitched in with the messy work first before moving on to replanting and mulching garden beds in the popular reserve.
The Green Army is a Federal Government employment initiative designed to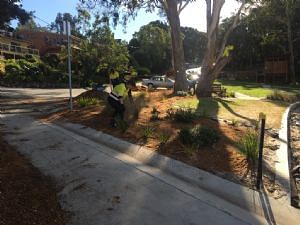 deliver environmental and land restoration projects, while building skills and confidence in young job seekers.
"Locals will also notice new steps leading from the Pambula River mouth park area at the start of the Jiguma Walking Track." Mr Turville said.
The burst of people power from the Green Army has allowed Council's recreational areas at Pambula River to get back on track quicker than they otherwise would have in these busy times following the storm.
"Working with the Green Army was a positive experience for Council staff and we look forward to developing future projects together," Mr Turville said.
"The local community and visitors to the Bega Valley can now enjoy this wonderful place again."
Photograph 1: Storm debris at Pambula River mouth being tidied up by the Green Army
Photograph 2: The Green Army helping beautify the community space at Pambula River mouth
END
---
Rate This Page
---
Share This Page