Council's fleet team keeps RFS vehicles fire-fighting fit
24 February 2020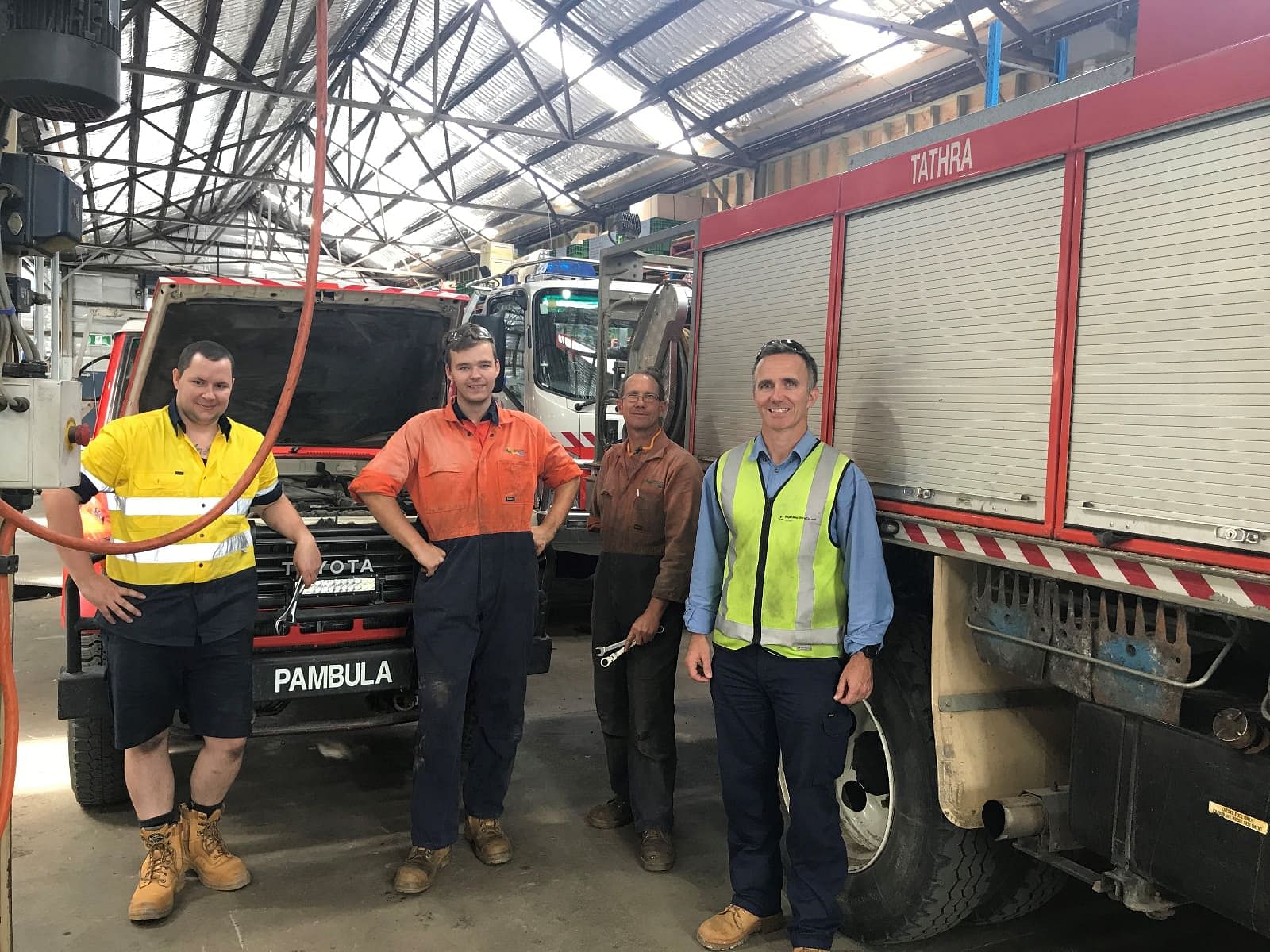 Photo: L to R Adam Swarbrick (Mechanic), Zane Bagley (Apprentice), Bruce Summerell (Mechanic) and Sean Baggett (Fleet Supervisor)
Panel-damaged vehicles, damaged components, burnt out clutches and clogged air filters. Council's Fleet Facilities team has seen it all this summer as it's worked hard to help keep Rural Fire Service vehicles in fire-fighting service.
During these extraordinary times, we've all found ourselves lending a hand to support others and Council's Fleet Facilities team is no exception. Bushfires just can't be fought effectively without reliable, safe and well-maintained vehicles.
The crew at the Fleet Facilities workshop in Bega has stepped up to manage both its regular busy maintenance schedule and the emergency servicing needs of a fleet of local and out-of-area fire fighting vehicles that have played a vital role in defending our valley.
On a normal day, Council's fleet mechanics workshop is a hive of activity. The team of eight mechanics and fabricators, two apprentices and two management and admin staff manage the servicing of Council's fleet of almost 400 light passenger and commercial vehicles, medium and heavy trucks and trailers and heavy plant items. Given the workshop's location opposite Bega's RFS headquarters, there's also a long-standing arrangement in place for it to service a steady stream of more than 80 local RFS fire-fighting vehicles.
But these have not been normal times and, over the past few months, the workshop's activity has been taken to a whole new level.
Deon Constance, Council's Fleet Facilities Co-ordinator, has been overseeing the intensified program of RFS support. He says, at times during the rollercoaster emergency period, the workshop operated 24-hour shifts to service the needs of the expanded RFS fleet roster.
The volume of additional RFS repairs and maintenance that has already passed through the workshop is impressive. So far, the team has worked on a total of 54 jobs, ranging from minor issues through to panel and mechanical repairs, and the work continues as strike teams are deployed to mop up in some areas and manage the still-active fire landscape in others.
Deon says, given the circumstances, the work has been largely reactive and unplanned. And with the priority being to get vehicles back into service as quickly as possible, he and his team have needed to be resourceful and creative about getting repairs done.
"We've had to turn vehicles around quickly and get them back into operation, particularly under emergency conditions. That means we've come up with makeshift solutions for things like rewiring lights and straightening damaged panels to ensure the vehicles are roadworthy and operational."
"It's just the nature of what we've all had to manage and deal with. When it comes to making sure that every valuable vehicle is available for service, we've just had to do whatever we can to get them back on the road.
"Our two field service units – a breakdown truck and a 4wd service unit – have both been in high rotation and we've been able to supplement our team with the help of local repairers who have stepped into support us.
Deon says the crew are geared up to keep rolling with RFS support through to the end of the fire season.
"Right now we're taking advantage of the quieter fire conditions to get on top of our backlog of maintenance."
---
Rate This Page
---
Share This Page