Volunteers change lives through library programs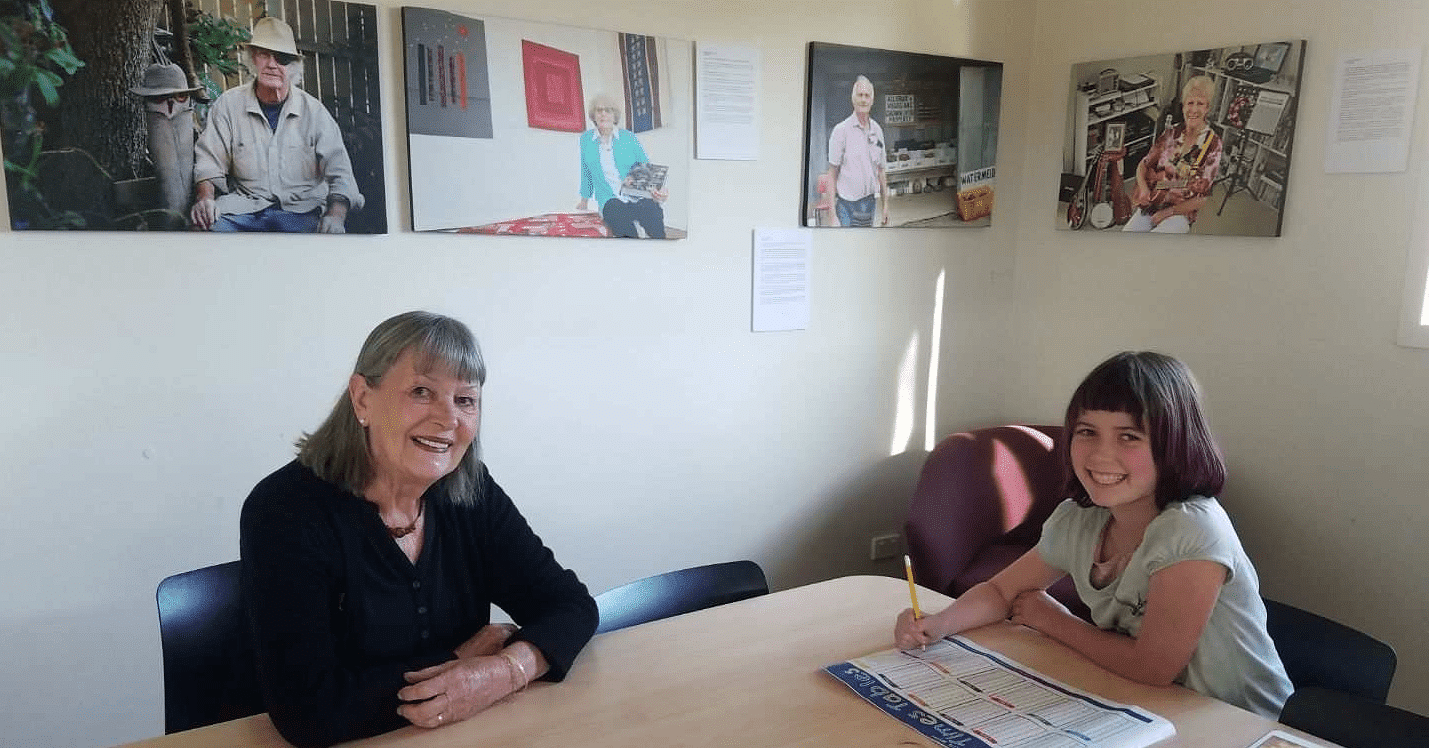 Homework Club volunteer Judi Chenhall assists Tori at Eden Library.
20 May 2020
True to the theme of this year's National Volunteer Week, Judi Chenhall is certainly changing young lives through her volunteer commitment to the Eden Library Homework Club. Judi is one of the founding volunteers of the club which is now in its fourth year.
You'll find Judi in the midst of a buzzing hive of children every Tuesday afternoon at Eden Library. Straight from school, there are hungry tummies to feed before the homework sheets and project templates get pulled out of school bags and smoothed over.
Thanks to the generosity of OzHarvest, Judi gives out bread rolls and jam to the children and there's time for a chat about the day too, as they all unwind.
Judi is a familiar face to many of the children who attend the Homework Club - she worked as a teacher's aide for over 20 years at Eden's St. Joseph's School and at the Eden Public School, and those classroom skills come in handy when between 10-15 children at a time need some guidance with homework.
"It was tricky when the year six kids started doing algebra but we worked it out," says Judi.
"Mostly, I can find books in the library that help children with their homework, otherwise we go online."
"I absolutely love it. I'll do it for as long as I possibly can," she smiles.
Library Officer, Cat McLean says that Judi does all the little things.
"She'll even remember birthdays and has stickers on hand to encourage children," Ms McLean says.
Volunteers form a valuable part of the library service and there are a number of activities and tasks for volunteers to get involved in from children's programs and family history help to covering books and supporting the Home Library Service.
Library Coordinator, Megan Jordan-Jones explains that the Home Library Service makes a huge difference in the lives of people who are house-bound and just can't get to a library themselves.
"Volunteers are key to this service - they select books, dvds, talking books or magazines for a client depending on their profile, then make the delivery, picking up returned items at the same time," says Ms Jordan-Jones.
"I'm very grateful to all the library volunteers – thank you!"
Husband and wife volunteers, Howard and Mei have been supporting three Home Library Service clients in Eden over the last year.
"We enjoy doing it – it gets us out of the house, we help someone else, we have a chat and it doesn't take very long," says Howard.
The Eden Library Homework Club is a free program run by volunteers for children from kindergarten to year 10. The Club is on hold at the moment due to the COVID-19 outbreak. When possible, it will return on Tuesday and Wednesday afternoons from 3pm to 4pm. For further information contact the Eden Library on 6499 2451.
The Home Library Service is resuming after a short break due to the COVID-19 outbreak with volunteers making online selections for their clients and staff making deliveries.
End
Related Pages
Volunteers change lives through library programs
---
Rate This Page
---
Share This Page