Stories from the Bega Valley Bushfires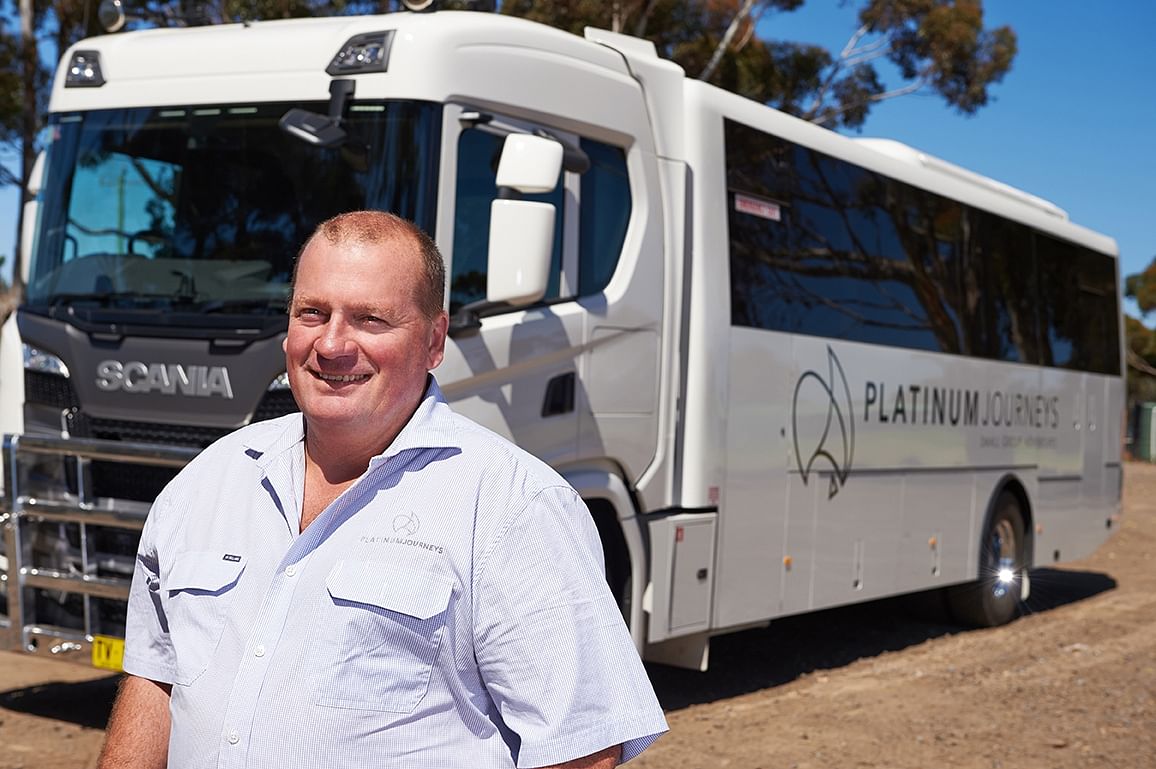 2 March 2020
The bushfire recovery needs of our region are broad and deep. Recognising the impact those flames have had on lives, the environment and the economy, Bega Valley Shire Council is keen to highlight the stories of those living with the aftermath.
Stories have power and we hope these case studies will help deliver assistance and change.
Paul & Liz Pincini - Platinum Journeys
Paul and Liz Pincini have been providing Australia-wide tours for 30 years. Platinum Tours has evolved as a result of Paul and Liz's attention to detail, combined with their commitment and dedication to provide high quality small group tours.
Always looking to innovate and grow, Paul and Liz saw an opportunity to provide local tours to passengers on the ever-increasing number of cruise ships docking at Eden.
A key feature of the Port of Eden upgrade is that larger cruise ships are now able to dock at the wharf. The first of these to dock after the upgrade was 2,000 passenger P&O Pacific Explorer on 15 September 2019.
In 2018-19, Eden welcomed 16 cruise ships. In 2019-20, there will be 23 cruise ships visiting Eden, most of which will dock between January and March 2020.
"In anticipation of the increased number of cruise ships visiting Eden, we made some major financial and business decisions to support growth; offering world class local tours to cruise guests," Paul said.
"This involved purchasing new purpose-built all-terrain touring vehicles, at a cost of $800,000, that can cater for specialised small group adventures into our region's National Parks."
This venture didn't happen overnight. After many months of planning and negotiating, and a number of setbacks, Paul and Liz were able to create products that all cruise companies visiting Eden had contracted – the Green Cape Discovery Tour through Ben Boyd National Park and the Davidson's Whaling Station Tour.
"Once past we were past those hurdles, the pre-sale bookings were outstanding," Paul said.
"The Platinum Journeys morning and afternoon tours were booked out, which would inject an estimated $8,000 per cruise into our business. We were very proud and excited about this new line of business."
Bushfire disaster
The 2019-20 bushfires in NSW are unprecedented in their extent and intensity, with around 2.7 million hectares of national parks burnt (37% of the state's national park estate).
When the National Parks in the region closed due to bushfire damage and hazardous conditions - visitor attractions, access roads, walking trails, lookout points, picnic areas and camp grounds - all Platinum Journeys cruise ship tours were cancelled.
Paul says the National Parks are not expected to open until the end of March, which is just too late. The all-terrain vehicles are sitting on their property, still waiting to 'turn the wheel'.
This reduction in anticipated cash flow has hit hard.
"Another kick to cash flow is the reduced number of tour bookings through our business's normal Travel Club tours," Paul said.
The anxiety and uncertainty of the past few months has meant the majority of the Travel Club tours, leading up to May, have had to be cancelled.
"People are just not booking holidays right now. No-one wants to go anywhere. They're too worked up over the bushfires to take a holiday and prefer to stay home," Paul said.
"Thankfully my business banker has been understanding and supportive, delaying repayments on the all-terrain vehicles."
The future
But Paul has not been sitting idle.
"I've been out and about looking at other external markets, talking to travel agents and other tourism operators, in an effort to build up the numbers of our regular Australia-wide tours.
"But new markets means additional investment and when there is no cash flow, it presents even more challenges.
"At the end of the day I need cash. Not just to prop up our bank account, but to pay my staff and employ people with the right skillset to help grow our new business channels."
Bega Valley Shire Council remains committed to supporting local business and our regional economy as a key component of our bushfire recovery.
Mayor, Kristy McBain continues her steady work in this area of concern. She recently travelled to Parliament House in Canberra and Sydney to discuss what support needs to be provided to Bega Valley businesses, both directly and indirectly affected by the bushfire disaster.
We know that if we don't get businesses back on track right now, the whole community will be negatively impacted; a 'second disaster' the Mayor calls it. Keeping people employed and building sustainable lives in our regional community is vital.
State and federal governments need to understand how desperate the situation is in our small Far South Coast towns.
Advocating on behalf of Bega Valley business, the Mayor requests that:
small businesses indirectly affected by the fires, particularly those with a turnover of less than $1 million, receive the $50,000 grant that is currently only available to burnt businesses
the ATO put $1,000 in the bank account of all those in the postcodes of each local government affected by the bushfires, allowing residents to spend this money in local shops and for local services
tax-deductible holidays are encouraged, in that if you spend seven days in a bushfire affected area, you can receive a cash deduction using related receipts.
What Council is doing now and has in place:
an economic development team working with peak business groups, other agencies and all levels of government
investment of $250,000 towards long-term business recovery, tourism marketing and events
small business digital readiness training workshops
a range of workshops and support services to small business through the Bega Valley Innovation Hub
a portal for local contractors to register their interest in becoming involved in civil recovery works.
More information is available on the Bega Valley Shire Council website.
Related Pages
Stories from the Bega Valley Bushfires
---
Rate This Page
---
Share This Page