Building their futures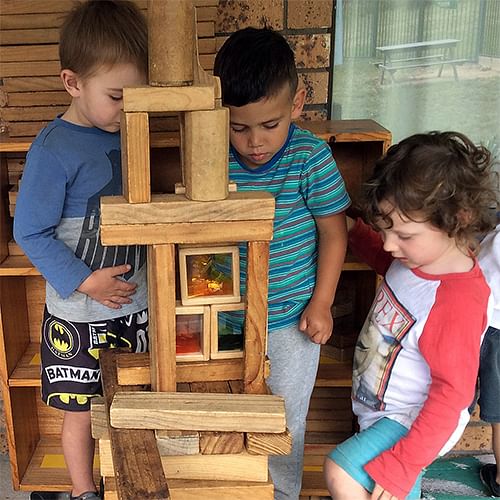 11 May 2018
The consistent quality of Council's early childhood services has again been highlighted through the National Quality Standard (NQS) Assessment and Rating Process, with the Eden Child Care Centre recently identified as 'Exceeding the National Quality Standard'.
The NQS sets a national benchmark for early childhood education and care, and outside school hours care services in Australia and includes seven quality areas that are important outcomes for children.
Services are assessed and rated against the NQS, and given a rating for each of the seven quality areas, as well as an overall rating based on these results.
The seven quality areas are educational program and practice; children's health and safety; physical environment; staffing arrangements; relationships with children; collaborative partnerships with families and communities; and governance and leadership.
Eden Child Care Centre's Nominated Supervisor, Annette Coleman, said the 'Exceeding' rating (the highest achievable) affirms the high quality of service that is provided at Eden Child Care Centre to the families of Eden and surrounds.
"We are obviously delighted with the overall result and the fact that the Department of Education assessor commended us on making sure that all children and their families' needs are supported in an individual and inclusive environment was particularly pleasing," Ms Coleman said.
"This aligns with our focus on building meaningful relationships with all the children and their families to promote opportunities for learning."
All three of Council's Centre-based early childhood services have now been assessed as 'Exceeding the National Quality Standard', with Bandara Children's Services and Eden Preschool receiving the same independent rating in recent years.
Council's fourth service, Sapphire Mobile Preschool at Candelo and Bemboka, does not undergo accreditation due to its status as a mobile service. However, the preschool operates under the same philosophy and quality service structure as Council's other early learning centres.
The National Quality Framework (NQF) for early childhood education and care was agreed by all Australian governments to get better educational and development outcomes for children using education and care services.
Implementation of the NQF is guided by the Australian Children's Education and Care Quality Authority (ACECQA).
To find out more information about the NQF and service ratings, visit the ACECQA website or ACECQA's family focused website, Starting Blocks.
For enrolment enquiries in relation to any of Bega Valley Shire Council's early childhood services, phone the Business Support Officer on 6499 2118 or email children@begavalley.nsw.gov.au
Photograph: Jarrah, Jacob and Louie are among the children receiving a great start to their education at the Eden Child Care Centre.
END
---
Rate This Page
---
Share This Page